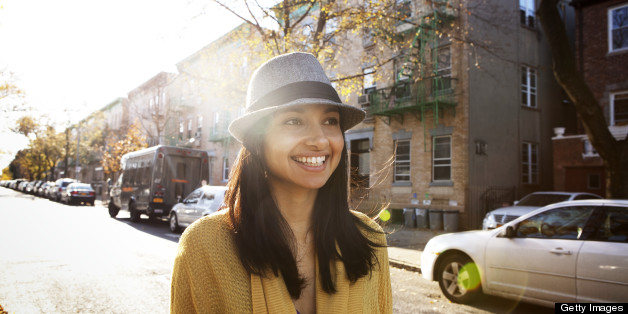 When Lena Dunham and her production team recently commandeered Bar Matchless in my son's Greenpoint neighborhood, he gave her the stink eye, turned on his heel and walked away. From the bar, and from the neighborhood.
"It's over," he said to me that evening, referring to his ability to financially and psychologically deal with northern Brooklyn. The lease on his $1,350 apartment overlooking dumpy-but-hot Nassau Avenue, in a building that had been home to assorted old beer bellied "confirmed bachelors" as well as a Collyer Brothers clone (whose creature-infested apartment had to be treated with industrial strength fumigation not long ago) was about to get jacked to two grand. "I'm outta here, Dad."
Greenpoint, which had long played second-banana to Williamsburg, is now officially too hot for him to handle, he said.
But where to go? For legions of twenty-somethings nestled in the more appealing precincts of New York City (which, increasingly and disturbingly, is code for "Brooklyn") overheated housing prices are a life-altering issue.
And, yes, this has been the case for decades. But today's reality, for most "regular" people and the waves of young people who keep coming to the Big Apple for their NYC tour of duty, is that dangerously accelerated upward price pressure drives the herd, as never before, to find financial stability on fringe areas. So Williamsburg quickly slopped over to Greenpoint to, now, yes, Ridgewood.
What's left, in terms of undiscovered, relatively affordable, apartments? By way of introduction, let me explain that I've lived in New York all my life, in four of the five boroughs (je suis désolé, Staten Island). Being a native New Yorker, I approach apartment hunting a bit differently than most so-called experts. The big names will blather bromides such as: look for where the artists are! Seek areas where the "young people" are! Sniff truffles in nabes adjacent to the most desirable addresses!
Well... yes, and no. I take a bit of a blue-collar, counterintuitive, "when they zig, you zag" approach.
My thinking is that New York City housing is more about trade-offs than other metro areas and, so, if you REALLY want to enjoy NYC, AND save shekels AND be reasonably safe AND have a social life, you have to rigorously examine your priorities.
With this in mind, I propose some initial recommendations for younger residents on finding a relatively affordable place to live in NYC, followed by specific areas to research. Of course, if you're a Richie Rich, trustafarian type, there's no need to continue.
• Ruthlessly rule out ultra-hot nabes: Sure, you can get four friends to go in with you on a place near the bar du jour. But, do you REALLY want to perpetuate dorm-world? Isn't it time you moved on to the next life level?
• Think beyond North Brooklyn: Yes, artisanal pickles sure taste great. These days, however, you can buy them anywhere. If you're on a budget, remember that the pricier Williamsburg, Greenpoint -- and even Bushwick -- are not the only places in the city for younger residents.
• Assess local amenities: What's key for you? Subway access? Choice of housing stock? Safety? "Neighborhood feel"? Affordability? Make a list and weight each element in order to find your optimal housing solution.
• Think Ahead: Unless you know right now that you're turning tail and heading back to Columbus, Ohio in three years, try to imagine what you'll be like -- and what your prospective NYC neighborhood will be like -- down the road. New York City is all about change -- change that never rests. Today's pokey nabe may well perk up in two years.
And now, my suggestions on relatively affordable areas with a real sense of place -- "communities," not just addresses:
• Upper East Side/Yorkville: OK, don't brech. Think counterintuitively. Relatively undervalued, varied housing stock? Check. Safe? Check. Close to mass transit? Check. A "real NY neighborhood" with plenty of shopping options, world-class museums, parks, restaurants and demographic variety? Check (5x). And only minutes by subway from The Big Theme Park In The Bronx (Yankee Stadium).
• Grand Concourse, the Bronx: Stunning Art Deco buildings. Low prices. Quick commute to Manhattan. Gobs of upside potential. "Screw your courage to the sticking place," and at least take a look!
• Sunnyside/Woodside, Queens: varied housing stock. Relatively affordable. Quick shot by subway to Manhattan. Mecca for ethnic cuisine lovers. Gobs of Guinness on draught.
• Inwood: modestly priced, access to subways, a weekend Greenmarket on Isham St., the Cloisters, brand-new tennis courts and dog walking trails in Inwood Hill Park, Columbia football games and great ethnic food.
• North Brooklyn Alternatives: Bound and determined to live in the Borough of Churches? Young people on a budget are flocking to Bed Stuy, Bushwick, Prospect Heights, Crown Heights and Gowanus. These are areas in rapid transition, and may not be considered "lower cost options" for long. According to the Corcoran Group's uber-broker Debra Bondy, however, they're all areas worthy of consideration.
• Long Island City, Queens: Yeah, I know -- what's with LIC? Close to everywhere and, yet, seemingly nowhere, right? And yet, LIC seems to be getting traction lately. I lived in Park Slope for 25 years and remember that Fifth Avenue was stalled forever and then, whoosh! -- it just took off. Maybe LIC is finally ready for your consideration. With lots of new construction, neat restaurants and bars, and proximity to Manhattan as well as to Greenpoint/Williamsburg, it's certainly worth a walkabout, no?
Good luck. Oh, and where is my son, the born-and-bred Brooklynite moving? Crown Heights, a five-minute bike ride from the Prospect Park of his childhood.
Martin Kleinman @realnewyorkers (www.therealnewyorkers.com) is a York City-based writer. His short fiction collection, Home Front, will be available May 23rd (http://sockmonkeypress.org/wp/home-front-by-marty-kleinman/.)