Jerry Leiber just passed away age 78.
The songs he and Mike Stoller wrote starting in 1950 gave voice to every teenager. Kids, who for songs that expressed how they felt, had hitherto had to make do with lyrics written by middle-age Tin Pan Alley hacks, suddenly had words articulating their feelings that were shaped out of real experience. With flair, impudence and true wit.
Mike focused mainly on the music and Jerry was the Bard. Those words liberated and gave voice to a generation. A list of just a few of their songs is enough to bring a smile to the lips, a skip to the spirit and buoyancy to even the heaviest heart.
• Yakety Yak
• Poison Ivy
• Searchin'
• Charlie Brown
• Love Potion No. 9
• Hound Dog
• Jailhouse Rock
• Kansas City
• Smokey Joe's Cafe
• There Goes My Baby
• Stand By Me
• Young Blood
• On Broadway
• Spanish Harlem
• Is That All There Is?
They put words into the mouth of Elvis, made the Coasters and Drifters hip, articulated the soul in Ben E. King's magnificent voice; their indie record company gave us the Shangri-Las and the Dixie Cups. Their production talents gave us Gerry Rafferty's Stealers Wheel hit Stuck In The Middle With You. And perhaps most importantly their genius at songwriting inspired legions of other youngsters to become writers too. Especially two lads in Liverpool who cut their composing teeth as a duo aspiring to become another Leiber & Stoller.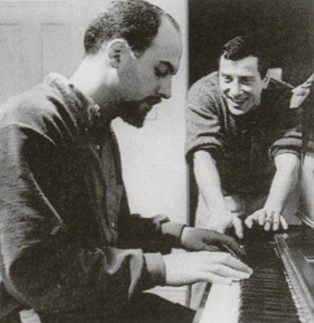 Jerry was not only a superb songwriter and producer but also an extremely funny, droll wit of the highest order. I had the honor to know him a little and his humor and his generosity of spirit were exemplary and uplifting.
In July 2007, I produced and hosted an evening saluting Jerry and Mike at the Mods & Rockers Film Festival at the American Cinematheque in Los Angeles. We showed a brand-new print of the film they wrote the title song for -- Jailhouse Rock and the film of the Broadway musical that celebrated their canon of songs Smoky Joe's Cafe.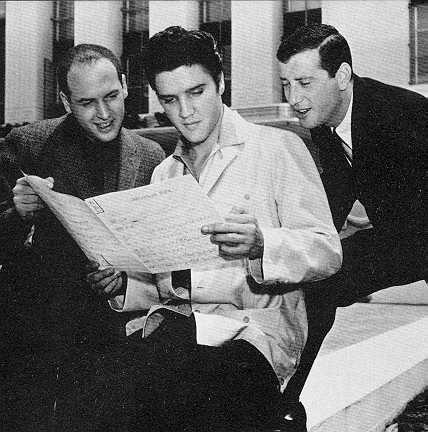 In between the films, Jerry and Mike held court as I attempted to moderate a conversation about their career and partnership. I say "attempted" because it was like trying to interview two of the comedy greats. They were like a classic double-act. Mike played straight man as Jerry delivered witty barbs at a rate of knots... He dished on everyone -- including his songwriting partner of 57 years. And left us all howling.
I gave up trying to interview them after a few minutes and like the audience I just watched in silent admiration and awe as these two East Coast-born, L.A.-raised Jewish teenagers (notwithstanding their birth certificates that said they were both in their seventies) regaled us with stories of the early days of rock 'n' roll and (with self-effacement) their seminal part in its development.
As they left the Egyptian Theatre following this hour of hilarity, I thanked Jerry and Mike for attending and expressed how much pleasure and laughter they'd given everyone that night. Jerry just winked at me and with an impish grin said "that's all there is kid..." And with that he slipped quietly out of the door.
That IS all there is. But what a "THAT" Jerry Leiber has left us...
I know what you must be saying to yourselves.

If that's the way he feels about it why doesn't he just end it all?

Oh no. Not me. I'm in no hurry for that final disappointment

For I know just as well as I'm standing here talking to you

When that final moment comes and I'm breathing my last breath

I'll be saying to myself:

Is that all there is?

Is that all there is?

If that's all there is my friends -- then let's keep dancing

Let's break out the booze and have a ball

If that's all there is...


- Jerry Leiber & Mike Stoller (1968)