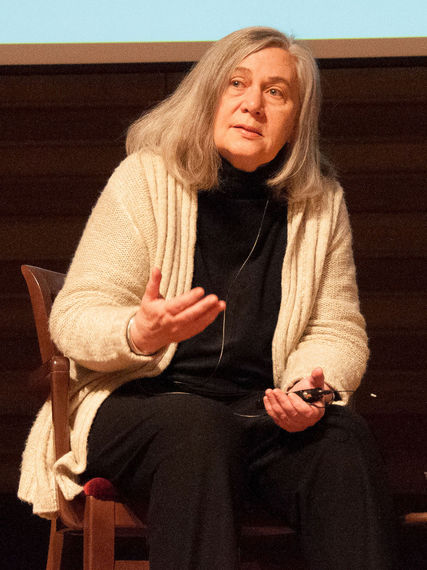 "If you could create a phenomenology of consciousness, some part of it would be the systematic falsification of the foundations of our culture." After that sentence in literary-critic-ese, novelist Marilynne Robinson next said to interviewer Wyatt Mason, in the language of a good novelist:

We remember Moses [about whom she was talking in the previous sentence] saying, 'Love thy neighbor as thyself. But he also said, 'Love thy stranger as thyself.' This is not unimportant. And so I feel the humanity of Moses. . . . He's a character I put together in my mind, sure. But when people do things that are honorable and fine, it is terrible to see them slandered. And it doesn't matter if they did them 3,000 years ago, you know?
Moses appears in a Robinsonian essay, one or several in which she expresses unvarnished frustration over how inaccurately we remember the writers and thinkers she admires most --theologians like John Calvin and Jonathan Edwards who are "systematically misrepresented" so often in today's culture. John Calvin! Jonathan Edwards!
Who, some might ask, brought those raw characters into the company of the sophisticated today? Answer: Ms. Robinson, whose new novel Lila has attracted feature reviews in, for example, The Atlantic, The New Yorker, The New York Times Magazine, The New York Review of Books, The Wall Street Journal, and many other print media.
Robinson has won the Pulitzer Prize, is in demand "on the circuit," minds her business at the University of Iowa Writers' Workshop, and has received so much positive notice in what gets called "the secular culture" that we can soon expect push-back from some who would knock her down. She deserves to remain "on top" among novelists.
Being "Spiritual?" "Religious?" They are both easy. Robinson writes explicitly "Christianly," and that is harder. In a time when the "Prosperity Gospel" rules, she excises the word and concept "prosperity."
Joan Acocella in The New Yorker lays out, right at the start, what Robinson "lays out, right at the start, all [Lila's] main themes: suffering, abandonment, forgiveness, rescue, and then in bracing counterpoise, the question of whether one actually wants to be rescued, or can be." Despite that grim-sounding summary, all the reviewers make clear that reading Robinson is a pleasurable experience.
In her essays and three novels (Homecoming, and Gilead before Lila) she has won enviable audiences and attracted them to the profound themes which marketable "spirituality" and "religion" tend to shun.
Acocella notes accurately that "Robinson writes about religion two ways. One is meliorist, reformist. The other is rapturous, visionary. Many people have been good at the first kind; few at the second, at least today." Cathleen Schine in The New York Review of Books deals with how Robinson deals with "urgent questions about religious redemption, so unconventional in contemporary fiction as to be radical."
Religious whiners consistently complain that the taste-makers in the larger culture neglect or mis-portray people of serious faith. But they will often pay attention to artists like Robinson and her kind.
These go deep as they treat faith and faiths with all their paradoxes and diverse probings. They often attract and hold the attention of people who do not share those faiths but who recognize, in artful treatments of them, resources for dealing with the extremes of human existence--including, yes, also with their positive expressions.
Sources:
Mason, Wyatt. "The Revelations of Marilynne Robinson." New York Times, October 1, 2014, Magazine.
Acocella, Joan. "Lonesome Road: Marilynne Robinson returns to Gilead in her new novel." New Yorker, October 6, 2014, Books.
Jamison, Leslie. "The Power of Grace: For Marilynne Robinson, who has been called America's George Eliot, loss and loneliness do not rule out solace." Atlantic, September 17, 2014, Books.
Schine, Cathleen. "A Triumph of Love: Lila." New York Review of Books, October 23, 2014.
Johnson, Diane. "Moral of the Story." New York Times, October 3, 2014, Sunday Book Review.
Sacks, Sam. "Book Review: 'Lila' by Marilynne Robinson." Wall Street Journal, October 3, 2014, Life & Culture Bookshelf.
Bailey, Sarah Pulliam. "Interview: Marilynne Robinson on the language of faith in writing." Religion News Service, October 8, 2014.
Image Credit: Christian Scott Heine Bell / Wikimedia Commons.
This post originally appeared in Sightings, an online publication of the Martin Marty Center for the Advanced Study of Religion, University of Chicago Divinity School.
NOTE: This article is not available for republication without the consent of Sightings. Please contact the Managing Editor, Myriam Renaud, at DivSightings@gmail.com.