Twenty-three young people were brought together by World Merit and Rise from all over the world to tackle two of the world's most pressing issues: Climate change and gender equality.
Two weeks of intensity. Two weeks of self-discovery, discovery of 22 others, team-building, sharing, caring, and growing. These past two weeks mark the start of a life-long commitment, not just a year long World Merit Fellowship Program, but a commitment to being the change agents we ought to be.
It starts in Liverpool.
We climb on to Snowdonia.
Finale in London.
At 6:00 a.m. the alarm clock rings, but I'm not mad at it. It's time to wake up to the opportunity the day holds. Every morning starts with "morning practice;" meditation, yoga, journaling, or some other centering activity to set the tone for the day. The days always begin blue before they turn green.
Centering, then breakfast. We need the fuel to get us through the challenging days. Workshops start as early as 7:30 and they tend to be challenging to the mind and spirit. We're learning new things constantly; and improving ourselves and group activity rapidly. Our groups are announced, and we split up. Two groups to work on climate change. Two groups to work on gender equality.
I'll be working with Rita, Pedro, Elizabeth, Megan and Rebecca on our own project related to gender equality, collaborating in person and online for the next year. Our knowledge tool belt is filled with all sorts of tools to help us interact, collaborate, and be as efficient in identifying our personal and group strengths and weaknesses as possible.
Our initial two weeks together are over now, but our work is just beginning.
And what have I learned?
More about myself. More about others. A heck of a lot more about the intense power of collaboration.
Most importantly to me personally: I've been reassured over and over. I can't count the amount of times I looked around and thought, "Yes, this is where I am meant to be right now," and felt the chills that come with that immense feeling of privilege and gratitude for it.
On the last day I cried. Not a little. Full-body weeping with my new friends and collaborators by my side. Because? Because I feel like the luckiest person on the planet. I live a full life as it is. I have love in my life, and incredible friendships. I come from a beautiful country where I was always quite safe, and what I was exposed to was pretty wonderful for the most part. My upbringing wasn't easy and my life journey had it's share of serious road blocks, but here I am somehow, sitting with a group of peers, cross-legged, in a circle, looking around at 14 different nationalities, 23 very different people. We were all brought together for one common purpose, because someone saw a need that had to be met; the need for collaboration; the need for rising above beliefs and borders to build something more amazing on this planet; together... and I couldn't be more grateful to be part of it all.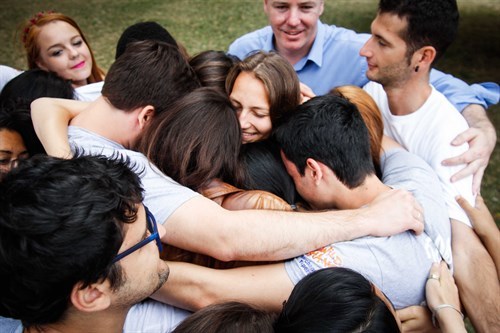 Hugging: Canada, Italy, Lithuania, Portugal, United Kingdom, Brazil, Philippines, South Africa, Nigeria, India and more.