It's not about exchanging business cards. Meetings like the One Young World Caucus hosted in Novi Sad, Serbia are about much more.
It starts with the magic of Serbia.
Let me paint a picture for you. Busy streets, historically rustic architecture, the smell of strong coffee and cigarettes in the air. Outdoor seating with large umbrellas; people gently embracing one another as they speak, kissing to say "Hello." The people are warm, affectionate, passionate and generous. This is the flavour that embodied this business-meets-pleasure trip to the Balkans.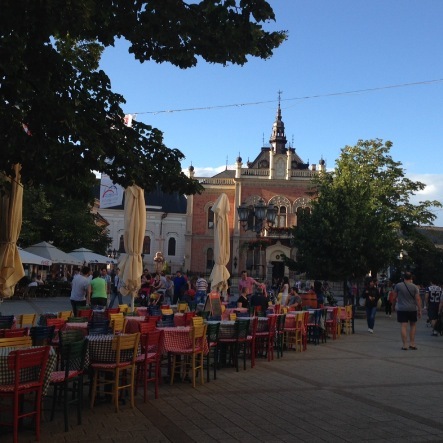 Before the Caucus even started I knew it was going to be amazing, but once I met this group of young leaders from 20+ countries, the thought was solidified. 5 days of incredibleness ensued.
From experiencing Serbian film at the Cultural Centre of Novi Sad, to the delicious food from Restaurant Veliki, amazing palacinky with eurocrem and plazma from Pinokio, motivational lectures and panels hosted by the Tesla Global Forum at Norcev Hotel in National Park Fruska Gora (and even an address from a Prince!) to camping in a tent village and dancing in a fortress at Europe's best festival, Exit Festival - the experience was filling, enriching and thoroughly energizing.

And here's the truly remarkable bit. If you know a little bit about Serbia, and former Yugoslavia in general, you'll know that the area was ravaged by war for quite some time - actually as recently as 1999. The proof is littered across Novi Sad (bombed in 1999). Crumbled building facades and bombs-turned-artwork are seen across town, indicating -even for those who haven't read the history- that something dark had happened there not so long ago.
Neighboring countries weren't always friendly to one another. But, you would never guess it sitting with this group of young people. Croatians, Serbians, Bosnians, and Albanians - most of whom had witnessed war first-hand - were laughing and exchanging ideas together.
This is the beauty of international collaboration, open dialogue and understanding. This, to me, is what being human is all about: accepting one another as we are, opening ourselves to the understanding that we are all only human: we are imperfect, and our histories are imperfect. If we are going to build a positive future for ourselves we need to look beyond our differences, find our similarities, have a few laughs together, and talk about what truly matters. Seeing it happening in reality; being a part of it, is truly a privilege and fills me with hope for increased future global collaboration.
Thanks to the hard work of One Young World and MUNPlanet, 30 young leaders were granted an opportunity that our ancestors only two generations ago could not have fathomed. Invited to a country some of us knew little about, we experienced the culture, the sights, and most importantly had the opportunity to participate in cross-cultural, cross-discipline exchange of ideas with the support of sponsors who believe in what this kind of exchange represents, and the cooperation it fosters.
This wasn't about exchanging business cards. This was a relationship-forging one-week life experience and cultural exchange...and it's left its mark on me.