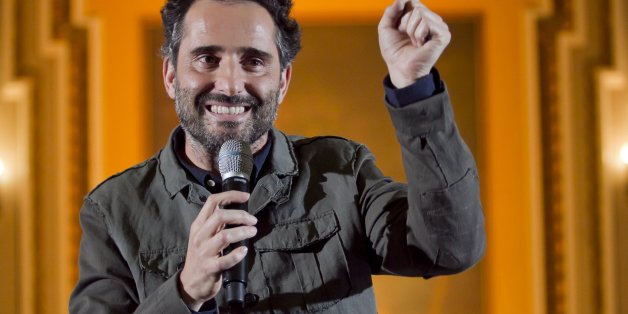 "I don't consider myself strictly a musician or a poet: I am a songwriter," said Jorge Drexler.
Drexler himself is sui generis: a half-Jewish Uruguayan former ear, nose and throat doctor and the only person given an Academy Award for a song in Spanish (his "Al Otro Lado del Rio" from The Motorcycle Diaries).
Now Drexler has slipped past artistic borders again, creating three songs in the form of an app he calls, "n." His new aplicanciones or "app songs" allow listeners to create their own version of songs he wrote and recorded in various ways. The order of the lyrics, the arrangements, the guest vocalists are all changeable.

"It's almost mathematically impossible to play the same configuration of lyrics -- there are billions and billions of possible results. It's something like 29 zeros after a number," Drexler said.
Taking that concept to the next stage literally, Drexler applies the technology to a live audience setting, picking audience members to come on stage and choose the parts of the songs, which he then has to sing in real time as it is fed to him. He brings his app live to the U.S. as part of his "World Abyss" tour this month, stopping in New York on the eighth, Washington (Oct. 10), Miami (Oct. 12), Los Angeles (Oct. 15) and San Francisco (Oct. 16).
I had to learn all 38 different melodies and sing them on the go. It takes a lot of concentration because all the melodies have little differences and if you don't actually respect that, you see the song falling apart... It gives a feeling of some kind of risk and present tense. Things are really happening in front of your eyes. The song is being written for the first time in front of people. It's a very moving and exciting [experience]... risky too. It even comes out alright sometimes.
"People appreciate you are taking a risk," he said. "You can feel that sense of solidarity with a struggling singer." The app experiment is an extension of Drexler's love of playing live.
I very much like the collective experience of a concert. It's a unique form of human synchronization. I love the sound of an audience singing or making noises. I use the audience as an instrument. I love that empathic synchronization. I really enjoy it in a musical way besides the human side of the experience.
The app and the three songs took a year and a half to complete, Drexler said. "I'm not a technology fan particularly, but I love structural poetry and I love the presence of chance in art." After being approached by friends who were more technically minded, Drexler said he decided to tackle the project if he could create music that was "native" to the technology and was in "liquid form -- songs without solid definitive format. These are songs that move all the time."
Drexler is best known in America for his 2005 Academy Award -- and for his sly and gentle rebuttal after being told he couldn't perform his own song during the ceremony (it was performed, somewhat incongruously, by Antonio Banderas and Carlos Santana.) When Drexler came on stage to accept his award, he launched into a sweetly sung a cappella rendition of a few of the lines from the song.

Since the 1996 release of his first album recorded in Spain, Vaiven, the Madrid-based Drexler is known internationally as a thoughtful, lyrically-inventive singer-songwriter who mixes light touches of electronica to his acoustic-based songs. In addition to his own successful albums and awards, his songs have been recorded by an international gallery of top stars -- from Shakira to Italy's Jovanotti to Israel's David Broza. Drexler -- though very satisfied with his aplicanciones -- is recording a new album of songs for an album that should be released next March.
Performing "Telon"


Performing his "app songs" live
Drexler's Academy-Award winning song