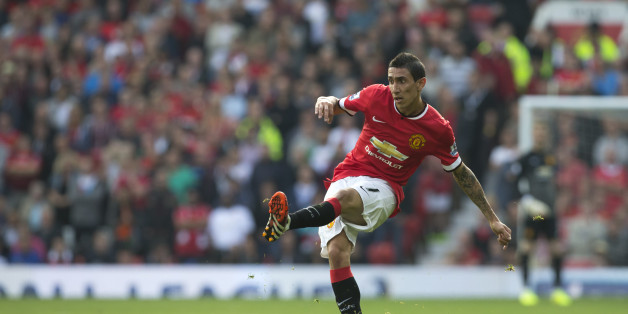 With the transfer window closing, Manchester United manager Louis Van Gaal pulled of some last minute magic to bolster the team's offense and defense. The deadline moves also included last minute sales of players who sought increased inclusion in the first team.
Shinji Kagawa was sold back to Borussia Dortmund, his previous club before Manchester United, where I hope he will resume his success. The young Japanese midfielder had a bright start to his United career with a hat trick against Norwich City, but never managed to maintain that high level of play, as he often struggled with injuries, his latest a concussion suffered against Milton Keynes Dons in the Capital One Cup. The team's most surprising sale in the past transfer period was Danny Welbeck's move to Arsenal, which will see the former young Manchester hopeful dressing in red against his former club. Arsenal's search for a front man may pay off as Welbeck failed to earn much playing time at United as he played understudy to both Wayne Rooney and Robin Van Persie, but also competed for substitute time with Javier "Chicharito" Hernandez.
Chicharito was another castaway, loaned out to Real Madrid, where he will hope to carve out some playing time from one of the most staffed attacking sides in the world. Van Gaal, also, loaned out Nani to Sporting Lisbon, perhaps hoping that the time back at his former youth club will help him regain his best form. Michael Keane was sent to Burnley on a season loan, which will give the youngster a great opportunity to gain experience playing against first division competition. Last but not least, Tom Cleverley was also loaned to Aston Villa, his chance to prove he not only deserves to play at Old Trafford, but also for his country, England.
Manchester's entrances were unexpected and noteworthy. The pursuit of Daley Blind paid off, as Ajax parted with the young Dutch defender for £14 million pounds. Marcos Rojo's work visa was finally granted and the defender finally joined the team and fellow Argentinian, Ángel Di María. Radamel Falcao's loan signing was a tremendous surprise, as he joins a United attack, which had struggled its way to -1 goal differential through its first three matches, scoring only 2 goals so far.
On September 14th, Manchester United returned to Old Trafford to play Queens Park Rangers, hoping to extinguish memories of their tough home opening loss to Swansea City. Falcao, Rojo, and Blind all made their home debuts as the team returned to their accustomed stellar play, scoring goals but also, and more importantly winning the game. United triumphed over QPR scoring four goals, while the defense earned a clean sheet.
The starting lineup for United featured new transfers Daley Blind, Ángel Di María, and Marcos Rojo in the 4-4-2 formation typical of English Premier League football. United did use a diamond formation in their midfield. Blind was deployed at the center defensive midfielder role; Di María played at the left winger/midfielder role, and was supported by his fellow countryman, Rojo at left back.
The first goal came in the 24th minute as an Ángel di María free kick evaded the heads of the targeted Manchester United players, and also QPR defenders, most notably, the outstretched hands of goalie Robert Green. The game proceeded in a rout like so many before it in Old Trafford's history. Possession was mostly held by Manchester and the game was mostly contained within the QPR defensive third. In the 36th minute, Ander Herrera netted his first goal in his United career off a wonderfully measured and volleyed lead pass from Wayne Rooney, following a lengthy, 75-yard run by Di María. In the 44th minute, Herrera returned the favor on Wayne Rooney's goal, assisting the captain after beautiful one touch passing advanced the ball to the edge of the eighteenth yard line. Juan Mata concluded the game's scoring by netting a beautiful cross body shot on an incisive pass from Di María, the midfielder's only credited assist in his magnificent home-opening performance.
Radamel Falcao entered the game for Juan Mata in the 67th minute, which previewed an ultra attacking front including Van Persie and Rooney. Falcao generated some scoring chances, but was unable to net his first goal in a United uniform. Daley Blind and Marcos Rojo also performed admirably, considering the sparse amount of pressure applied by the anemic QPR attack. Some analysts compare Blind to the great defensive midfielders of Manchester lore, but I will reserve my opinion until he faces more formidable opposition.
The 4-0 victory this past weekend highlights United's attacking possibilities, and provides a great deal of optimism for the team with its new signings and formation, invigorating United supporters after a slow start to Van Gaal's reign as manager. Additionally, while players return from injury, the team should be better built to handle tougher opponents, the rigors of the season and the remaining cup tournament. Manager Van Gaal demonstrated flexibility in his man management, by abandoning his preferred 3-5-2 formation and adopting the 4-4-2. He finally chose a formation that better fits his current personnel, a tactic that many hope he will sustain. United and Louis Van Gaal hope to continue their success this weekend, as they face Leicester City away on Sunday at 8:30 AM EST.