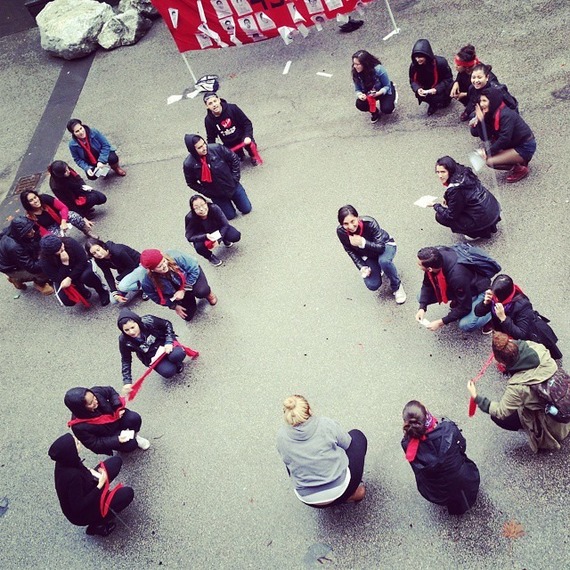 Photo credit: Joanna Beltran
After the disappearance of 43 normalistas students in Ayotzinapa Guerrero, Mexico on Sept. 26 of this year, UCSC students organized a California Students for Ayotzinapa - UCSC Collective. This student-led movement in solidarity joined on a day of action on Dec. 3, a national campaign through USTired2. California student youths organizing at the local level has become truly significant and is a response to threats against any form of state repression in Mexico.
Numbers of students of various backgrounds, mostly Latinos, as well as faculty and members of the Santa Cruz community, have made presence in local demonstrations, including a vigil at the Santa Cruz Clock Tower in response with the 43 students and the Mexican community.
These students raised their chants, pickets, and umbrellas, sensing an idealized culture of activism at the quarry plaza where the demonstrations occurred. The manifestation included a theatrical presentation with students squatting down and forming a "43" human body number on the ground, including myself, while another student organizer narrated the case of the students from Ayotzinapa. As well, there were pickets signs showing, "What if I am the 44?," and "Ya Me Canse del Miedo" -- both suggesting that the 43 students Ayotzinapa not only add to the contemporary state repression, where federal police coerced against the 43 students, but also reflects a tip-point in Mexico, foreseeing an upcoming transition of history for a new set of demands by the people. Students also showed opposition to the current Mexican government and president Enrique Peña Nieto who visited other countries and was absent to unveil the injustice of state violence against the students of Ayotzinapa.
The participation of UCSC students resembled a sense of pride and connection with the community in Guerrero, standing up against an unjust state of violence; military police repression, historically funded by the U.S. government. UCSC and the Santa Cruz community form part of a strong solidarity movement. Actions and demonstrations have shown a crucial significance from the Latino community and youth movements through an international and transnational action alert with other youth mobilization around campus.
UCSC organizations like USEU, la Union Salvadoreña de Estudiantes Universitarios, a statewide organization that represents the continuation of the Salvadoran student movement in the diaspora, and CISPES de UCSC, Committee in Solidarity with the People of El Salvador, a national organization that works to stop U.S. military intervention in El Salvador since 1980, also formed part of this large national day of action. Among all, the UCSC Collective for Ayotzinapa will continue with their organizing efforts. Both USEU and CISPES have released a statement in solidarity with the local UCSC collective of Ayotzinapa, showing a growth in mobilizing the Latino Diaspora to become more involved with the issues in Mexico and the rest of Latin America.