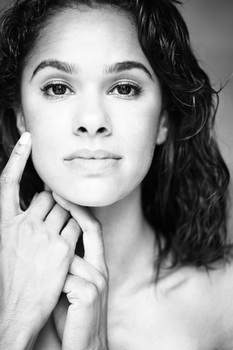 It's quite overwhelming to be in the presence of someone who crushes multiple stereotypes, and does it with grace. Misty Copeland is African American. She does not have the typical "ballerina's body." She didn't have access to classical ballet early in life, so she began dancing "late" -- at age 13.
Now she is one of only three female African American soloists in the American Ballet Theater's 74-year history. She has an enviously muscular and slender body that she wears with pride. And she has a talent that helps her to stand out as one of the extraordinary dancers of our time. A strong, proud and graceful African American ballerina extraordinaire: yes, it's quite overwhelming to be in her presence.
With poise and an infectious smile, Copeland greeted a small but packed audience at the Museum at FIT on Tuesday night. In a conversation with Dr. Valerie Steele, curator of the museum's Fashion & Dance exhibition, she discussed the impact that costumes have on a performance, her respect for her art form, and her new memoir, Life in Motion: An Unlikely Ballerina.
Much of the conversation, in tandem with the exhibition, revolved around fashion. She credits New York City for her love of fashion, but laughed as she quoted superstar Prince (whose Welcome 2 America tour she danced in): "When you're with me, you're a rock star, not a ballerina." He's the one who helped her to open up to fashion and take more risks. But it wasn't until after the tour that she found her own balance and what worked for her (typically adding an edge to classic garments, which seems perfectly fitting).
When asked how fashion factors into classical ballet, she explained: "When it comes down to it, [dancers] do all this hard work for the stage, to perform. The costume is part of telling the story of that performance. They help me to get into the role and connect with the characters." She recognized that dancers are one (important) piece within the greater production. "Dancers are palettes - blank canvases to create on. The choreography and costumes play into that and help create a story for that dancer."
But the costumes were also sometimes a hindrance for Copeland as she grew up. She recalled being a corps de ballet dancer and having to share costumes with the other members. The garments didn't account for her larger bust and muscular build. The ill-fitting costumes took a toll on her confidence and made her feel as though she didn't fit in - socially as well as physically - amongst the other dancers. Her M by Misty clothing line tries to eliminate and rectify difficulties for dancers by accounting for plus sizes and "different" body shapes.
"You don't have to come from money or have a certain body type to fit into this wonderful, beautiful world that is ballet," she said. Being one of several children in her family, dance (which she discovered at her local Boys & Girls Club) made Copeland feel like she had something that was special for just her and no one else. "It's important for kids to be able to picture anyone, including themselves, in any of these classic roles."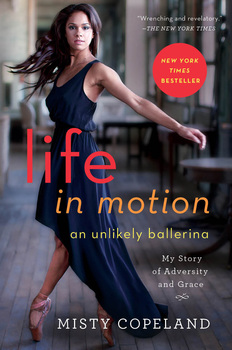 That is the goal for Misty: to change the expectations and limitations of classical ballet while maintaining the utmost respect for the art form and its traditions.
Life in Motion tells the story of her struggle, perseverance and success in the dance world. At the Museum at FIT, she looked to her past, giving advice to her 15-year-old self ("Breathe. It's okay to make mistakes. Don't stress so much. Accept guidance from those who love you."), and toward the future: in the next year, she'll play Clara in The Nutcracker, Juliet in Romeo and Juliet and will debut in the coveted role of Odette/Odile in Swan Lake. When asked by an audience member, she seemed unsure that opening her own school in the future was in her cards; but, one thing was clear for sure: Copeland, with unwavering confidence, said "I do know that I want to remain in the world of classical ballet for the rest of my life." I can attest: so do we.