What do you do: You have zilch time to roast a chicken, but you're craving something fowl. Quick! Think about chicken cutlets. They are lean, thin and cook in just a few minutes. Chicken cutlets are boneless, skinless and thinly cut from the breast meat.
Now, a lot of people think that chicken cutlets are just plain boring, but I think that they lend themselves to many types of preparation and ethnic flavorings. And they are what I reach for when I need to make something fast.

Recipes for two delicious ways to cook them are listed below, or even better you can watch me prepare Chicken Marsala at the Ciao Italia website.
Chicken Cutlets with Leeks, White Wine and Thyme
Serves 4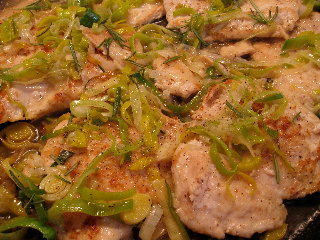 6 tablespoons extra virgin olive oil
1 large leek, ends trimmed, well washed and cut into thin rings
1 large clove garlic, minced
1 pound ¼-inch thick cut chicken cutlets
½ cup flour
1 ¼ teaspoons fine sea salt
Grinding black pepper
1 ¼ cups dry white wine
4 tablespoon fresh minced thyme
Heat 3 tablespoons of the olive oil over medium heat in a sauté pan. Add the leeks and cook them until they begin to soften. Stir in the garlic and continue to cook until the leeks are creamy. Transfer the mixture to a dish and add ½ teaspoon of fine sea salt and a grinding of black pepper. Set aside.
Pour the flour, salt and pepper into a paper bag. Close the bag and shake well. Add the chicken cutlets and coat them in the flour. Remove the cutlets from the bag and set aside.
Heat the remaining olive oil in the sauté pan; add the cutlets and brown them about 2-3 minutes on each side. Return the onion mixture to the pan and spread evenly over the cutlets. Raise the heat to high and stir in the wine. Cook over high heat for 2-3 minutes then lower the heat, stir in the thyme and continue to cook for 2 minutes. Turn off the heat and serve.

Chicken Cutlets, Bologna Style
Serves 4
1 pound boneless ¼-inch thick cut chicken cutlets
1/2 cup unbleached all purpose flour
1/2 teaspoon sea salt
Grinding black pepper
2 to 3 large egg, slightly beaten with a fork
1 to 1 ½ cups cup plain, dry bread crumbs
4 tablespoons unsalted butter
¼ pound thinly sliced prosciutto di Parma
3/4 cup grated Parmigiano Reggiano cheese
Pour the flour, salt and pepper into a paper bag. Close the bag and shake to mix the ingredients. Add the cutlets and coat them in the flour. Coat the cutlets in the beaten egg and then in the breadcrumbs making sure to press them in so they adhere. Use more breadcrumbs if necessary. Place the cutlets on a dish or baking sheet.
In a saute pan large enough to hold the cutlets in a single layer, melt the butter over medium high heat. Brown the cutlets in the butter, turning them once. Top each cutlet with a slice of prosciutto and some of the grated cheese. Cover with a lid and cook until the cheese begins to melt.
Serve on a bed of arugula dressed with lemon and olive oil.