Appearance at GOP fundraiser is less than 24 hours after holding up the country.
Stamford, CT -- On the heels of helping to avert the looming budget disaster, the 3rd most powerful man in government, US Representative (R-OH) John Boehner, traveled to the gold coast of Connecticut as the headline speaker at the CT's GOP's 33rd Prescott Bush Dinner, an event named after the late US Senator Prescott Bush, father of George HW Bush and grandfather of George W. Bush. The price of admission was $250 per person, guests could have a picture opportunity for $2,500 and for $5,000 PP a VIP meet & greet with priority seating! The crowd was estimated at 550 party stalwarts.
Massachusetts may be the birthplace of the Kennedy dynasty, but Connecticut is the former home to the Bush legacy and Connecticut's old guard. Past Prescott Bush Dinner keynoters to name a few: Governor Haley Barbour, Tim Pawlenty and Newt Gingrich. To be fair, President Obama, John Kerry, John McCain and legions of other politicians have made their way to the cute nutmeg state an hour outside of NYC in hopes of coming away with bucket loads of cash from the head honchos of hedge funds and titans of industry.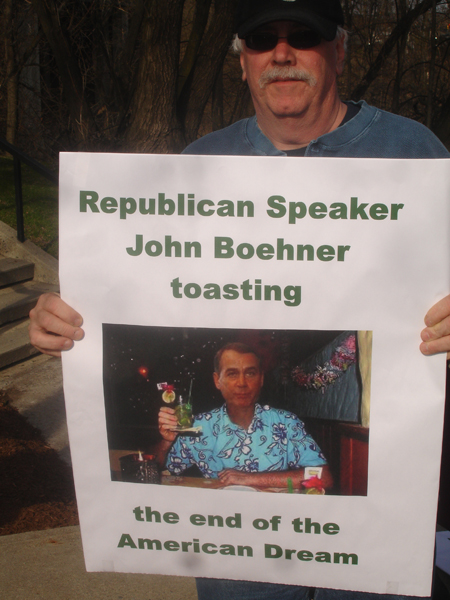 Protester's Sign: "Republican Speaker John Boehner Toasting the end of the American Dream"
Outside and down the Stamford Hilton Hotel's driveway stood progressive protesters with signs welcoming the speaker to CT. Demonstrators, upset with the Republicans' war on woman, seniors, the poor and disenfranchised walked, carried signs and chanted. Jim Dean, (Fairfield CT) of Democracy For America with 1 million members, started by his brother, former DNC Chairman Howard Dean. "We're doing a lot of work all over the country where we have to have a balance to expand health care, campaign finance reform, marriage equality..." And they are focusing in Wisconsin after the Waukesha county clerk announced, as if by magic, that a previously uncounted 14,000+ ballots in the state supreme court race not only shifted the race, but just enough to keep an automatic statewide recount from occurring. Other protesters included Connecticut Citizen Action Group John Murphy, the last time he was standing in front of the Stamford Hilton, at an Obama fundraiser was to thank Senator Chris Dodd for his leadership in health care reform. Cars entering the driveway honked as they went by, did they think the signs were in support of the GOP?
Speaker Boehner's 15 minutes of cheer leading cliché-filled sound bites included: "We've run out of road to kick the can down... It's time to stop whistling past the graveyard... Acting like we're not going to deal with it... If the president won't lead, we will...We are in the battle for the freedom for our country... Rinse, repeat & spit out."
Boehner was joined by Republican National Committee Chairman, Reince Priebus, for some well deserved chest thumping with the promised negotiations on the next vote to extract further bloodletting in the name of deficit reductions. First it was 39 billion and next week: 71 billion. Priebus continued, "The cheeseheads have had a pretty good run... and isn't US (R-WI) Representative Paul Ryan doing a great job!" Me: Sure you are, as an outside protester's sign read: "GOP Sending us back to the 1800's"
This is an award dinner and this year's recipient for his hard work on behalf of the party was CT House Minority Leader Lawrence F. Cafero, Jr. whom explained the belief that blue Connecticut was turning the tide, noting local wins without mentioning the major loss in the Governors mansion. Shout outs to those seated included recent CT candidates and or office holders: Linda McMahon, Nancy Johnson, Christopher Shays, Tom Foley, it was a regular "name that politician in attendance" kind of evening.
In the end, Boehner and Priebus promised the party faithful that their job was to make sure President Barack Obama was a 1 term president & that they were going to take back the country. Boehner promised, "We're not going to raise the debt ceiling without something really, really big attached to it." And he then promised that after whacking thru the 2011 budget they would be back to work on the 2012 budget. Me again: Can't wait!
The best quote of the evening was from Reince Priebus, "Can you imagine another 5 more years with Barack Obama?" To a crowd chanting "No"... Judging from some of the invisible faces of hotel waiters, the answer is yes, yes we can. Me one last time: Boehner and Priebus: Tone deaf and out of touch with Connecticut, and for that matter American families, like I said: Mr. Sensitivity.