Tuesday January 6, 2015
After our long overnight flight from New York, I have gained a greater appreciation for frequent flyers who travel half way 'round the world regularly. I could not have anticipated the effects of sleep deprivation and the ensuing topsy-turvy body clock until it happened to me! While we were being graciously entertained by our lovely hostess Hemali last evening, I nearly fell asleep sitting on her couch. Then, when we got back to our hotel room, I started editing my photos, became wildly excited, and stayed up until 1:00 am. This morning, of course, I had a heck of a time waking up!
However, I did make it in time for a light turn on the Indian breakfast buffet here at the Suba Palace Hotel and so enjoyed the coffee with a hint of spice and steamed milk. Hemali met us at 9:00 and we were off to the Chatrapati Shiraji Terminus (formerly Victoria Terminus), a World Heritage Monument. Construction began here in May of 1878 by the British firm Great Indian Peninsula Railway Company. We were only allowed to photograph the building from the entry gate, as security is tight due to the attack during the assault on the city in 2008.

We walked to the entrance of this thriving train station and were met by throngs of commuters disembarking from their trains and heading off to work. It reminded me of similar scenes at Grand Central Station in New York City or Victoria Station in London; all huge metropolitan hubs for commuters working in a big city. Hemali pointed out that most films shot in Mumbai show this building as an instant touchstone, a visual icon of the city.
Today we were in a moderate-sized van and even with our diminished size, negotiating around the city streets (whether walking, driving, biking, or motorcycling) you truly take your life in your hands! Our drivers were experts and I never worried, but we keep remarking that it's miraculous we haven't seen one accident since we arrived. I figured out the strategy today: drivers do not wait for an opportunity to "get into the flow" - they just get the nose of the car out there and petal to the metal! Whoever is the last one to give, loses!
We went to the Malabar Hill neighborhood next and experienced what has been the most uplifting neighborhood so far: Ban Ganga. This large rectangular man-made "lake" or "pond" is nestled at the bottom of a series of cement steps all the way around. Water from the Ganges River flows into it from an underground stream, thus it has been a sacred place for Hindus for centuries. There are twenty ancient Hindu temples scattered around the streets surrounding the lake and as we walked the circumference I was able to appreciate the simple beauty of each one. Having been a follower of the Hindu faith for a number of years, I was deeply honored to be able to visit these sacred sites, offer my gratitude and be blessed. We received several bindis (a dot of color placed on the forehead) from local priests as we made our trek around the site. It was also fascinating to witness several people who were having rituals performed by Brahman priests near the water's edge. Hemali explained that this is often meant as a cure for life's problems.

We continued walking up the hill toward our next stop, a neighboring Jain Temple (another Hindu sect) and learned that the Jains are generally successful members of society who are generous to community causes. They are often bankers, stock brokers, diamond and gold dealers and their temples are highly ornate, decorated with bright colors, and often, made of white marble.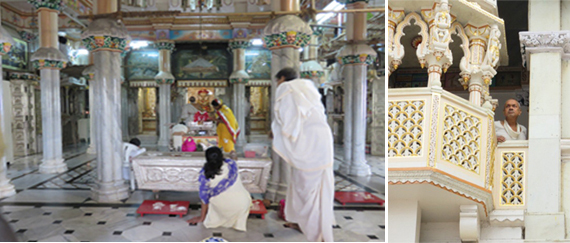 On the way there, we passed this soulful shoe repair man who Hemali knew. She shared that this small tent is his home where he lives with his young son. Quite humbling. Enjoy a few other of my pictures from the walk. (I'm a sucker for great packaging and check out the Indian version of Wonder Bread!)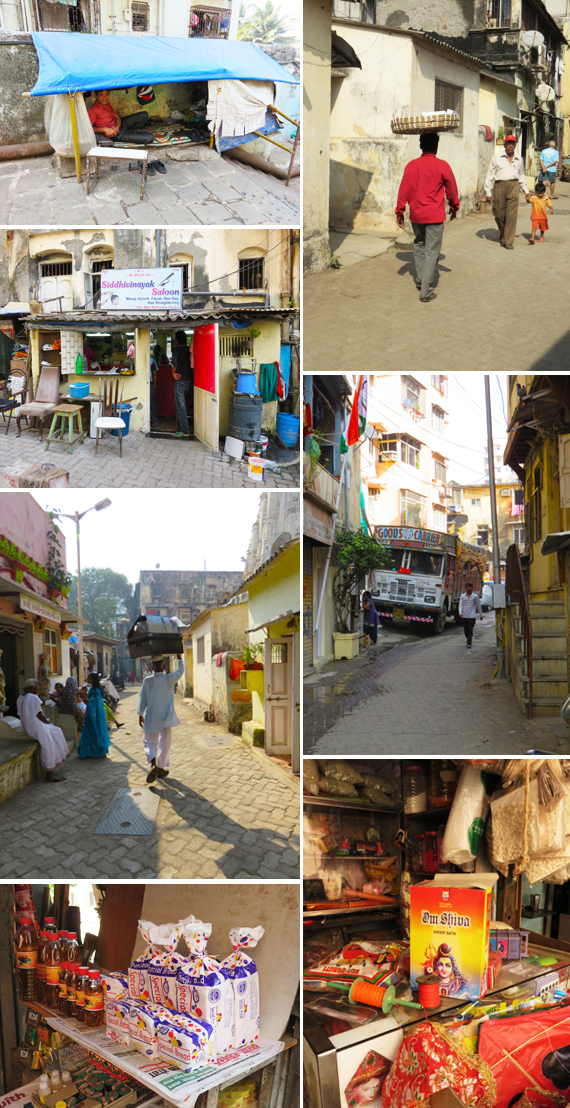 Lunch today at a south Indian vegetarian restaurant called Dakshinayan was out-of-this-world. Like yesterday, we let Hemali order and were certainly glad we did! I remarked that I could easily become a vegetarian if I could eat like this every day! Here's today's lunch menu: kanchupurum idli (white rice cakes) with a coconut chutney and a spicy red chutney; vadai (fried savory donuts); rasam vada (dumplings with white lentils); red sambhar (southern version of dahl); bisibelle rice (soupy); ven pongal (white rice and lentil dish); maysoresada dosai (thin flat bread, like a crepe); rava sada dosai (lentil thin flat bread, full of holes that make it look like swiss cheese)! For dessert we had sheera, delicious coffee (beans from the south) with steamed milk, and ice cream flavored with rose water. Extraordinary! Highly recommended!
We knew the afternoon was going to be challenging, but we made the decision to visit the Dharavi Slum, (similar but not the same slum depicted in the book, Behind the Beautiful Forever and the movie, Slum Dog Millionaire). We drove 45 minutes out of the city and were greeted by a charming young man named Shailesh (25), who grew up in the slum and still lives there with his parents and siblings. He, however, is not one of the ordinary inhabitants of this amazing economic engine of Mumbai (this is the recycling hub of the city). He is in the process of getting his PhD in Chemistry with his sights set on the University of Virginia for further education! He represents a tiny minority of people who have figured out how to escape, make a better life for himself and others. He teaches computer skills at a local school for no pay and wants to bring more education to those living here. We walked through the "industrial section" where where everyone was hard at work, primarily recycling plastic bottles of all shapes and sizes, and then through the "residential section" where he asked that we not take pictures to preserve people's privacy. This was a deeply humbling experience and we all came away realizing how much we have to be grateful for back home and made a pact not to complain about anything in our lives ever again!

Traffic was brutal getting back into Mumbai - the 45 minute trip on the way out took two hours (and our driver said this was a "good" day!) Whew! It took every ounce of strength to stay relaxed, as aggressive drivers darted in and out and the motorcycles had their own two lane highways on either side of us, between the cars, and on the edges of the roadway.
We made it to Hemali's classical Indian dance practice by 6:15. She had invited us to watch as she and her daughter worked on dance routines they've been studying for close to 9 years. We were very tired, but happy to see them perform with great skill and grace. Here is a picture of them in their full costumes - just beautiful!
We said our good-byes, as we'll be leaving for Ahmedabad tomorrow morning. What a warm glow we have in our hearts for Hemali's welcome smile and wealth of knowledge that she shared with us. We've made a new friend for life! And Mumbai will forever be etched in our hearts.
--
Mary Anne Erickson is an artist who has been documenting the demise of our American roadside culture for over 30 years in paintings and photography. Her work can be seen at www.vanishingroadside.com.