Monday January 12, 2015 -- Our last breakfast at the Jagat Niwas Palace Hotel in Udaipur was poignant. As wonderful as the meal was, it was the view I could feast on for days to come. We left promptly at 9:00 a.m. traveling back on the narrow streets to rendezvous with our van. It was once again a heart-stopping ride in a tuk tuk, this time with a very entertaining driver who turned the music up loud and sang to us in Hindi. Back on the open roads, we observed a number of women carrying huge bundles on their heads along the roadsides. Adil explained that in the rural villages, women do most of the heavy work (like fetching large pots of water which are carried on their heads and doing the field labor) while the men sit around drinking tea and socializing. Hmmmm? This is challenging to my western sensibilities. I am pleased to have been able to witness some of the strides SWATI has made in advancing the rights for rural, village women in Gujurat.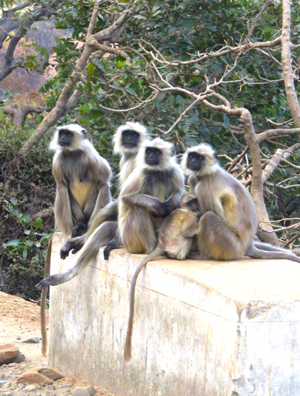 As we drove north toward Deogarh, we were on a two lane highway that trickled down to a 1+ lane highway with very little traffic. This was a delightful surprise! Soon, the arid landscape became more mountainous and we found ourselves on a very treacherous road with many hairpin turns. All of a sudden someone in the bus yelled, "there's a monkey!" and we all sat up at attention to look for more. As we continued on there were lots of monkeys sitting on the barricades along the side of the road. We begged the driver to stop so we could take some pictures, which he did, but we were advised to stay inside the bus. We loved observing the mothers with the babies and a tussle between two little ones playing. At one point, something scared them and boom, they all ran away at enormous speed!
We arrived just before noon at the ancient Ranakpur Jain Temple, constructed over 1,500 years ago. This impressive structure has over 1,400 richly carved pillars made of Sevali and Sonarna stones. No two pillars look alike. It is inconceivable how many people it would have taken and how many years to create this masterpiece.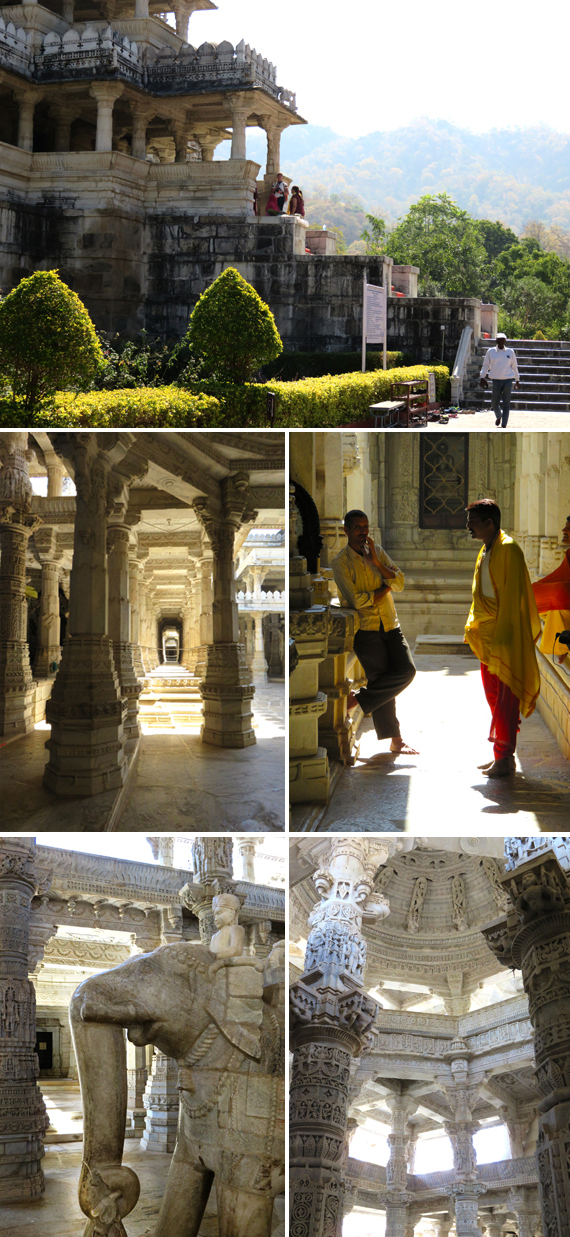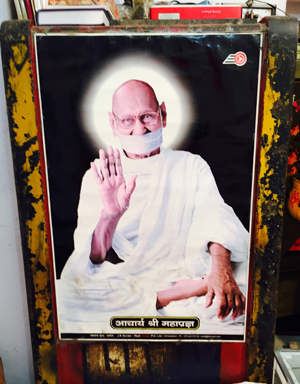 Adil gave us a brief lecture on the Jain sect of Hinduism, which was founded 500 years before Jesus was born. The word "jain" means "conquerer": Jain followers strive to conquer their desires. They believe in non-violence to even the smallest creatures in the universe, therefore a strict Jain follower will eat before sundown, as after sundown they could accidentally inhale a bug while eating. They also wear a white mask so as not to inhale a bug during the daytime and sleep with the mask on for the same reason. They eat not for pleasure but strictly to survive.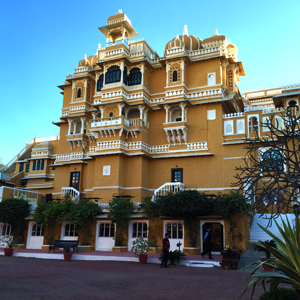 We rode a few more hours to get to our fantastic hotel, the Deogarh Mahal, which is a converted palace with once again, a long and complex history. Each room is unique, as this was a home for royalty. Our room had a large sitting room, bedroom, changing room, and spacious bathroom with ultra-modern fixtures.
Before dinner we enjoyed strolling through the adjoining streets, taking in the wares of this very real, not tourist, town.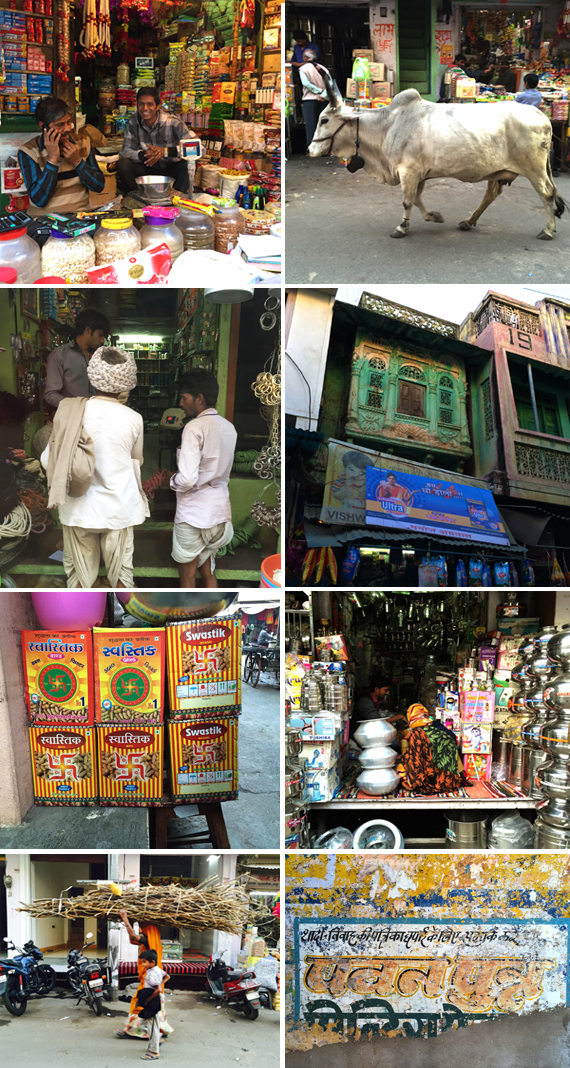 At 6:30 the hotel put on a wonderful music and dance performance for us in an upstairs courtyard around a big fire. I was having such a good time grooving to the music that the dancers approached me to join them for the finale! Well THAT was a surprise I wasn't expecting. I jumped up and did my best to follow along with their dance steps, although it reminded me of how awkward I felt in my first Zumba class! Someone in my group shot a video on his phone, but he promised not to post it online - thank you!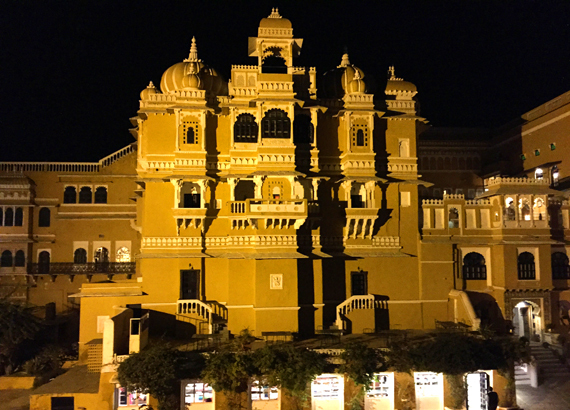 We then adjourned to the hotel restaurant for dinner, and the walk there took us past this dramatic view of the facade of the palace. We all agreed we felt like we were in a Broadway show - but wait - THIS is reality! We enjoyed another delicious meal in the most beautiful room and are now singing the praises of our excellent tour planner, Abbas Slatewala of IndiaSomeday for bringing us to this magical spot and for the great experiences we've had so far!
Join me tomorrow as we journey on to Jodhpur.
Mary Anne Erickson is an artist who has been documenting the demise of the American roadside culture for over 30 years in paintings and photography. Her work can be seen at www.vanishingroadside.com