Thursday January 22, 2015
Today was our second-to-the-last-day in India and I am feeling a mixture of emotions about leaving this powerful land. Our wake up call was for 5:00 a.m. to greet the morning sunrise over the Ganges, but both Ellen and I slept fitfully all night and found ourselves awake at 4:30! We met our guide, Adil, in the lobby at 5:45 and off we went. Fortunately, today we were able to drive much closer to the river, as everything was closed, so we didn't need the rickshaws. That was a relief!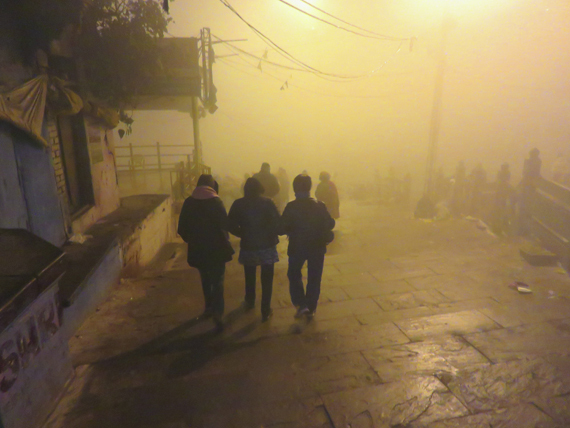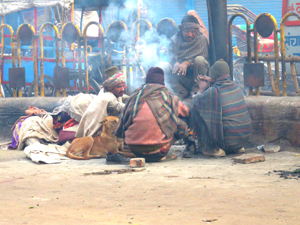 It was a chilly morning and as we approached the river, dense fog and smoke surrounded us. I felt a sense of anticipation, almost heaviness, not knowing what experiences the next few hours would bring. As we neared the steps which descend to the river, people were burning little fires along the sidewalks and there were many beggars still asleep on the ground, some with just a small blanket to cover them.
Walking down the steps toward The Ganges, we were surrounded by many figures coming into and going out of our view due to the fog. There was a whole contingent of men who had just bathed in the river and were drying themselves off, along with vendors selling merchandise we could not make out.

Our boat driver from last night approached and we boarded to begin our last ride on the sacred Ganges. We heard chanting and shouting and occasionally could make out a haunting figure attached to the sound. There were people doing laundry, bathing, and carrying water. Adil told us they carry this holy water back to their homes to save for a medical emergency, in which case it would be sprinkled on the person as a means of healing. I was enthralled by the mood of the mist on the river and was compelled by the visuals. Enjoy!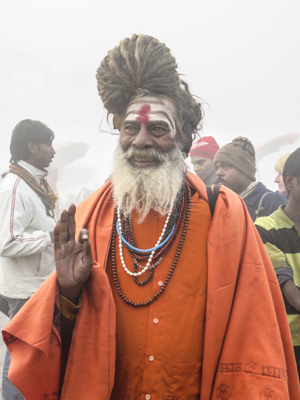 This magical ride could not last forever, and as we drifted back up the stairs departing the Ganges, I felt the pull of an ancient mystery which had just unfolded before me. We made our way through the crowds, and noticed this sadhu who was letting people take his picture for a few rupees. He seemed quite delighted to share himself, so we clicked away along with others in the crowd.
We rested in our rooms briefly before packing up to leave the hotel. Our guide had one more fascinating historical location for us to see before we boarded our flight back to Delhi: Sarnath, the sacred spot where the Buddha gave his first speech after his enlightenment, where he taught The Four Noble Truths. This temple was constructed 400 years before the birth of Jesus, and many Buddhists from all over the world make pilgrimages here. Thus the long lines of tour busses near the entrance gate and large groups of many nationalities enjoying this sacred spot.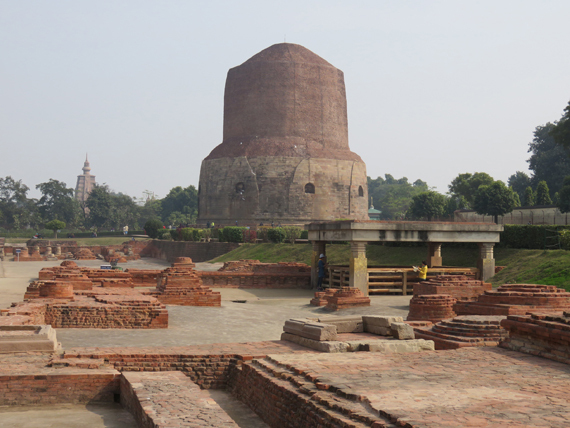 It was fascinating that King Ashoka (who ruled the Indian subcontinent from approximately 269 to 232 BC) waged the brutal Kalinga War, and after witnessing the enormous amount of deaths, met the Buddha and became a proponent of non-violence. There is a monument to him here called "The Ashokan Pillar," which we all found fascinating because back home in the Hudson Valley, one of the large New York City reservoirs is called "The Ashokan Reservoir"! Now we are curious about the connection between the two names?
Our one hour flight back to Delhi was uneventful and we got to our hotel quite late. We were once again exhausted, but felt incredibly grateful to have been able to partake in the experiences at Varanasi. Tomorrow is our last day in India and I'm feeling both sadness that this incredible adventure is almost over, and a strong yearning to be home again. Stay with me for one more day, it's been great to have you along for the ride!
Mary Anne Erickson is an artist who has been documenting the demise of the American roadside culture for over 30 years in paintings and photography. Her work can be seen at vanishingroadside.com. She also blogs about great food and entertaining ideas at bluemountainbistro.com/blog.