Sunday September 14, 2014, from Winslow to Kingman, Arizona
Our day got off to a late start and we missed connecting with the bike group that was going to the Grand Canyon. (There were two choices: the giant meteor crater or the canyon). We decided it was fine to be on our own today, as Jen had never been to this wonder of the world, and we wanted to spend more time there. Little did we realize however, the great distances we would be traveling and how little time we'd really have.
Between Winslow and Flagstaff the landscape is completely barren and flat, desert in all directions except West where you see the The San Francisco Peaks rising on the horizon. Route 66 has merged here with I-40 which is just fine as there are miles to go before we sleep! And an attraction I've seen many pictures of and wanted to experience for myself, Twin Arrows Trading Post. Michael Wallis gives a vivid description of the Cafe here and the great food they serve(d) in his book Route 66, The Mother Road: "Inside the small eight-stool diner, fry cooks serve up good road grub - steak and eggs and hash browns - despite a joke menu that talks about buzzard eggs, fried pack-rat tail, sagebrush coffee, roasted jack-rabbit ears, meteor crater stew, braised rattlesnake hips, sauteed centipede legs, prickly-pear pie, and lizard tongue pudding." I was so sad to see the spooky deserted remains of what once must have been a really great roadside attraction.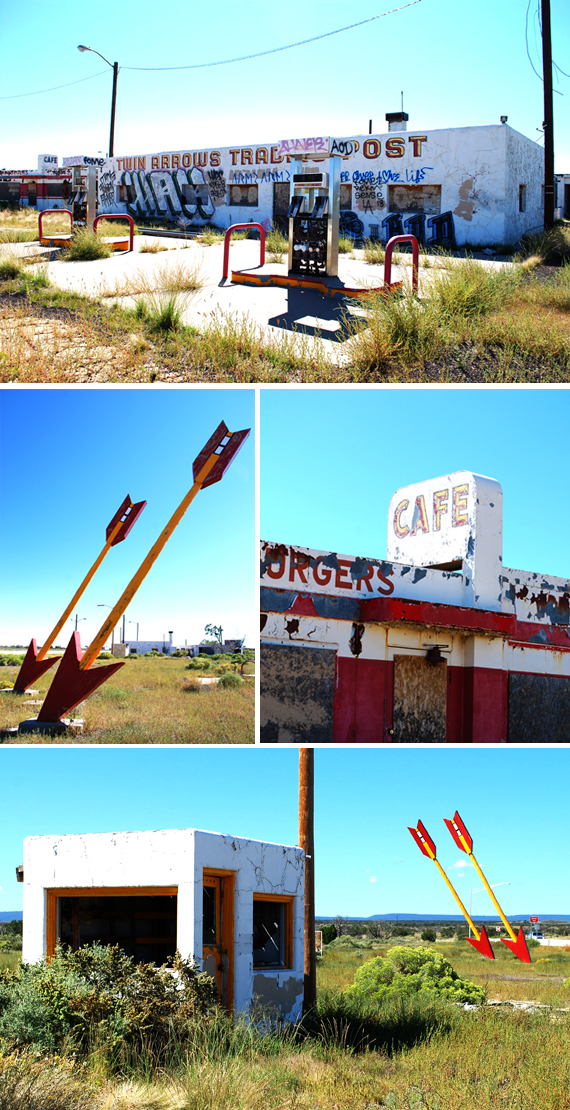 We got back on the highway and headed for the Grand Canyon. I've been there several times, but this was a first for Jen and I knew how powerful it would be for her. As we approached the park we veered off the road to appreciate the Flintstone Village. What a great classic roadside attraction that's been well maintained. Just loved the funny buildings paying homage to the cartoon series of yesteryear.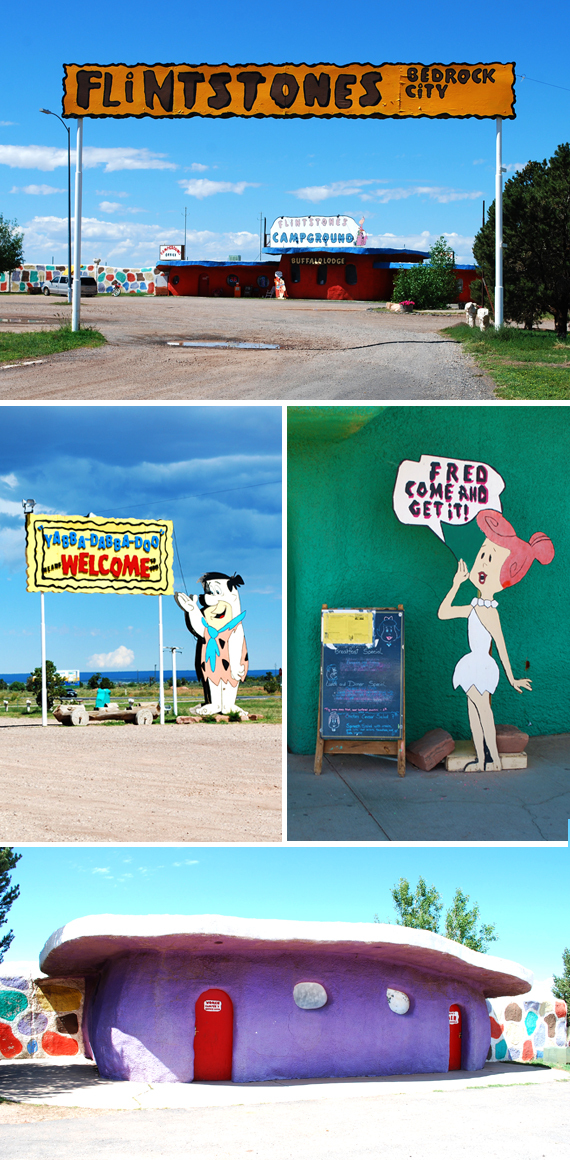 We arrived at the Canyon around noon and had great difficulty finding a place to park. It was packed! We eventually found a spot and I moved my valuables (the bag with my ipad, journal of the trip, and a slew of cool postcards I'd purchased along the way) from the back seat into the trunk. Slammed it shut and off we went to experience The Canyon.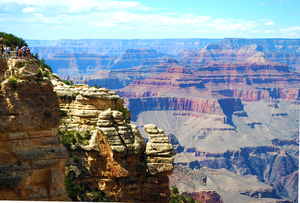 It was as awe-inspiring as I remembered and I decided not to take a lot of pictures (they can't begin to capture the majesty of the place). I'll let the professional photographers give it their best shot! We fought the crowds of almost entirely foreign-speaking tourists for a short while, made another stop or two along the rim, and then hit the road knowing we still had a long way to travel. Our next stop was the historic town of Williams, which was known as a center for livestock, lumber and railroad activity.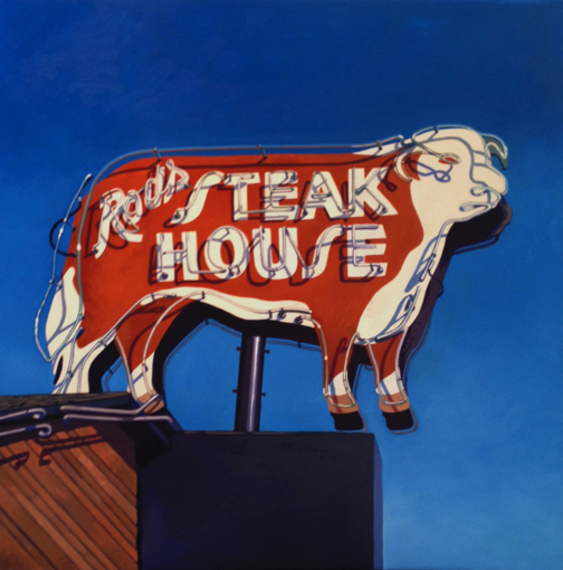 My husband Richard and I toured Arizona Route 66 in 2012 and I captured some great pictures in Williams that inspired two paintings: Rod's Steakhouse, above (48x48" oil on canvas) and this classic Dairy Queen sign (also oil on canvas, same size).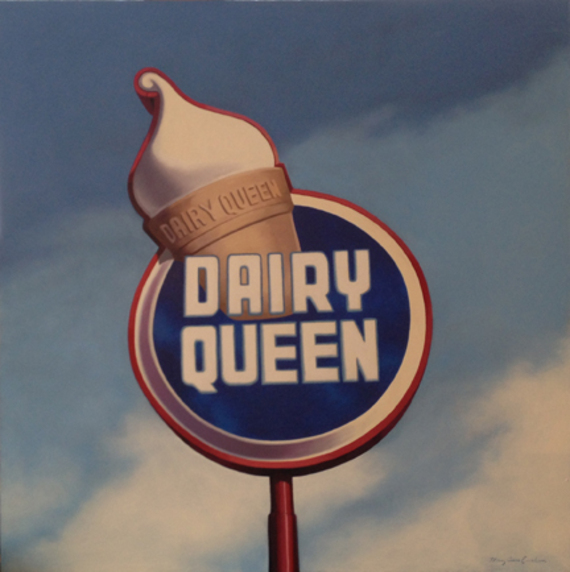 We were treated to a grand thunderstorm as we trekked westward to the next great town on the old #66, Seligman.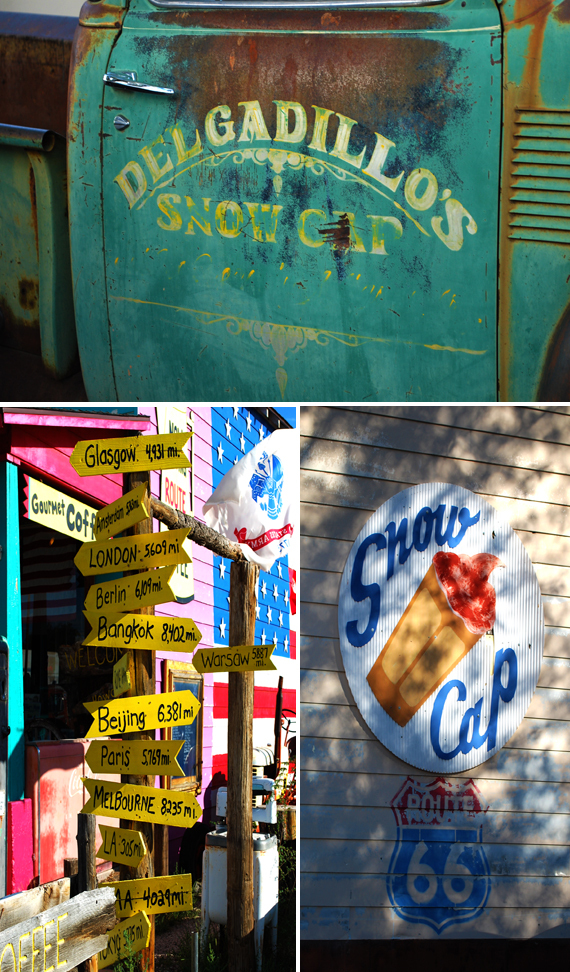 Here you will find no end of fun and kitschy spots to grab an ice cream cone (at Delgadillos Snow Cap), dine on the finest cuisine at The Roadkill Cafe, or appreciate endless gift stores with Route 66 stuff to take home. Here's another one of my paintings from Seligman of the Lemon Yellow Cab Company.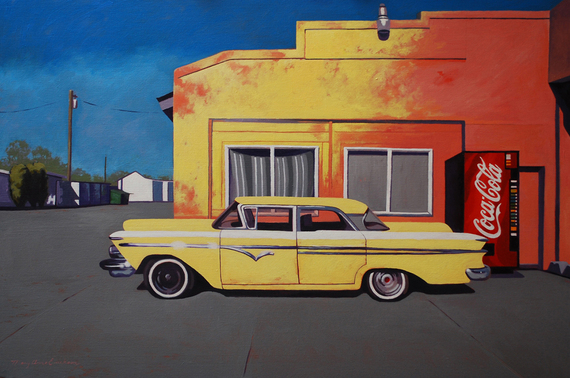 We rolled into Kingman around 6:30 and the crew was gearing up for dinner at the steakhouse just down the road.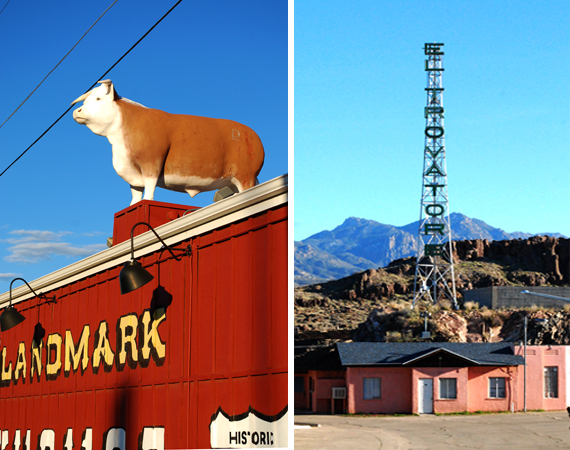 We opened the trunk to pull out our bags and I noticed immediately that my bag with the ipad and journal were gone. How could this be? We looked everywhere in the car, but never found it. We eventually deduced that the bag must have been stolen at the Grand Canyon. I felt sick to my stomach and shaky all over. My ipad has been my lifeline to this blog. But really most upsetting was the loss of my journal that I had planned for months before the ride. This was my special accounting of Route 66 from start to finish: my tailor-made memory book that I would refer to for years to come. All of that now gone!
I was numb. I felt like something had died - been taken from me. The death of a dream - a project aborted. Where to start? Jen whipped into action and put an ad with a reward on Craig's List. I called the police and the rangers at The Grand Canyon to report it. What else? Change your passwords - use "find your phone" - but I don't think I ever registered it? or did I? (turns out I didn't so there's no way to track it). I knew my photos were in the cloud and that I'd be able to reload my apps once I got a new ipad. But the journal I could never replace. My prayer was that some kind soul would find it and seek me out to return it. But in the meantime, how do I proceed? I don't want this event to destroy my joy on the rest of this trip.
Here is what I AM grateful for so far:
1) our little (borrowed) Toyota Echo has been a champ on the road!
2) Jen's willingness to come along on the ride and for all the great adventures.
3) our good health - this ride has been challenging in so many ways.
4) the excellent weather from start to finish.
5) my husband Richard who said I could follow my heart's desire and wished me well for a 2 1/2 week vacation from our business.
6) Rodger Fox who planned such an amazing itinerary for all of us.
7) the great group of people who chose to come along on the ride.
8) the donors who have helped us raise over $5,000 which we've donated to the American Cancer Society.
9) for still having my cameras, my iphone, my money and credit cards.
10) for my desire to shake off this event and get back on the horse - no one can take away all that I've loved about this trip.
Tomorrow we will make the final climb on one of the oldest remaining sections of Route 66 into Oatman where the burros run wild. It's one of my favorite stretches of #66 and then into California and the Mohave Desert. Thanks for coming along for the ride. Your support means so much!
Mary Anne Erickson is an artist who has been documenting the demise of our roadside culture for over 30 years in paintings and photography. Her work can be seen at www.vanishingroadside.com and you can follow her Route 66 adventures at www.facebook.com/Rtesixtysix.