Recently, I received distressing news. Fred Le Chevalier, a Paris street artist known for his simple but elegant stencils, was busted by the Paris Police this past week. "Paris Play", a popular blog, spread the word. (Click here).
Fred, who is rapidly becoming a populist artist, has been hanging his work in Bellville and other areas of Paris for about three years. Belleville, which is in the 20th arrondissment, is known for its many artists and small galleries. Every available space, including former garages and storage areas are considered prime locations. Not very fancy, but greatly appreciated by artists, residents and visitors.
As he unfurled his latest creations in the 10th arrondissement, admirers gathered to watch. Frequently, they applaud when he is finished.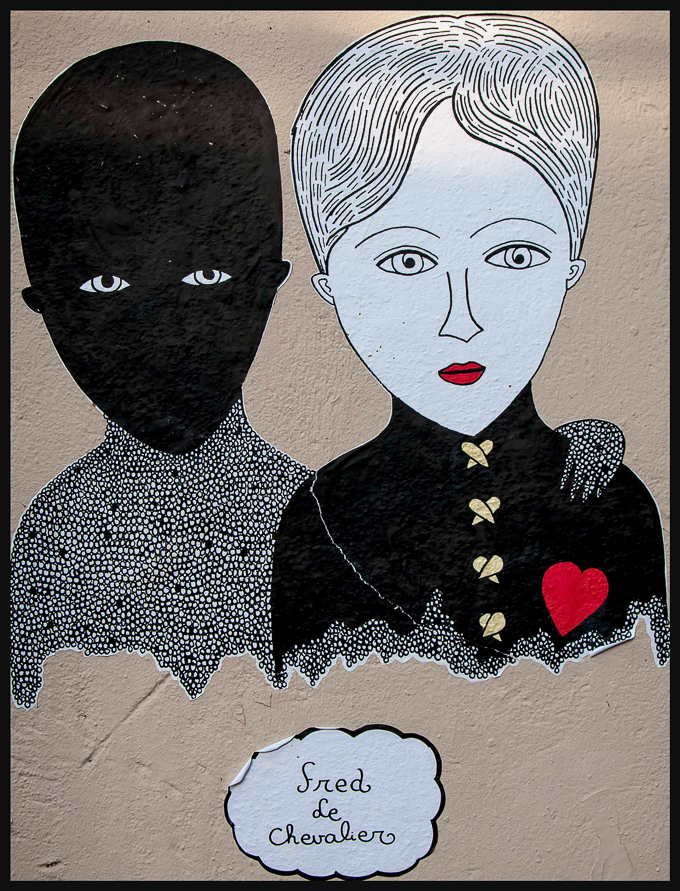 But this time, one person did not applaud. He approached Fred, showed him his identification and started asking questions. Fred quietly answered his inquiries. Fred was being busted by the Chief Detective in charge of stopping illegal street art. Some street art is legal but is controlled by various Paris bureaucracies. The Chief Detective informed Fred Le Chevalier that he could be fined up to thirty-five hundred euros for each illegal piece. Of course, this is ludicrous since most artists don't have much money.
When art lovers attend Fred's informal art fairs, some leave disappointed. Unlike many artists, Fred Le Chevalier has an unusual problem. His work sells immediately. Why? Because Fred prefers to keep his prices low so more people can afford to purchase his drawings. If you are late, there is nothing left to buy.
But the Chief Detective has rules to enforce. If Fred removed the artworks, the fines would be waived. Sadly, Fred tore down his colorful figures.
What will Fred do now? He'll move on to the suburbs and his admirers will have to trek a little farther to enjoy his latest creations. It is Paris' loss.