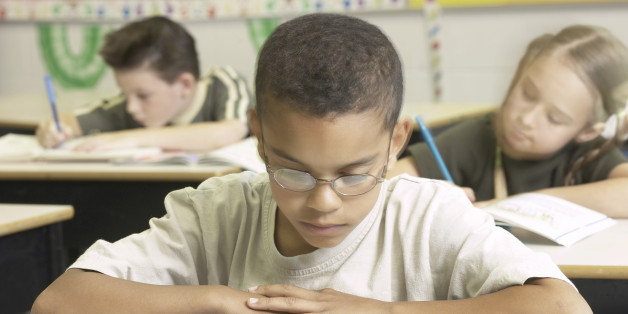 Actually, you probably already know him. Or someone like him. For me, Will is the kid in my class that never looks like he's having fun. He's focused and quiet, hard working and serious. I've never seen him smile in my class before. And I'm really funny, so that's a major feat.
Will is respectful and attentive. If I notice the class is losing interest (not that that ever happens... ) or distracted, I can guarantee that Will is paying attention and could repeat every word I'm saying. He's just a good kid who's got the school thing down. But I was sure, until recently, that he didn't really enjoy my class, me or what we were learning.
You know those kids that do everything they're told because it's their nature? The first born, the type-A people pleaser, the rule follower, those kids/students that just do it because they don't know how to not do it. I thought Will fit that category perfectly. God bless him, he would probably rub my stinky feet if I told him to just because that's who he is.
Not that I've ever asked a student to rub my feet before. Because that's gross and the stuff weird Lifetime movies are made of. And I really like having a pay check and a roof over my head. And, you know, not being in jail.
But.
Always a but. Recently we had parent conferences and Will was one of my assigned kids. I had to meet with his parents and go over his progress for the first quarter and share his report card. Will and the other students had prepared for this meeting by gathering test data and doing a reflective self-assessment.
While Will was going over his data with his parents, I was glancing over his self-assessment. In response to the question "What class do you like best?" that sweet boy answered mine. He wrote that he enjoys all the books we talk about and read and that he has fun in my class.
I almost fell off my chair. Because remember how I've never seen him smile? That wasn't an exaggeration. I have never seen Will smile. But he loves my class.
Man, I love Will. (Again, in a non-Lifetime movie sort of way.)
And loving Will even though I know he's never cracked a smile in my room makes me wonder about more of my students. Who am I overlooking because they don't make themselves known like some of the louder or more challenging students? How many Wills have I had that just loved my class and I didn't truly see because they were easy to teach and always working hard?
I was a Will. As a student, I was not the dynamic, outspoken, brilliant woman you see before you today (ahem). I was unsure of my abilities and scared to raise my hand. I never would have stayed after class to talk to a teacher or laugh with them, sometimes I couldn't even look them in the eye. I purposefully hid and went unnoticed because I didn't want people to see me. But I LOVED some of my teachers. I won a college scholarship from an essay I wrote about an influential teacher, one that I would have never told face-to-face about my admiration. I just couldn't have done it.
My daughter, Ellie, is in kindergarten and thinks her teacher is the greatest thing on this planet. All her papers come home with "I love Miss Burns" written on them. She makes pictures for Miss Burns every night after dinner. She practices writing Miss Burns' name on restaurant place mats, my notebooks, and inside coloring books. She has no qualms about professing her love for her teacher. Part of that is because she's a kindergartner and she's my daughter and school is just her thing, but she doesn't have a self-conscious bone in her body. She likes something so she wants to tell people about it.
Her teachers are never going to wonder about her, they'll know if she likes them and, unfortunately, she'll probably tell them when she doesn't. She seems so sure of herself. The opposite of kindergarten me. I don't have worries about her getting lost in school.
But then Will. This smart, polite, quiet, serious boy. What if I lost him? What if I didn't notice that my class was his favorite and I went all year thinking he didn't enjoy being in there? He still would have received a great learning experience in my room, regardless of that knowledge. But relationship--what so many of our students (and so many adults!)--crave would have been less, might have been lost. And that would have been my fault.
I would have missed out on a real relationship with a great kid because he was quiet and respectful and studious.
Man, teaching is hard. Hard in ways you don't yet know and hard in ways you can't imagine.