Private U.S. companies continue to see the highest per-employee sales and profits in years, according to new preliminary data from Sageworks Inc., a financial information company where I am a research specialist. The question is whether those figures will peak at current levels or will continue their upward trajectories, considering employers' cautious desire to hire.
Sageworks' preliminary estimates for 2012 indicate the average profit per employee that a company makes increased nearly 1 percent from 2011. Per-employee sales, meanwhile, rose an average of almost 5 percent for the companies in Sageworks' proprietary database. Both metrics grew more slowly than they did between 2010 and 2011, when profit per employee jumped just over 20 percent and sales per employee increased by 10 percent. And both have reached at least decade highs.
"As the economy rebounds, employers are used to getting a lot of value out of each employee," said Sageworks analyst Brandt Leahy. "Even though companies are thinking of hiring again, they may be used to these higher levels of profit per employee."
Business owners continue to have concerns about the U.S. economy and what will happen in Washington, D.C., so they may be keeping a close eye on expenses, including labor, he said.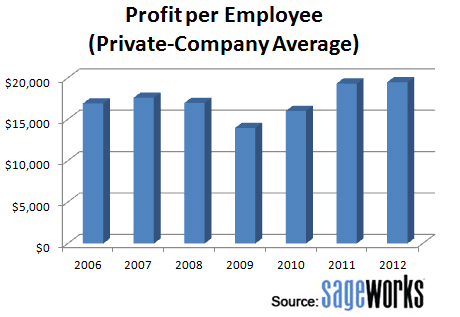 Leahy said he would be surprised if the average profit per employee returned to pre-recession levels anytime soon. In fact, as Sageworks gets more data (as more 2012 financial statements for private companies are completed) in the coming months, he said, "We could see that profit per employee tick up even more, because the multi-year trend is strongly upward."
Preliminary estimates show that private-company sales increased nearly 8 percent in 2012, and net profit margins, on average, increased to around 8 percent from around 5 percent in 2011.
"It seems like companies are growing sales without really increasing the workforce proportionally," he said. And obviously, the more productive employees are, the higher the margins.
"I think that employers are asking employees to be more efficient than ever, and you're seeing that with the net margin expansion across the board," Brandt said.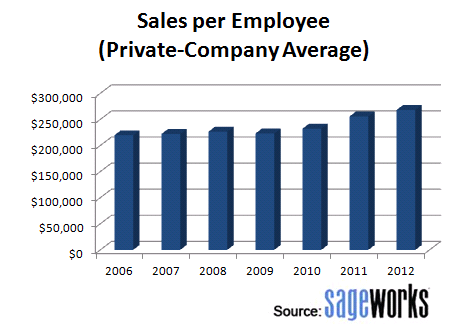 Some economists, however, note that slowing productivity growth in the U.S. economy could put downward pressure on corporate profit margins. The Labor Department on Thursday reported that nonfarm business productivity decreased in the fourth quarter. The decline, combined with an increase in hourly compensation, led to a 4.5 percent increase in unit labor costs. For the full year, nonfarm productivity increased about 1 percent and unit labor costs rose 0.7 percent, the government said.
_____________
Through its cooperative data model, Sageworks collects financial statements for private companies from accounting firms, banks and credit unions, and aggregates the data at an approximate rate of 1,000 statements a day. Net profit margin has been adjusted to exclude taxes and include owner compensation in excess of their market-rate salaries. These adjustments are commonly made to private company financials in order to provide a more accurate picture of the companies' operational performance.