If being your own boss sounds good to you, you're not alone. A recent Wells Fargo/Gallup poll found that being the decision maker and the independence that comes with being your own boss are, by far, the best things small business owners like about starting and running a business.
Financial rewards, scheduling flexibility and a sense of accomplishment all ranked lower on the list of rewarding things about owning a business. The good news is that new data from Sageworks, a financial information company, show that at least in recent years, the financial performance of small businesses has been pretty good, too. For the average privately held company with less than $10 million in annual sales, sales have increased every year since 2009, according to data from financial statements for the firms. And profitability has more than doubled.
"Broadly speaking, in looking at our data, small businesses have been doing quite well following the recession," said Sageworks analyst Kevin Abbas. "Sales growth is hovering right around 7 to 8 percent, which is healthy. In addition, net profit margins have been steadily increasing after the dip in 2008 and 2009."
"Small businesses are doing well as the economy as a whole also continues to improve," he added.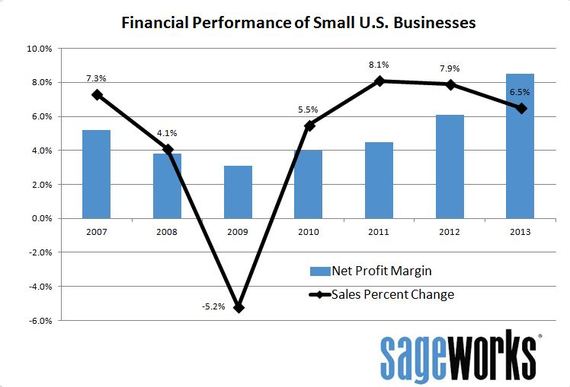 Small, private companies have boosted sales, on average, between about 6 percent and 8 percent each year since 2009, including a 6.5 percent average sales increase in 2013, according to Sageworks' financial statement analysis.
Net profit margins - or the share of each sales dollar earned by these businesses after accounting for all expenses- have improved, from a recent low of about 3 percent in 2009 to more than 8 percent in 2013.
Money may not have topped the Wells Fargo/Gallup survey's list of rewards for small-business owners, but it's obviously a big deal to a business owner. The survey noted that many of the biggest challenges owners faced when opening their businesses had to do with the financial "nuts and bolts" - generating revenue and securing customers, generating cash flow and financing.
"As a financial information company specializing in reading and interpreting complex financial data, we're always focused on how we can help businesses maximize their income and increase their success without having to spend an inordinate amount of time digging through the numbers. That allows small business owners the opportunity to focus on the aspects of business ownership that are most important to them," Abbas said.
Issues facing businesses owners, their overall sentiment about the economy, and their reactions to major policy issues are well documented by various surveys and indicators released by research organizations and corporations. However, the actual financial performance of these companies is largely unknown due to the fact that the financial statements of American small businesses are not publicly reported, unlike those of companies listed on stock exchanges.
Through a cooperative data model with financial institutions and accounting firms, Sageworks collects approximately 1,000 real financial statements each day from privately held companies. Net profit margin has been adjusted to exclude taxes and include owner compensation in excess of their market-rate salaries. These adjustments are commonly made to private company financials in order to provide a more accurate picture of the companies' operational performance.
Sageworks, a financial information company, collects and analyzes data on the performance of privately held companies and provides accounting and audit solutions