The U.S. industries generating the strongest earnings growth are largely built on the construction sector, according to recent data from Sageworks, a financial information company.
Six of the 10 industries with the strongest year-over-year growth in profits are within or closely related to construction, based on private-company financial statements filed over the past year.
Specifically, the strongest profit growth has been generated by wholesalers of lumber and other construction materials, wholesalers of hardware, plumbing and heating equipment, residential builders and real estate agencies, based on the financial statement analysis.
The ranking reflects not just sales growth but also profitability improvements across privately held companies, said Sageworks analyst Libby Bierman. Sageworks' most recent Private Company Report indicated that construction companies are growing revenues by 13.1 percent on average, according to financial statements for the 12 months ended Sept. 25.
"On the sales side, our data point to construction as a sector that's leading the way," Bierman said. "When private companies grow their top line, it impacts the bottom line."
She noted that many of the industries generating the strongest profit growth recently have been improving sales at a strong pace for several years in a row after taking a hit during the recession.
Companies involved in utility system construction, for example, "may not be the flashiest of businesses, but they have had double-digit sales growth the last several years," Bierman noted. "As they've increased their revenue, they've been able to cover fixed costs - whether that's costs for big equipment or space for the business - a lot more quickly, and that enables them to turn a profit more quickly. You're seeing that now in their profits."
The industry, which includes companies that build utility system storage tanks, pumping stations and distribution lines, has increased profits at an annual rate of 37 percent, according to Sageworks' analysis of financial statements from the last 12 months. That growth puts the industry at #2 on Sageworks' list of industries with the highest growth in net profit. Lumber and other construction-material wholesalers topped the list with nearly 38 percent profit growth. Overall, privately held companies had net profit growth of nearly 19 percent over the last 12 months.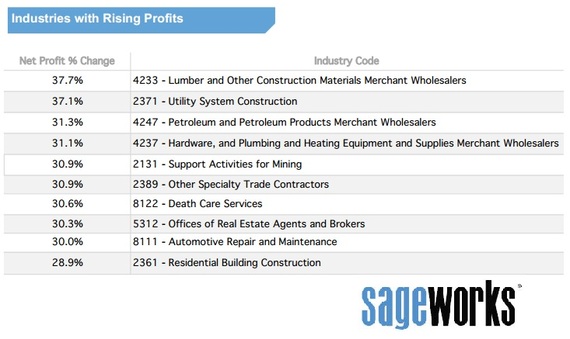 Through its cooperative data model, Sageworks collects financial statements for private companies from accounting firms, banks and credit unions, and aggregates the data at an approximate rate of 1,000 statements a day. Net profit has been adjusted to exclude taxes and include owner compensation in excess of their market-rate salaries. These adjustments are commonly made to private-company financials in order to provide a more accurate picture of the companies' operational performance.
Profitability improvements also help a company generate more dollars in profit, so it's worth noting that two of the industries (death care services, which includes funeral homes and cemeteries, and offices of real estate agents) on the newest list have been generating some of the highest profit margins across all private companies.
Sageworks Chairman Brian Hamilton said profits are especially important to private companies, because business owners provide for their families and put food on the table using those dollars left over after all expenses are paid. Some large publicly traded firms can get away with a lack of profits for a time, but it's not so simple for private companies, he noted.
In addition, given private companies' role in the U.S. economy, their financial performance is an essential gauge of the overall U.S. economy. Of the more than 27 million businesses in the U.S., publicly traded firms account for less than 1 percent, and private companies drive 65 percent of new job creation.
"Good performance from private companies is good news for the overall economic climate in the U.S.," Hamilton said.
Private companies overall have been doing well, based on Sageworks' data heading into October. Companies on average grew sales at a rate of 8.6 percent and saw net profit margins (net profit as a percentage of sales) of nearly 7 percent. Sales growth is roughly the same as a year earlier, while profitability has edged higher from the previous 12-month period.