Some of the smallest U.S. businesses are seeing sales trends turn from positive to negative, according to data on privately held companies from Sageworks, a financial information company. And while private companies' profit margins are at a multi-year high, that could change in the face of these sales trends.
"Private companies are going to be hard-pressed to maintain those net profit margins, simply because one of the primary drivers of net profit margin is sales," Sageworks analyst Regan Camp said.


After more than three full years of average sales growth in the mid-single-digit range, privately held retailers with sales below $5 million are seeing a nearly 2 percent drop in sales, on average, so far this year, a financial statement analysis by Sageworks shows. "These private retail companies could use a boost from the holiday shopping season," Camp said.
Private manufacturers with less than $5 million in sales, meanwhile, have seen a more dramatic slowdown this year. Average sales are down nearly 3 percent so far this year, while manufacturers increased sales 8.5 percent on average in 2012 and posted double-digit growth the preceding two years, Sageworks' data show.
The October Purchasing Manager Index survey released Thursday also showed a slowdown, with the first contraction in manufacturing output since 2009.
It's unclear what exactly is behind the slowdown, Camp said. "When you've got these cuts in federal spending, this political impasse in Washington over fiscal matters and this uncertainty over whether the market can sustain job growth, all of these things contribute to uncertainty," he said. "I just think that people who had been optimistic the last year or two all of a sudden are tempering those expectations and are consequently cutting back on spending."
Indeed, other surveys out in the past week showed consumers and small businesses alike are less confident the economy is improving.
Overall, small businesses across all industries continue to post sales gains relative to last year. Private firms with annual sales below $5 million have posted average annual growth of 0.6 percent year to date. But that's significantly below the more than 7 percent average growth in both 2011 and 2012. And small privately held companies are seeing a sharper sales slowdown than private companies as a whole.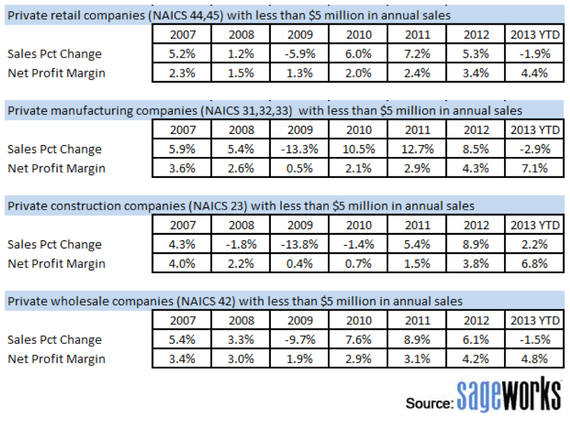 Small-company profitability, meanwhile, is at the highest level in at least six years and has continued to expand this year in each of four major sectors: construction, manufacturing, wholesale trade and retail trade, Sageworks data show.
"As sales volumes have increased, fixed costs per unit have decreased," Camp said. "With all factors being equal, an increase in sales volume will increase the profit margin." Average net profit margin for privately held companies with sales below $5 million is 10.6 percent, compared with 6.9 percent in 2012. Small-business profitability has also outpaced that of private companies overall.It's unclear whether these sales trends will continue. But Camp said it will be tough to continue to expand margins. "Even at 10.6 percent, margins are benefiting from that sales growth from previous years," he said.
Of course, there are differences among industries. Small private construction companies have continued to see a sales increase this year, although the average is below 2012. Several types of construction industries, such as architecture and engineering services and building finishing contractors, have been among the fastest-growing small businesses over the last 12 months.
But Camp said the dynamics of small-business ownership and the recent trends could mean these businesses will begin taking a more conservative management approach.
"A lot of these smaller companies, we're talking about their individual livelihoods," he said. "They might be content with maintaining the status quo as some of these other things loom that are threatening their ultimate bottom line. Some may take a more conservative approach in terms of hiring or on spending to increase sales. They may say, 'Let's take what we have and hunker down and get us through this period of uncertainty and strategize for better days ahead when things can be confirmed.'"
Through its cooperative data model, Sageworks collects financial statements for private companies from accounting firms, banks and credit unions, and aggregates the data at an approximate rate of 1,000 statements a day. Net profit margin has been adjusted to exclude taxes and include owner compensation in excess of their market-rate salaries. These adjustments are commonly made to private company financials in order to provide a more accurate picture of the companies' operational performance.
Sageworks, a financial information company, collects and analyzes data on the performance of privately held companies and provides accounting and audit solutions.