Today, the Earth got a little hotter.
Daily Climate Change: Global Map of Unusual Temperatures, Jan 29 2014
How unusual has the weather been? No one event is "caused" by climate change, but global warming, which is predicted to increase unusual, extreme weather, is having a daily effect on weather, worldwide. Looking above at recent temperature anomalies, the polar aneurism appears to have shifted and deepened, funnelling polar weather deep into the southeastern US, where it is wreaking havoc. Hotter than usual temperatures continue to dominate human habitats. (Add 0.3-0.4 C to have these anomaly values calibrate with those of NASA.) Daily updates of this map can be seen here.
Europe To Cut Carbon Emissions By 40 % By 2030 compared with 1990 levels, the toughest climate change target of any region in the world, and will produce 27 percent of its energy from renewable sources by then, announced the European Union, reports Fiona Harvey at the UK Guardian. Doing so will cost less than 1% of its economy. Green groups protested that the cuts are not enough to meaningfully address climate change, and will cost Europe in terms of fewer green jobs, and shortened lives from pollution. No national targets for investing in clean energy makes it unclear how the overall targets will be reached.


Screen capture of Paul Douglas in Climate Matters, by Mary Ellen Harte.
@@ Weather Systems Are Stalling says Paul Douglas at Weather Nation in his video series Climate Matters, causing extended bouts of extreme weather, as the jetstream, weakened by Arctic ice melting from global warming, wobbles into a new wild position, where it sits. The stalled weather systems are creating a devastatingly dry winter in California, bizarrely hot times in Alaska, Arctic conditions throughout much of the mid US, extreme storms over Britain, unusually hot times for the Olympics in Eurasia, and giant waves in Hawaii... check it out!

Via Ceres.org
Where we are -- and have to go ... Investing in the Clean Trillion, a new blueprint for global sustainability, produced by Ceres, notes that achieving a yearly trillion investment in clean energy globally will create a better climate and better economies, by decreasing fuel prices and creating millions of jobs. Businesses can help by investing in clean energy throughout their supply chains; investors can help with their portfolios by managing climate risks, investing in clean energy opportunities with competitive returns, supporting pro clean energy policies, and encouraging companies to use clean energy.

Biggest Bankers, Investors Call For Massive Clean Energy Investments reports Derrick Jackson at the Boston Globe. They did so at the recent Investor Summit on Climate Risk, lest we -- and they -- pay in massive damages from climate change. The forum was sponsored by the UN and Ceres, the Boston-based coalition of investors, industries, and environmental groups that has sought for 25 years to engage big business in environmental protection and the climate change battle. "It's the issue of our day," said former Treasury Secretary Robert Rubin.
Climate change will play an increasing part in social disruption as its effects on food and water insecurities become more devastating. Wikimedia commons.

What Is The Most Dangerous Impact Of Climate Change? asks Joe Romm at Climate Progress. He notes that Toma Friedman illustrates how environmental stresses (a longterm drought) have contributed to the uprising in Syria, and expands on that to answer the question: widespread social instability as the devastating effects of climate change - food and water insecurity, the spread of diseases, rising sea levels, extreme weather - start to avalanche into already unsustainable populations worldwide.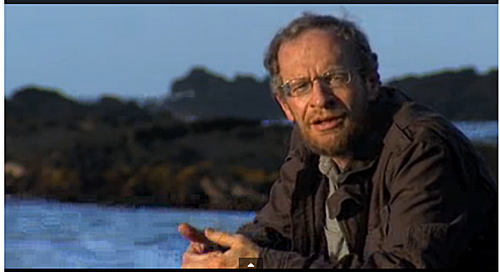 Screencapture from the video by Mary Ellen Harte
@@ Powering The Planet -inspirational, informative and compelling, it presents 8 fast-paced case stories about nations and communities transitioning from fossil fuels to renewable or low-carbon sources of energy. What do we stand to lose with business as usual? What do we stand to gain by switching? Can we do it? He reminds us how we overcame an equally great challenge - sanitation - with costly but ultimately worthwhile indoor plumbing and sewer systems. One of 3 parts available here. Plan a party or just download it and watch it yourself, then spread the word!

These are the rankings of the years by warmth, using NASA data. Note how the warmest ones are also among the latest. Courtesy of Greg Laden at his blog
here
.
NOAA: 2013 Was Tied For The Fourth-Hottest Year On Record (since 1880) reports Joe Romm at Climate Progress, and the 37th consecutive year in a row when global temperatures were higher than the average between 1951 and 1980. NASA Deputy Chief Gavin Schmidt said, "The long-term trends are very clear, they're not going to disappear, and people should be aware of that." He cautioned against allowing short memories and cold snaps to get in the way of the data.

A greener future awaits us as we switch to clean energy. Screencapture by Mary Ellen Harte from the inspirational video,
Powering the Planet
, available for viewing
here
.
Experts to Obama: Support 'Best Of The Above' Energy says a report by experts commissioned by the president after convening with them last year, reports Joe Romm at Climate Progress. The president can do much without Congress via executive action: doubling energy efficiency, renewable energy finance, measures to produce natural gas more responsibly and with less pollution, spurring development of alternative fuels and vehicles, and modernizing regulation of electric utilities in the face of advances in technology. Time to walk the talk, Mr. President!
A polluting oil sands plant, via Climate Central. Credit Pete Williamson, photo sharing at flickr.
Richest Countries Failing to Combat Climate Change says the Organization for Economic Co-operation and Development (OECD) reports Paul Brown at Climate Central. The world's richest countries have made some progress since the 1990s in limiting environmental damage but not enough to prevent catastrophic climate change, says the OECD.Scientists say that carbon dioxide emissions must start going down in the next decade to prevent global temperatures reaching dangerous levels. But the OECD predicts that levels of carbon dioxide will continue to rise and by 2050 will be 50 percent higher than today.
Check it out here, right now!
Only you can discover oil pipeline spills, since 80 percent of the time the companies miss them, writes Katie Valentine at Climate Progress. Credit Mary Ellen Harte.
80% of Oilspills Are Missed by Pipeline Companies says a recent Wall Street Journal review, reports Katie Valentine at Climate Progress. It's private citizens, often victims, that find them instead. In an October interview with the New York Times, Carl Weimer, executive director of the Pipeline Safety Trust, said the federal government hasn't moved quickly enough to improve leak detection standards.
China's off-the-charts air pollution is making its way to the US, as explained at the NASA site, On the Trail of Pollution Drift. Courtesy SeaWiFs Project, NASA/Goddard Space Flight Center, and ORBIMAGE.
The US Breathes China's Off-the-Charts Air Pollution as it is blown across the Pacific, says a new study, reports Katie Valentine at Climate Progress. Published in the reputable Proceedings of the National Academy of Scienes, the study notes that on any given day, that pollution supplies 12 to 24% of the sulfates in US west coast air, including ozone and carcinogenic black carbon as well, says a similar New York Times article. And the US is responsible for part of it: we supply some of the dirty coal they burn to manufacture the cheap consumer goods that we outsource and then buy from them. It's that simple, folks. Time for a change, don't you think?
@@ Cradle to Cradle: Remaking the Way We Make Things - Rather than use the traditional "cradle to grave" manufacturing model that dates to the Industrial Revolution and casts off as much as 90 percent of the materials it uses as waste, much of it toxic, why not challenge the notion that human industry must inevitably damage the natural world? Ask authors William McDonough and Michael Braungart in their provocative, visionary book. Elaborating their principles from experience (re)designing everything from carpeting to corporate campuses, the authors make an exciting and viable case for change.
Recent Heat Records & Ties:
OO Sacramento, CA: Record high of 79° F on Jan 25 2014.
OO Port Alsworth, Alaska tied its record high January temperature of 62° Fon Jan 27, 2014.
Quote of the Week:
"Here's a scary fact about America: We're much more likely to believe that there are signs that aliens have visited Earth (77 percent) than that humans are causing climate change (44 percent)."
OO Nicolas Kristof, January 18, 2014, 'Neglected Topic' Winner: Climate Change, New York Times.
☼☼☼ On the Bright Side ☼☼☼
___________
(>(>(> PEOPLE SPEAK OUT <)<)<)
OO Top Climatologist: Says Speak Out If You See Something, Say Something

OO Davos Delegates Warned Of Imminent Oil Crisis

OO Fracking Won't Avert Energy Crisis - A world oil crisis is imminent, a British renewable energy entrepreneur tells the World Economic Forum at Davos, and fracking for shale oil and gas is not the answer to it.

<)<)<)
OO Judge: Websites Must Face Defamation Lawsuit For Calling Climate Scientist A 'Fraud'

OO Al Gore: World Close To A 'Political Tipping Point' On Climate Change

OO California Gov. Brown Declares Drought Emergency Amid Heat Records, Low Reservoirs

California drought impact by satellite. January 18, 2013 left, and 2014, right. Credit NASA.
OO Proposed Fracking In US National Forest Meets Broad Opposition

OO Obama: China And India Carbon Emissions Could Leave US "Underwater"

OO Keystone Protesters Lock Themselves To Bank Doors In Maine

☼☼☼Acting Like You Care: The XL Keystone pipeline will make possible far more climate change, but President Obama might okay it anyway. Credo, 350 org and others are asking people to stand up and be counted as nonviolent resisters or help in other ways. I did. If you ever wanted to do something big for your future, now's your chance - here.

OO Sierra Club Petitions N.J. To Set Energy Efficiency Targets

OO Ex Utility Commissioner To Utilities: Stop Obstructing Inclusion of Clean Energy

OO Texas Citizens With Cameras To Monitor Keystone XL Pipeline's Southern Leg

OO Shaken By 'Frackquakes,' Texans Demand Halt On Wastewater Injection Wells

<)<)<)
OO EU Report Says Renewables Essential

OO Developing Nations Express Dismay At "Disappointing" EU Climate Package


OO Minister: Germany's Industrial Base At Risk If Green Energy Shift Fails

☼☼☼ BRIGHT IDEAS ☼☼☼
OO Wind Power Could Become Major Provider Of Frequency Regulation

OO U.S. Online Startup Makes Going Solar As Easy As Booking Travel

OO Community-Owned Solar Creates A New Business Model In Massachusetts

OO France, Germany Create Solar Power Alliance
OO Beijing Bans New Refining, Steel, Coal Power To Curb Pollution

OO Scientist Given 1million Euros To Build UK's First Plant For Turning Sewage In To Energy

☼☼☼
OO How Wall Street Can Solve The Climate Crisis - Money for clean energy projects is down. But among investors, attention to climate change is growing.

OO Electric Vehicles Could Be Key Part Of A Changing Electrical Grid

OO Partnering Software with Renewable Energy to Boost Efficiency

For more news on green technology, click here.
*
*
OO Monitoring Buildings in Real Time to Boost Efficiency

OO Gridium Develops Software For Hands-Free Building Efficiency Tuneups

OO New Grid Technology To Integrate Renewables Goes Commercial

☼☼☼
OO Coalition Offers New £10m Fund For DIY Energy Schemes

OO Building The Energy Efficient Home Of Tomorrow

☼☼☼ BRIGHT DEVELOPMENTS ☼☼☼

*****Ready to Invest Your Bucks in Solar? Check out Mosaic opportunities here!
OO Climate Change Leads Agenda At Davos Economic Talks

OO Grid-Scale Energy Storage Photos And Milestones

☼☼☼
OO GE's Smart-Grid-As-A-Service Platform Starts Filling Up


OO Utility-Scale Renewables Generation Up 23%: Snl


WE'RE IN THE $$$ MONEY $$$...

OO Energy Efficiency Is About To Get A $200M Jolt From Wall Street

OO Kilowatt Gets $100 Million Citigroup Loan For Energy Efficiency

OO U.S. Navy Taps Private Financing For Clean Energy

☼☼☼
OO Startlingly Low Number Of 2013 Scientific Papers Disputed Human-Caused Global Warming
OO Pipeline Fight Lifts Environmental Movement

OO Will Electric Cars Kill Utility Grid? No, Study Says

source mjmonty via rtcc.org
OO Google Buys Second Swedish Wind Farm


OO World's Biggest Solar Plant May Pave Way For Smaller-Scale Renewables

OO New York Looking To Catch Up With California's Lead In Energy Storage

Credit Greenpeace.org
OO Cuadrilla Scraps Plan To Frack At Balcombe Site In U.K.
OO Koch Ends Plans for Pipeline to Illinois From Bakken
OO California: Explosive Growth For Surviving Solar Firms

☼☼☼ BRIGHT SIDE, WORLDWIDE ☼☼☼
OO OECD Proposes Plan For 'Zero Emissions' At Davos

OO At Davos, Push For Climate Relief, Clean Energy

via www.evwind.es
OO China Installed More Solar Panels In 2013 Than Any Country Ever Has

OO China To Cut Dependence On Coal For Energy As Smog Chokes Cities

To find out how, check out Pear Energy and Ethical Electricity.
*
*
OO India Almost Doubled Its Solar Power In 2013 with big plans for more.

OO Middle East Looks At $50B To Spend On Solar Power By 2020

☼☼☼
The flag flies, May 21, 2013.
At Moore, OK, the day after a huge tornado demolished it.
Credit Major Jon Quinlan/defenseimagery mil
*
*
***** US Climate Change News *****
_____________
*
*
OO Winter Storm Slams Northeastern U.S. With Arctic Punch

OO Bitter Cold Lingers As U.S. Northeast Digs Out From Snow

OO Polar Vortex Crisis Reveals Costly Business Energy Inefficiencies

OO There's a Difference Between Climate Events and Trends

@@ VIDEO This is NOT Cool: If There's Global Warming, Why Is It So Cold? By Peter Sinclair Is compelling, chock full of great graphics, and scientists explaining how global warming is ultimately exacerbating both extremely warm AND hot weather. Check it out! Remember, climate change cannot be blamed on any one weather event, but is driving climate trends insofar as predictions are coinciding with what is being observed...
Screen capture of the video. Mary Ellen Harte

OO Polluting Coal Company Goes Bankrupt, Leaving Community to Pay

OO More Oil Spilled From Trains In 2013 Than In Previous 4 Decades

An oil transport accident wiped out much of the downtown of a small town in Quebec, killing several. Credit Paul Chiasson, the Canadian Press, AP
OO Accidents Surge As Oil Industry Takes The Train

OO Obama Admin Wants to Fast-Track Gas Processing Utility on Chesapeake Bay - say it an't so, O!

<><><><>
OO Bakken Oil Trucks Can Kick Up Carcinogenic Dust Similar To Asbestos yuck!!!

OO Halliburton Manager Is Sentenced In Gulf Oil Spill Trial and what about the big fishies?

For more, click here.
*
*
OO More Water Pollution Can Be Blamed on Coal

<><><><>
OO For Latino Voters, Climate Change Is Almost As Important An Issue As Immigration

OO Washington Post Browns: Drops Climate Hawk ,Adds Climate Confusionist

CALIFORNIA DRYIN'
OO California Drought And The Polar Vortex: 'New Normal' By 2030?

Folsom Lake, before and after drought. Credit Google Earth, CA Dept Water Resources.
OO Historic California Drought Called A Red Flag For Future Of US

OO Brown: California Comeback Challenged By Drought

OO California Drought Spurs Some, Not All, To Act

<><><><>
OO Drought Drives Bears to Forage in Towns and Houses

OO California Solar Projects Confront Habitat Impact

OO U.S. Offshore Wind Farm, Made In Europe

Polar cold in the midwest created propane shortages as demanded soared for heating. Wikimedia.
OO Keystone Pipeline Decision On Collision Course With Midterms


OO U.S. Propane Shortage Deepens As Cold Snap Reaches Midwest

OO With Strain On Electric Grid, A Push To Prioritize Conservation

<><><><> GOPPING IT UP <><><><>
Even elephants can't survive on oil. Credit: Mary Ellen Harte
OO GOP W. Va. Gov Passes the Buck on Clean Water to Citizens

OO Republicans' Strategy on New EPA Coal Rule: Kill It Now Before It's Finalized

OO The First Lawsuit Against Obama's New Coal Limits Just Got Filed

<><><><>
OO Mitch McConnell Launches Pre-Emptive Strike On EPA Climate Rule

OO Climate Denying Koch Bros Fundraising to Shape Political Landscape

<><><><>
Via the University of East Anglia Climate Change webpage
*
*
<<<< Climate Change Round the World >>>>
______________
*
*
OO Feeding World Population Getting Tougher As Climate Changes, Other Threats Mount

OO World Bank: Agriculture Adapting Too Slowly to Climate Change

OO Davos Highlights Business Risks Of 'Climate Complacency'

<><><><>
OO CO2 Emissions Are Being 'Outsourced' By Rich Countries To Rising Economies

OO Industry Awakens To Threat Of Climate Change

OO Global Droughts Hit Coke's Balance Sheet - and the giant company is starting to notice.

Via Fast Company.

OO Visualizing the companies that have created the most climate change. Just 90 major corporations have produced two-thirds of fossil fuels burned.

OO Climate Change Will Drive Poverty, Affecting Everything From Food to Education

OO Policy Choices Will Decide A Future Of Cars Or Mass Transit

Asthma is often worsened by fossil fuel pollution. Credit Jocelyn Augustino, FEMA Photo Library
OO EU Pollution Damaging Health

OO Social Cost Of Carbon Is Underestimated say experts.

OO Value Of Coal Assets 'Could Be Halved' If World Goes Low-Carbon

<><><><>
OO Clean Energy Investment Gets Cheaper As Prices Plummet - is one factor behind a decline in clean energy investments.

OO Climate Change Threatens Future Winter Olympics Venues

OO Climate Change: The Winter Olympics' Thaw

Flooding in Calgary. Credit TTSHUTTERSTOCK.
OO Extreme Weather In Canada Last Year Cost Insurers Billions

OO Climate Change Challenges Peru's Farmers - as more extreme and volatile weather challenges their ability to survive.

OO Encroaching Desert Stokes Religious Tensions In Nigeria

<><><><>
OO Food Security, Rural Environment Top China's Policy Agenda In 2014 - which involves addressing fossil fuel pollution and climate change.

OO 'Pakistan Worst Affected By Climate Change'

OO Japan: Offshore Solar Power Plant the Future of Renewable Energy?

Kagoshima Nanatsujima Mega Solar Power Plant, off Japan. Courtesy KYOCERA Corp.

OO 30,000 Displaced By Deadly Floods In Indonesian Capital

OO Super Typhoon Victims Flee Again As Rains Flood Southern Philippines

OO East Asia Could Face More Intense Cyclones says a new study.

<><><><>
OO Australia: Heatwave Spikes Death Rate In Victoria

OO Australia: Extreme Weather Events Threaten Water

OO EU Renewable Energy Loses Out From Bloc's 'Lame-Duck' Plan

<><><><>

OO US Fracking Revolution Dilutes EU Climate & Energy Plan

OO UK Won't Meet EU Renewable Energy Target

OO Hundreds Of Homes Face More Floods In South Of England

<><><><>
Ten Global Warming Indicators. Credit NOAA
<><><><>
(((((((( Seeking the Science ))))))))
__________
*
*
OO Short on Ocean Data, Scientists Turn to Seals

OO White Roofs Beat 'Green Garden' Roofs On Climate Change - says Berkeley Lab study.

OO As Climate Change Affects Food Chains, Arctic Birds Decline from marauding ice-deprived polar bears, to new hordes of mosquitoes and other shifts brought on by climate change, such stresses are contributing to the decline of Arctic birds.
OO As Trees Age, They Grow and Store Carbon Faster - making them valuable in addressing climate change.

Moose are more likely to be stressed by climate change than mice, a new study says.
Credit Hagerty Ryan, U.S. Fish and Wildlife Service.
OO Bigger Wildlife Animals Stressed More by Climate Change says a new study.

OO Shellfish Feel Impact Of More Acid Seas

<><><><>
OO Warming World Good Now for Wine Grapes, But The Future May Be Sour

OO New Sea Ice Map Offers A Long-Term Look At Climate Change - allowing users t track the ice pack off Alaska for decades.

<><><><>
@@@ Climate Change in the Media @@@
__________
@@ LIVING ON EARTH @@ PRI's Environmental News Magazine, covers climate change and other fascinating topics as well. Check it out!
@@ Powering The Planet - Earth: The Operators' Manual This uplifting, informative and compelling program presents 8 fast-paced case studies and stories about nations and communities transitioning from fossil fuels to renewable or low-carbon sources of energy. It covers all the important bases: what we stand to lose with business as usual, but what we stand to gain by switching! The "Can We Do It?" section reminds us that we can, pointing out how we overcame an equally great challenge - sanitation - with indoor plumbing and sewer systems. One of 3 parts. Plan a party or just download it and watch it yourself, then spread the word!
@@ Weather Nation Meteorologist Paul Douglas Explains How Climate Matters - A meteorologist who's watched weather for decades, he is able to show the connection between the weather and climate change. Check out his video series now!
!!!! Want to Save Energy & Help the Planet? Check out these helpful EPA Climate Change youtubers here! !!!!
@@ At Last, a Green Radio Show to counter the Lush Bimbaugh wasteland. Check out On the Green Front with Betsy Rosenberg at Progressive Radio Network to keep updated on climate change, and other green topics.
@@ Video: America's Dangerous Pipelines - the title says it all; compelling ....
To help you understand just what science does and does NOT do, check this out!
Every day is Earth Day, folks, as I was reminded by this elegant Downingia I photographed one spring. Making the U.S. a global clean energy leader will ensure a heck of a lot more jobs, and a clean, safe future. If you'd like to join the increasing numbers of people who want to TELL Congress that they will vote for clean energy candidates you can do so here. It's our way of letting Congress know there's a strong clean energy voting bloc out there. For more detailed summaries of the above and other climate change items, audio podcasts and texts are freely available.