Today, the Earth got a little hotter, and a little more crowded.
Daily Climate Change: Global Map of Unusual Temperatures, Apr 17 2014
How unusual has the weather been? No one event is "caused" by climate change, but global warming, which is predicted to increase unusual, extreme weather, is having a daily effect on weather, worldwide. Looking above at recent temperature anomalies, the jetstream once again looks like it's bringing cold deep into the US, while the North Pole and surroundings (that big orange spot) are experiencing much warmer than normal temperatures - not good news for our Arctic thermal shield of ice. California continues to dry, and hotter than usual temperatures continue to dominate human habitats.
(Add 0.3-0.4 C to have these anomaly values calibrate with those of NASA.) Daily updates of can be seen here for both the temperature anomalies map, and the jetstream map. For real time animated US surface wind patterns, click here, and here, for the planet. (Clicking on "earth" there reveals data and map options.)
UN's IPCC: Get Super Savings by Switching to Clean Energy Affordably NOW says the latest reports of the Intergovernmental Panel on Climate Change report Climate Progress, RTCC, the UK Guardian, (1, 2), Wunderground weather, World Environment News, and Mongabay. IPCC lays out possible routes, ranging from pragmatic and affordable (switching to renewable clean energy) to impractical and expensive (carbon capture and sequestration? Seriously? Especially at the scale needed?).
OO UN: rate of emissions growth nearly doubled in first decade of 21st century - our efforts so far are not enough.

The catch is, we've got to do it NOW, fast - otherwise the price goes way up, and being able to undo damage becomes impossible. As it is, we've already bought rising sea levels that will eventually flood current coastlines. Let's not "buy" any more effects.
How affordable is the solution? The IPCC estimates the total cost would slow the world economy by a tiny amount, 00.06%. But cities, the major polluters, hold the solutions in their hands notes Suzanne Goldenberg at the UK Guardian. Mustering the political will is the main challenge.
Relevant headlines:
OO Climate action is 'only way' to grow economy - Unilever CEO

OO IPCC: Major Greenhouse Gas Reductions Needed by 2050

OO CO2 Reaches 400ppm in Atmosphere: Puts Earth In The "Danger Zone"

A GLARING OMISSION In The IPCC Report: it offers no strategy for the humane mitigation of populations to sustainable levels, even though it admits that population growth is a main driver of increasing emissions. Without this type of policy, humanity is doomed to inhumane, inefficient population effects, and an indecent future.
*
*
Like them here, and spread the word!
Ask Congress to Join the Fight Against Climate Change During Climate Action Week , Apr 21- 25 writes Rob Hogg at Iowa Climate Advocates, where he supplies helpful links. This week-long, nation-wide, grass-roots effort to express public support for climate action to our U.S. Congress people, both representatives and senators, through meetings, letters, phone calls, emails, and public events.
Let them know you want them to join the fight against climate change this year. We urgently need our country to help lead the world to reduce greenhouse gases and to prepare for future climate-related disasters.

Mimicry Is the Sincerest Form of Flattery: NIPCC (Not the IPCC), the Heartland funded group of climate denialists, issued an answer to the IPCC report filled with the usual flaws, as reported here at the UK Guardian. If you can't spot the flaws, don't be fooled -- go to Skepticalscience.com for an explanation of the flawed reasoning.
The Climate Reporting Imbalance:
Climate Science Research vs. the Junk Science of Climate Deniers is grossly unbalanced in that often the "scientific papers" of climate denying scientists are quickly found to be flawed by other scientists in the field, but initially garner as much press attention as much more reasoned and researched studies produced by climate scientists who understand the process of climate change, report John Abraham and Dana Nuccitelli at the UK Guardian.
PANTS ON FIRE AWARD goes to:
OO Fox News Was Accurate On Climate Science Just 28% Of The Time In 2013 - let's just assume there's a low IQ running operations over there, in which case one can well imagine someone's pants accidentally catching fire at times....

Nature is a Loan Shark - if you don't pay him back for all the resources you borrowed, he'll take revenge - with plenty of interest. The graph of estimated future climate costs (red area) is modified from OO The Social Cost of Carbon from the PAGE09 Model, from Cambridge University research (via the UK Guardian). There is a significant probability that the costs could be much greater (orange area). Loan shark via machina-3014
How to Switch? The Clean Energy Vision: US Super Saver Plans, one for every individual state, are graphically summarized and produced by Stanford University energy policy expert Mark Jacobson at the Solutions Project organization.
He outlines the mix of renewable clean energy sources to be developed, the estimated costs and savings, and solid jobs created, in giant graphics for each state, perfect for printing out and displaying at a state legislative session or special event. This is exactly the vision that is needed to convince voters that a clean fossil fuel-free future is an economic winner, and the one we should be striving for!
WHAT WORKS
OO Studies: Efficiency Still the Cheapest Energy Resource
"We're not even close to maxing out cheap energy efficiency."

OO Efficiency Measures Pay Off As UK Energy Use Falls

OO How Japan Replaced Half Its Nuclear Capacity With Efficiency - a public education program in Japan had surprisingly longterm significant impacts: it could work for the US.

via forcechange.com
OO New York Green Bank Looks to Invest $200 Million in Clean Energy

OO US, UK, Germany Canvass Private Sector On Boosting Climate Finance

OO Five Market Trends That Will Drive Microgrids Into the Mainstream

OO Harvard Faculty Demands Fossil Fuel Divestment

OO Desmond Tutu Calls For Boycott Of Fossil Fuel Industry

OO Restoring Coastal Ecosystems Creates More Jobs Than Offshore Oil Development

Greens, yes - but hold the carbon ... Mary Ellen Harte.
OO Chile Plans To Enact The First Carbon Tax In South America

OO Big Biz to Governments Worldwide: Cap Our Carbon Emissions!! say Shell, Adidas, and 70 other companies.

Screencapture at solarimpulse.com

OO This Airplane Will Fly Around The World Without Using A Drop Of Fuel

OO Scientists Use Solar Power To Make More Solar Panels

Go Ahead, Vladimir, Make My Day argues Thomas Friedman at the New York Times, as Vladimir Putin threatens to turn off the gas flowing through the Ukraine into Europe. What better way to promote the switch to clean renewable energy in Europe? Just like the 1970s Arab embargo in the US fertilized the energy efficiency movement, ultimately saving the US mucho money, energy and emissions. Go Ahead, Vlad: make our day.
Fossil Fuel Understatement of the Week:
"...some people lie. And why do they lie? Because some people are greedy."
Robert Proctor, Professor, Stanford University, who studies the propagation of ignorance in the media, in OO Cultural production of ignorance provides rich field for study.

Deadly Beauty: Water pollution in the Gowanus Canal, New York; much of it stems from fossil fuels. Credit: Steven Hirsch; see more of his art here.
OO Four Years Later, BP's Oil Spill Is Still Killing Gulf Wildlife

Bipolar on Climate Change: the World Bank - while the WB urges action on climate change, warning that food battles will erupt worldwide as crops begin to fail dramatically, it still pursues policies that enable more climate change.
WB spent $1 billion in 2013 subsidizing exploration for natural gas, a fossil fuel, even though we can't burn known reserves without triggering far more catastrophic climate change. Instead of boasting how they spend nearly 4 times more on clean energy than fossil fuels, they should cut the fossil fuel cord altogether.
And 75% of World Bank backed projects don't evaluate climate risks. What gives, WB?
To find out how, check out Pear Energy and Ethical Electricity.
*
*
SUNNY SOLAR TIMES CONTINUE
The solar innovations continue, with creating solar powered battery backed microgrids, and using otherwise useless contaminated land for solar utilities.
Global solar roundup: India experiences solar growing pains; Germany evolves beyond a guaranteed market price for solar power; during 2014's 1st quarter, the UK installs 1+ gigawatts of solar capacity, while Chile installs a record-breaking 150 megawatts, with plenty more planned.
Solar power accounted for 22% of new US generation capacity in 2013. Worldwide, the cheap cost of solar power is driving the growth of renewables, says a UN study.
Finally, the cheap price of subsidized US natural gas is tempering clean energy investments, but as solar technology gets cheaper, investments are going further, and capital keeps pouring into the booming US residential solar market. Let the good times roll...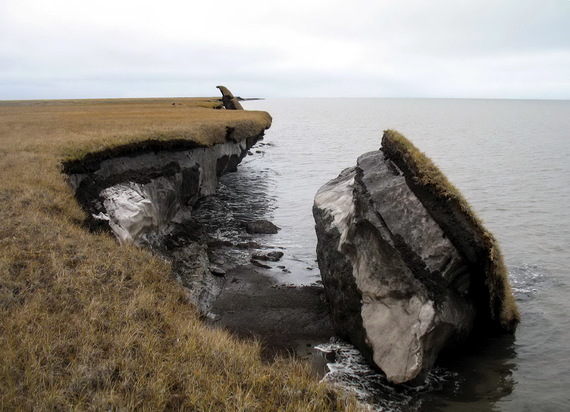 Permafrost block of coastal tundra collapsed on Alaska's Arctic Coast. Courtesy USGS Alaska Science Center.
*
Melting Permafrost Will Release More Methane Than Formerly Thought
says a new study,
reports
Gerard Wynn at
Responding to Climate Change
. Thawing northern peatlands are already a net source of methane emissions, a powerful greenhouse gas, and equivalent to 6-12% of annual fossil fuel emissions of CO2, estimated the new study.
Frozen Arctic methane bubbles await the spring thaw to be released into the atmosphere. Credit Chip Philllips at flickr.
Researchers thawed some frozen Arctic peatland, known as permafrost, then measured the resulting emissions. Methane has a shorter atmospheric life than CO2, but is about 20x more potent at absorbing heat, which means an increase in methane could speed up and intensify climate change feedbacks, such as further warming.

WHITHER WEATHER
OO Extreme Weather Increased Power Outages 1,000 % Since 1980s
Source: Climate Central
OO California's Drought Is Not Going Away

OO Drought Is Driving Beef Prices To All-New Highs

OO Southeast US Hit By Heavy Rains, Major Flooding - the type of extreme weather predicted to occur more frequently under continued climate change. Credit AP photo/Jay Reeves

OO Solomon Islands: Heavy Rains Cause Devastating Floods, Then Form Strong Cyclone - which barely missed devastating Australia.
This could be a much more common picture for the Southwest and much of the world.
Wikimedia commons
Climate Change Drying Out Southwest Now,
Will Dry Out A Third Of Earth by 2100 according to 2 new peer-reviewed, published studies, reports Joe Romm at Climate Progress. The first study confirms that climate change is contributing to drying out the southwest's soil, worsening natural droughts by making them longer and more severe. That larger drying out will include two of the world's greatest agricultural centers, "the U.S. Great Plains and a swath of southeastern China."
The second study emphasizes that greater more pervasive drying in the future will result not only from less rainfall, but because surface moisture will evaporate faster than before, due to changed atmospheric conditions. Faster evaporation will probably tip the marginally wet Great Plains and SE China into arid conditions.

KEEPING CARBON STORED: FORESTS UPDATE
Ever look an orangutan in the eye? I have - and their gaze is filled with human intelligence. They are going up in flames with their forests homes. Credit Rhett Butler at www.mongabay.com
OO Forests in Indonesia's Concession Areas Being Rapidly Destroyed

OO To Conserve Forests, Empower Everyone To Watch Over Forests

OO Indonesian 'Legal' Timber Scheme Could Be Greenwashing Illegal Products

When the magnificent biodiversity of a carbon-storing rainforest is destroyed for growing oil palms, which produce an unhealthy cooking oil, the climate future of our children suffers. Wikimedia commons.
OO Honduras: How A Small Co-Op Is Changing The Palm Oil Industry - following the "no new deforestation" production plan, and even giving land back to the forest.

OO Africa: Nearly 90 Percent Of Congo Logging Is Illegal

OO Australians Plan to Devastate Borneo Forests with Open Pit Coal Mine
One of the many gifts of carbon-storing forests. Credit Rhett Butler at www.mongabay.com
OO Selective Logging Emissions Average Just 16% Of Those From Deforestation

OO City Lights Threaten Rainforests By Deterring Bats important to their functioning.

OO Salamanders Help Store Carbon in Forests - by eating a significant number of insects that would otherwise eat the leaves, releasing carbon to the atmosphere.

There is, of course, much more news on the consequences and solutions to climate change. To get it, check out this annotated resource list I've compiled, "Climate Change News Resources," at Wordpress.com here. For more information on the science of climate change, its consequences and solutions you can view my annotated list of online information resources here.
To help you understand just what science does and does NOT do, check this out!
Every day is Earth Day, folks, as I was reminded by this iris I photographed recently. Making the U.S. a global clean energy leader will ensure a heck of a lot more jobs, and a clean, safe future. If you'd like to join the increasing numbers of people who want to TELL Congress that they will vote for clean energy candidates you can do so here. It's our way of letting Congress know there's a strong clean energy voting bloc out there. For more detailed summaries of the above and other climate change items, audio podcasts and texts are freely available.
Happy Egg Hunting, folks!