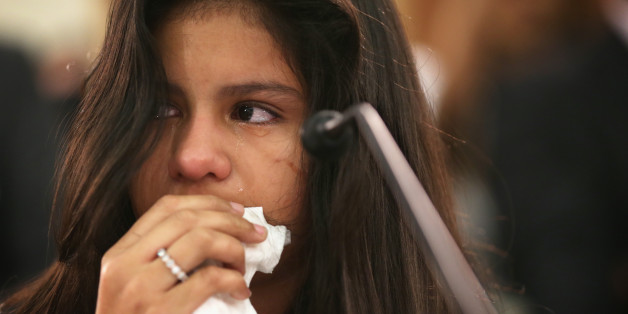 As President Obama and Congress continue to debate how to resolve the immediate humanitarian crisis at our border, they must also work to find long-term policy solutions that prevent it from happening again. One crucial driver of the crisis -- despite its alarming lack of attention -- is the pervasive violence against women and girls in Central America, which has left them to literally run for their lives.
First, a sobering fact: El Salvador, Guatemala and Honduras have among the highest rates of gender-motivated killing of women in the world, ranking first, third and seventh, respectively.
Amidst the horrific gang violence in these nations, the wives, girlfriends and mothers of gang members are targets for violence and revenge killing by rival gangs. Plus, many women and girls -- some as young as nine years old -- are forced into becoming drug mules, gun smugglers, spies and "girlfriends" of gang members.
Routine domestic violence in these countries is even more widespread. Globally, one in three women will be physically or sexually violated by an intimate partner, or sexually assaulted by a non-partner, in her lifetime; in the Americas, the number is even greater. Worse still, these crimes are hardly ever investigated -- and even more rarely prosecuted.
The impunity around crimes against women is not only rampant, but social norms and attitudes generally support violence against women. While some laws aim to increase protections for women and children, they are sorely underfunded and subject to tremendous backlash from judges and police.
Now, the direct result of this far-flung violence against women and girls is hitting home. So far, 39,000 -- and counting -- women and children have arrived together in the U.S. And of the tens of thousands more unaccompanied children who have braved the trek alone, most have chosen the U.S. simply in hope of being reunited with a family member already here.
According to a study by the United Nations High Commissioner for Refugees (UNHCR), 24 percent of the immigrant girls detained at the border mentioned their fear of being raped and 40 percent mentioned violence at home as their main reasons for crossing into the U.S. While roughly a third of the children have at least one parent living in the U.S., the majority of these also expressed experiences or fear of serious harm as a reason for leaving their countries.
UNHCR estimates that as many as 60 percent of these unaccompanied children could be in need of international protection. These children and families deserve our support. Deporting them without due process is morally reprehensible, and it is a violation of our international human rights obligations.
Any legislation or new policies we enact in response to this crisis must include long-term measures that will implement appropriate responses to violence against women, including: strengthening court systems and improving reporting and police treatment of cases, establishing and supporting health services that can serve women and children who are suffering abuse and changing prevailing attitudes and encouraging respect for women's human rights.
Moreover, passage of the bipartisan International Violence Against Women Act (IVAWA), which the U.S. House and Senate have recently reintroduced, and enacting comprehensive immigration reform -- outlined in this policy brief from the George Washington University Global Women's Institute -- would both strengthen gender-based asylum eligibility and demonstrate the country's commitment and leadership in promoting gender equality and ending violence against women and girls.
Ultimately, if we truly want to help solve this problem, U.S. policies must encourage and support Central American governments and non-governmental organizations in improving women's access to justice in their home countries, providing compassionate care for survivors of violence and eliminating the norms and institutions that have provoked this mass migration.
By doing so, we can help foster communities where women and children are safe, and the possibility of living in them peacefully can take root.