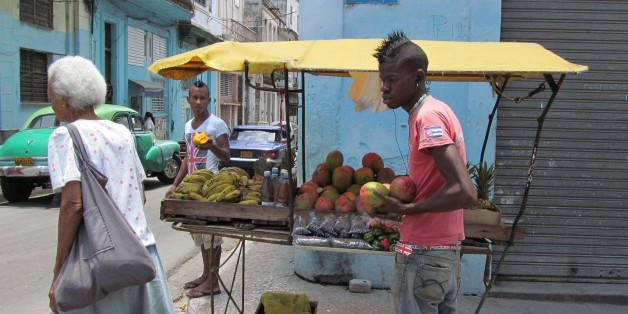 HAVANA-My college-aged son is standing on the balcony of our room at the Habana Libre, made famous as the hotel where a young Fidel Castro set up camp for a few months after the 1959 Revolución.
Havana stretches out before him, luminous in her dilapidated splendor. He has yet to discover the island's underground discos and pristine tourist beaches, national pride and dark humor, crumbling infrastructure and historic mansions, and the college girls and working girls along the Malecón -- although he will over the course of the next ten days.
Although he's 22, tonight I see in Adam the same excitement and sense of anticipation he had when he was a boy, capable of wonder and awe. It's his first time outside the US, and probably the last such trip I will share with him; who wants to explore foreign shores with their mom tagging along?
But we'd been fortunate enough to take part in a university trip to one of the top destinations on my all-time bucket list: Cuba. The Bay of Pigs. Revolutionaries in berets. Palm trees and sprawling seaside forts. Ernest Hemingway's writing retreat. American Graffiti meets Godfather II. Pina coladas, mojitos, and lime daiquiris. Mangoes as big as coconuts.
As a child of the 1960s, the Cuba I imagined was equal parts black-and-white newsreels, propaganda (ours, not theirs) and projection. I would discover a much more complicated Cuba than I had expected, one deeply conflicted about how much of the modern world to let in and how much of its own unique legacy to retain.
Our group -- part of Emory University's Journeys program, which visits spots of conflict and resolution around the globe--flew into Havana's Jose Marti Airport on a religious license issued by the US Treasury, to speak with community leaders, clergy, artists and educators about issues of race, religion, and reconciliation in Cuba.
Unexpectedly, the communist nation is filled with aesthetically stunning places of worship: dynamic Jewish centers, Catholic cathedrals, in-home Muslim prayer gatherings (the first Cuban mosque is still in the planning stages, we are told), and Santeria churches where priests also run community outreach programs to help the poor, ill, or addicted.
Cuba seems as ashamed of its cruel, plantation-rich past as most other slave-built countries, as evidenced by the slave monuments and museums, community centers to combat racism (de facto, even if outlawed by the constitution), and the vibrant Afro-Cuban art and music that enliven streets and galleries.
Young or old, male or female, Cubans love music, and they love to dance. There is enthusiastic dancing at every opportunity. Live bands play the ubiquitous "Guantanamera" and other Cuban classics in every restaurant, bar, and hotel lobby. Piano lounges, legendary cabarets like the Tropicana, and rooftop discos beckon. Musicians are icons, and not only Cuban musicians -- a bronze John Lennon statue sits on a bench in John Lennon Park, and Bob Marley tunes ("No Woman, No Cry" was a standard) are soulfully sung by street musicians.
But I risk stereotyping an entire nation as idealistic, carefree music lovers, when their daily lives are also a struggle of ideology versus economic practicality. Historic buildings used to collapse routinely, but are now being shored up with tourism dollars. More resemble tenements or crumbling Soviet bloc-style apartments than inhabitable living spaces, but drying laundry and vegetable gardens indicate full occupancy.
Because Cuba tends to be sunny and hot, or rainy and hot, residents without air conditioning (which includes nearly everyone) sit outside on chairs and stoops, selling sandwiches or souvenirs thanks to relaxed restrictions on street vending and home businesses under Raul Castro.
Tourists -- and tourism is a huge part of the island's economy, bringing in about $2 billion a year -- exist on a separate plane, with their own hotels, currency, prices, and even considerably shorter lines at the ice-cream stand.
While residents receive monthly ration cards, this barely provides enough food to live on, and jobs come and go with the government's graces, so the life of the average Cuban is not one of beach vacations and luxury items, our tour guide tells us, but of working two and three jobs and angling just to get by. "In Cuba, everything is complicated," she says.
A student we're traveling with recommended Generation Y, a blog written by a young Cuban and then translated and posted "off island," since Internet access is still fairly scarce and expensive (and probably monitored, although our guide tells us that she and most of her friends are on Facebook).
Here is a recent post by the GenY blogger about being in the audience for a monologue by a comedian at the Karl Marx theater: "From the economic hardships, the migratory reform, the excessive controls on the self-employed, to the corruption scandals associated with the fiber optic cable, these were some of the themes that most made us roar. We laugh at our problems and our miseries, we laugh at ourselves. After the distraction ended, the audience crowded into the hot aisles to exit. Outside, Primera Street was packed in the late night. I took a bus home and leaned against the window... no one was smiling. The humor had been left in the seats and on the stage, we had returned to our sober reality."
Material shortages abound, although are not nearly as severe as during the Special Period in the 1990s, when the nation was adjusting to the loss of support from the dissolving Soviet Union. Still, even now, clothing stores have just one or two rows of imported shoes, jeans, dresses, shirts...no two alike, let alone a range of colors or sizes. And good luck if you need to find toothpaste or a tampon, even as a pampered tourist.
Much of this is due to the U.S. economic embargo, so while Cubans claim to love "Americans, if not America," it seems likely that there would be some submerged anger at US imperialist tourists eating mango ice cream and enjoying cheap rum, lavish buffets, and the fine linens.
I know only what little I could glean in ten days -- days that at least gave real texture to a country that was previously only conjecture to me.
So, welcome to your first time off our own peculiar island, Adam.
I watched as you got to experience what it felt like to be, in turn, a tourist, an outsider, an interloper, a capitalist, a colonialist, the Other, the Oppressor -- both courted and contained, welcomed and resented.
It might not have been the trip you expected. But it was the trip you needed.