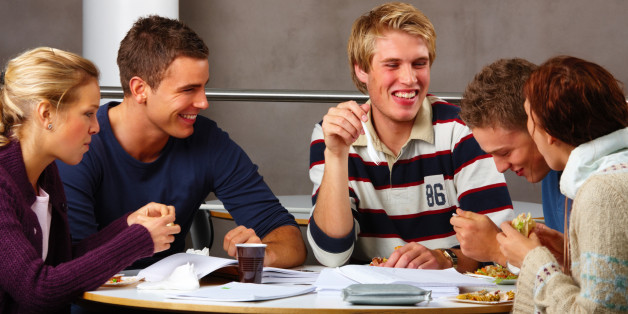 Now that students are in the swing of classes, financial issues can start to catch up with them, so it's a good time to check in and make sure things are on the right track. It's really important for parents to keep communicating, so in addition to sharing the latest family updates, offering some timely suggestions on personal finances can't hurt -- especially for those who haven't had a lot of experience managing money on their own.
1. One of the most common freshmen money mistakes is overspending and trying to keep up with peers on eating out and other entertainment. If they are blowing through their cash too quickly, remind them that one way to save money is to take full advantage of their meal plan as well as other free amenities on campus that you have already paid for. Spending just $7 on lunch four times a week, for example, adds up to more than $1,450 a year.
2. If they have their own checking account, ask them if they are keeping track of their spending and cash withdrawals, and checking their transactions and bank statement often. While most young adults don't keep a check register, offer to help them check their account online and reconcile with their records. To avoid coming across as too meddling, try sharing some of your own stories or first experiences with managing money, like living on PBJ sandwiches for a week until your next paycheck.
3. Another important to-do is to make sure they have checked their student account to make sure all their financial aid and scholarships have been posted, payments have been received and that there are no outstanding charges for things like lab or other course fees. Most colleges have deadlines on when these amounts need to be paid in order to avoid late fees, and may not allow students to register for classes the following semester until these are settled. If they received a refund from their financial aid for things like books and transportation, suggest that they set up a budget to make sure these funds last the semester. In order for parents to access these accounts to make payments or check account balances, students must first authorize/grant permission. While this may seem like the most expeditious way to make sure things are in order, having your student own or share that responsibility is a great way to encourage financial responsibility.
4. Learning to manage credit cards is another area where freshmen can get into trouble quickly if they are not careful. For those who do have one, talk with them about making sure they only charge what they can afford to pay off each month or only for emergencies. Credit card companies will sometimes increase your credit limit without requesting it, so make sure the limit is something they can handle; if not, ask that it be reduced to something more manageable. Also explain what to do if their card (or any other important financial document) is lost or stolen--contact the credit card or financial services company right away to report the loss and cancel the card.
5. You can also give them some tips on protecting their identity such as choosing strong passwords and changing them often, making sure they have the most up-to-date anti-virus and anti-spam software, and keeping all of their personal papers, statements and documents in a fireproof lockbox.
6. One last word of advice is to suggest that they have some funds set aside for emergencies. Unexpected expenses such as computer repair or travel home can crop up at any time, and take a big bite out of a student's paltry budget. Again, sharing some of your own experiences with running low may conjure up a few smiles.
While Parents' Weekend and the chance to see your new college student face-to-face may be right around the corner, don't forget how much they would like to hear from you between now and then, and add in some practical money tips for good measure.
PHOTO GALLERY
Biggest Money Mistakes 20-Somethings Make