My life was forever changed at the age of 27. An automobile accident caused a C4-5 spinal cord injury, and as a result, I was paralyzed from the chest down.
The independence that once defined me was ripped away -- I lost my identity. Then, as now, I need a lot of help: I can't walk or sit up, get out of bed, get dressed, eat, bathe or do most anything without assistance. It took several years before I felt comfortable going into the community. A key step in my recovery happened the day I volunteered at a local soup kitchen in my hometown. There, I found purpose. Coordinating volunteer delivery drivers for the Meals on Wheels program led to a permanent paid position as the person responsible for managing volunteers in our community.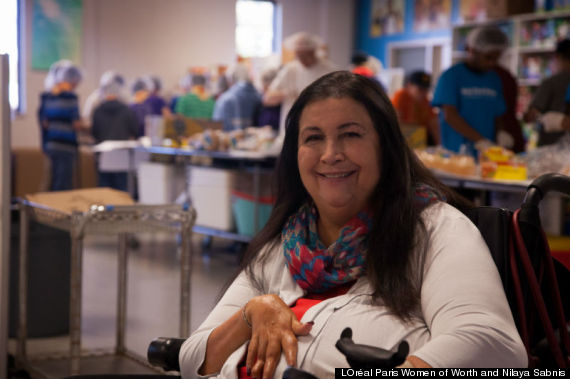 One day, a volunteer mentioned she was going to drop off juice boxes to Sibley Elementary School. She explained the principal of the school had found a little girl digging through the trash, looking for food to take home to her family for dinner. The principal, MaryAnn Prisichenko, was looking for a group of community members to ensure no child had to resort to such drastic measures. The fact that there were children as desperate as this little girl plagued me with heartache.
That was the fall of 2001. The World Trade Center in New York City had crumbled, the economy was shaky and Americans were worried about the future. Despite the financial climate, I knew I had to do something -- I couldn't sleep at night, knowing children were going to bed hungry.
Although I was a coordinator with a hunger relief program, I didn't understand the complexities of childhood hunger. From the United States Department of Agriculture statistics, I learned that 16.7 million children in the United States were living in "food insecure" households. Food insecurity is defined as the lack of access at any time to enough food for an active, healthy life, with need for emergency food sources.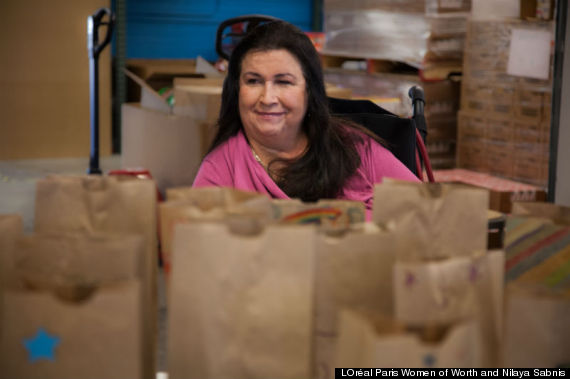 Hunger affects everything: a child's ability to learn, do their best in school and be their best in life. Childhood hunger was hurting not just the kids themselves, but also the schools, teachers... the entire community.
I had to follow my heart. I took a leap of faith and resigned from my paid position to found Kids' Food Basket, an organization to attack childhood hunger. With a budget of just $3,000 the first year, we relied on every donation and relationship to make what I called the "Sack Supper." Each Sack Supper -- a decorated brown bag containing a well-balanced meal -- was given to 125 children each weekday at three local schools.
Immediately, we started hearing stories of impact. When Mary Englesman, a teacher at Sibley Elementary School, was handing out these Sack Suppers, she was always one short. She noticed that a student, named Katie, was putting two Sack Suppers in her backpack. When Mary approached the little girl and asked why she took two meals, Katie explained, "I am taking one for my three-year-old sister." We later learned Katie had moved 22 times that school year; each time her parents were evicted from their apartment. The Sack Suppers provided her with the nutrition she needed to thrive, as well as relief and a sense of stability for Katie's family. Stories like this firmed my resolve to feed more hungry kids.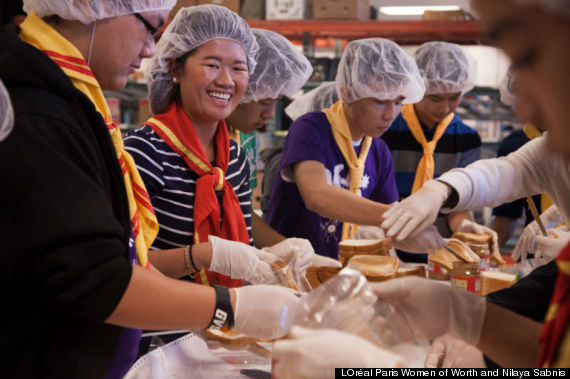 The Sack Supper program was built by the hard work of volunteers and the efforts of a dedicated and dynamic staff. Supporters fund, prepare, decorate and deliver each Sack Supper, strengthening the fabric of our community. With their help, Kids' Food Basket remains a 100% charitably funded organization. Together, we serve more than 6,300 Sack Suppers, five days a week, at 34 schools in Grand Rapids and Muskegon. We take pride in what we serve. Each Sack Supper is a well-balanced meal, containing the five food groups to help children concentrate on learning in school.
I'm proud that we, as a community, are attacking childhood hunger. Thanks to food drives, area grocers and Feeding America, we can provide kids living at or near the poverty level a well-balanced nutritious dinner for just one dollar! I'm proud that through our Kids Helping Kids program, 25% of the voluntary action at Kids' Food Basket is done by kids under the age of 18, creating a new generation of advocates who stand for children. I'm proud that 70% of the schools we serve have students who volunteer at Kids' Food Basket. I'm proud to live in such a generous and caring community.
Most of all, I'm proud that although I am a paralyzed, I've never let that define me. Though my body was paralyzed, my life was not. I don't take no for an answer. After my accident, it would have been easy for me to give up. I'm proud that I didn't give up, that I expected so much from myself, and from my community. I'm so passionate about our community's kids and I strive to give them every opportunity in life... Nothing can stop me from helping them.
This post was brought to you by L'Oréal Paris Women of Worth, an initiative started in 2005 that honors 10 amazing volunteers combatting disease, poverty, sex trafficking and addiction with $10,000 grants each year. Go to WomenofWorth.com to read their stories.