One of my favorite holiday traditions is watching the video of my first Christmas. My older sister and I are decked out in red-and-white-striped nightgowns with matching hats -- two candy-cane monstrosities with chubby cheeks. My sister is digging through her stocking and presents, her magnetic laugh and chatter capturing the camera's focus. I'm sprawled on my back, silently watching her while chomping on a chunk of chocolate. When I want more candy, I roll over to my sister and lift my head so she can put more in my mouth.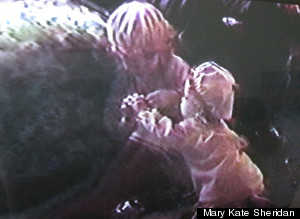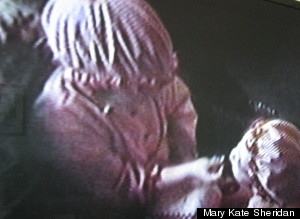 This five-minute movie is perfection to me and captures everything that is special about the holidays.
We were made to be sisters, and it was clear right from that first Christmas how well we balance each other out. (We all need someone to feed us chunks of chocolate and nab everyone else's attention while we gorge.) She's always been the charismatic, outgoing one. Once she walks into a room, its hers -- the jokes roll off her tongue, and before you can finish your reply, she already has a witty comeback. I, on the other hand, am more reserved, observing the action around me and tiptoeing into a conversation when I'm ready.
Despite our differences, we are alike in many ways -- just a couple of nerds who grew up in the '80s with atrocious perms, enormous glasses and very odd senses of humor. And while we escaped the hairstyles and plastic spectacles of youth, we're still just a pair of nerds, with jokes and moments that only the other can truly understand and appreciate.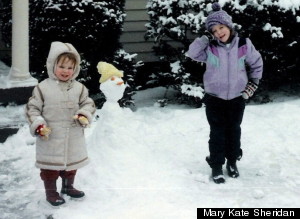 Nothing makes this bond as clear as Christmastime. From our days as candy canes nightmares to today, we Sheridan sisters become possessed with Christmas spirit and have left a long trail of holiday memories behind us.
As children, we'd attack the Christmas tree together, decorating for hours as our parents gladly sat back and enjoyed holiday cocktails. We'd sit as a family almost every night gazing at those twinkling lights and listening to holiday carols. Then my sister and I would snuggle on the couch to watch a holiday flick -- A Smoky Mountain Christmas and A Christmas Story were always in our queue. Whatever the movie was, you could be sure the two of us already knew the words and would recite them to each other on cue. Together, we'd crack open our Advent calenders, make reindeers out of candy canes and pipe cleaners and fight over who got to turn on the Christmas lights each night. The holidays amped us up so much that we even convinced our parents to do a "secret Santa" with just the four of us. (You can guess how successful that was).
Once Christmas Eve arrived, the two of us were beyond giddy, barely able to pay attention during mass (our parents often separating us so we'd remember the reason for the season). When we got home, we'd carefully arrange the cookies for Santa, carrots for the reindeer and our well-crafted letter to the big guy. And then the real fun began. Two little girls, bundled in fleece nightgowns, would camp out in the same bedroom, challenging each other to stay awake all night with stories and games in the hopes that we'd catch a glimpse of SC or be able to hear the animals talk at midnight. (We always managed to fall asleep right before midnight and wake up immediately after, which to this day we think is no coincidence). And then as dawn arrived, we'd begin our voyages downstairs. One of us would creep along the hallway and down our winding staircase to catch a peek at the surprises below. She'd scurry back to report to the other what she saw: "a big red box for you," "a new crossword puzzle book sticking out of your stocking," "cookies and carrots are gone!" Then 20 minutes later, the other would slink out to see what she might see. We would continue this for about an hour or so until we reached the acceptable time to awaken our parents (correction: our mother -- our father stayed in bed well-past our 5 a.m. craziness).
Looking back now, those memories are some of my most treasured. And it never was about the presents or the stockings; it was about the time -- those amazing hours that the two of shared building excitement together.
As the years went on, we stopped creeping downstairs and added some wine to our Christmas Eve chatter sessions. But we Sheridan sisters never stopped reveling in that magic together. Even in our 20's and 30's, we'd wake each other up early to open our stockings, turn the radio dial to the 24/7 Christmas station when riding in the car, lounge on the couch to devour any holiday flick we could find and bombard each other with holiday movie quotes until we ran out. It's something that's hard to explain, but sharing Christmas with my sister is one of the most special experiences I know.
This year will be the first one that I won't travel back to my childhood home to spend Christmas with my family. I'll start a new tradition and celebrate with my husband and his family. And I have no doubt that this Christmas will be an amazing holiday filled with love, happiness and fun.
But I have to admit that my heart is a little broken and has been since I said goodbye to my sister at Thanksgiving and realized we wouldn't be together in the coming weeks. Without her, it just doesn't feel as much like Christmas. I'm extremely grateful to my sister for this little piece of emptiness, though. Because to me, that's what Christmas is all about. It's about feeling so much love and happiness that you are completely overwhelmed and utterly grateful -- that's the magic of the whole season.