We take it for granted. Water. Because it flows so easily from the taps in our kitchens and bathrooms and so plentifully into our showers and baths. It flooded so forcefully from our rivers in the Midwest that towns and farms were engulfed and families lost their homes.
But when the water in our lakes continues to recede, we are reminded how precious it is and how the drought in Georgia is far, far from over.
_______
By Cynara
Having grown up near the Ohio River, water has always been a part of my life. If we weren't down at the park by the river, we were at one of the many lakes in Kentucky swimming and camping. So when I moved to Georgia 25 years ago one of the first things I did was "find" the Chattahoochee River, and Lake Lanier.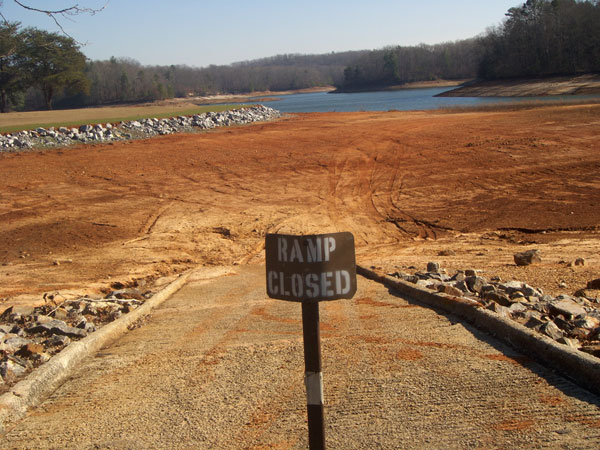 The first time I drove across Buford Dam, looking out on the lake I was hooked. If it's possible to fall in love with a lake then I did. From then on one of my dreams was to retire and live on Lake Lanier. So last year when we bought a house there I was thrilled. Even though we don't have direct access, we are only two miles from a nice park and boat ramp. Every evening after supper Phil and I would drive to the little park and walk or he was up early and fishing in the morning. But all of that was before the drought started.
At first it was no big deal, but then it started not being so funny. By July of 2007 the boat ramps started closing, ours included. Then old roads started showing up that had been closed off in the 50s when the lake was built. Then old towns, buildings and even a race track. All had been under water, and some of it had been forgotten about. One of the oddest "finds" were the car motors, hundreds of them. Our nightly excursions became a drought watch, to see what else would show up, as the water receded.
But the day we drove down the boat ramp and out in the middle of the lake on dry ground I was stunned. Phil had gone out fishing that morning, and came back to the house to get me. Our island by then had become a land bridge to the other side of the lake. By September people began "driving" across the lake on the old roads. We like everyone else would just drive to the ramps and stare in disbelief.
I don't know how to describe the emptiness that you feel inside. Its like feeling a part of your soul dry up and yet you can do nothing about it.
2008 got off to a promising start but this week they have already started the lake alerts. We went last night to launch our boat, at one of the 4 ramps they now have open. You have to drive half way across the lake on extended ramps to reach water deep enough. That is one scary feeling to look out and have water all around you and be so far from shore.
I can only hope that we will get some of the rains that usually blow into Georgia when hurricane season starts. Just the rains not another Katrina, or Rita. I still love "my lake" and I hate to see her looking so forlorn, and empty. Maybe we will get lucky and not spend another year exploring the bottom of the lake, without scuba gear!
Are rising or receding waterlines affecting your life? Share your stories with us on Tokoni, America's virtual front porch. www.tokoni.com