Twenty-nine-year-old Esme Barrera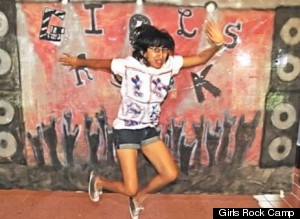 volunteered at Girls Rock Camp Austin, and her strong, encouraging nature were part of what made Girls Rock Camp an often life-changing experience for young girls. Girls Rock Camp offers campers a supportive environment where they immerse themselves in the traditionally male arena of playing in a rock band. In one week-with the support of volunteer band coaches and counselors like Esme -- campers form a band, learn how to play an instrument, write an original song, and perform it on-stage for hundreds of people.
For young girls who attend Girls Rock Camp, the experience of being encouraged to be themselves and create something in a positive, all-female environment can be exhilarating. "Seeing the way that girls open up from Monday to Friday, in five days, is unbelievable. It blows me away how much talent they have and how quickly they can learn if they are only told to try... It's an amazing empowerment," Girls Rock Camp volunteer Cari Palazzolo said. The girls who attend camp, and the women who work or volunteer at the camp, form a tightly knit community. So it was devastating to Girls Rock Camp volunteers and campers when Esme Barrera was found murdered in her home in the early morning hours of New Year's Day 2012.
I was living in Austin at the time and can say that news of Esme's death had a profound collective impact on Austinites. Those of us who knew Esme through Girls Rock Camp, or other avenues, were shocked and grief-stricken. And those of us who didn't know Esme were shocked and grief-stricken, too.
You see, Austin, Texas, remains one of those singular towns where creativity and eccentricity are valued and where a certain solidarity exists between people who grow up there, or are drawn to it, for this very reason. It's a town where people come because they love music and stay because they fit in. In Austin there remains a strong sense of place, and among those of us who belong there, a strong sense of community, of being part of a tribe of sorts.
Esme Barrera was one of us.
We either knew and loved her, or we had friends who did.
The news of Esme's death illuminated what a significant impact Esme had in the community and how many people she had affected with her enthusiasm at Girls Rock Camp and in other areas of her life. Esme -- an El Paso, Texas, native -- worked as an assistant teacher to special needs children at Casis Elementary School, and as a clerk at the iconic Waterloo Records in downtown Austin. She was also studying for a degree in education. Esme played the drums and was learning to play the ukulele. She was a dedicated music fan and a part of Austin's underground music scene. She had a vast number of friends, and she seemed to have had a strong, nurturing, and positive impact on most all of them.
Her fellow Waterloo Record clerk Andy Pluta summed up the effect Esme had on people who knew her. "Esme had this remarkable ability to make you feel important. She was this little ball of light."
"Esme really had two clear passions: working with kids and music. And she found a meeting of the two with her work with Girls Rock Camp," Girls Rock Camp Director, Jess Boettger said.
"Girls Rock Camp was really important to Esme and she loved to see the girls come out of their shell and create something and just get excited about making music and being part of a group," Linda Maher said. Esme was especially beloved by the girls who attended Girls Rock Camp. "She was always really nice and she actually listened... She talked like you were her equal," camper, Mia Czarnecki said. Esme's death was followed by, not just an outpouring of grief, but also a strong desire to keep her colorful spirit alive. Many of Esme's former colleagues and friends created personal goals to "be more like Esme" and to carry on her spirit of community involvement. To that end, Girls Rock Camp Austin created the Esme Barrera Unlimited Possibilities Scholarship Fund to send girls to the camp who would not otherwise be able to attend. (Currently almost half of Girls Rock campers attend on scholarship).
It was a start, but to Esme's friends, it didn't quite seem like enough. They wanted a truly vibrant way to memorialize her. At Esme's memorial service in Austin, almost 40 female musicians and Girls Rock Camp volunteers, organized by musician Melissa Bryan, performed The Rolling Stones' "She's a Rainbow" in Esme's honor. The enthusiastic response to the performance included an offer from producers Benjamin Hotchkiss and Kyle Crusham to record the song at Tequila Mockingbird recording studio. Girls Rock Camp volunteers decided they would then release the song on 7" inch vinyl as a tribute to Esme and as a fundraiser for the scholarship fund.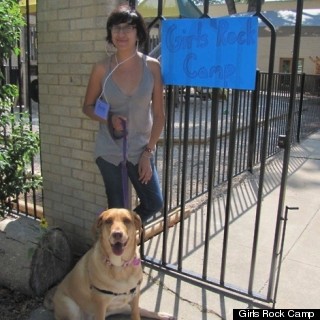 More than 22 female musicians recorded the song together over two emotional days last February. "The recording of this song just really captures this amazing, beautiful energy that Esme shared with everyone that she ever came in contact with in her life. And the fact that she was so into Girls Rock Camp, and helping out these young girls, and helping them to feel important and accepted -- we wanted to make sure that we did something in Esme's name that continued to keep this amazing and beautiful spirit and energy alive," volunteer Heather Webb said. The record's B-side, "For Esme," was written and performed by then-16-year-old singer-songwriter Christina Arellano, who attended Girls Rock Camp. Proceeds from the sale of the record will go towards the Esme Barrera Unlimited Possibilities Scholarship Fund.
"Not everybody really knows how many challenges Esme had in her life," Boettger said.
"She grew up having a ton of health problems and was told that she wouldn't be able to do a lot of things, and maybe she would never grow up to be an adult who lived on her own and did stuff. But she did it because she wanted to do it. She wanted to work with kids, to be able to bring that spirit of possibility back to them the way that she had found it when she was young when she was struggling a lot. I think that was the spirit that she really embodied: 'This is going to be awesome and we can do it. Even if it's hard and even if life is going to be hard, we can do this.' And I think that's really what we are hoping to impart to kids is that spirit that says: 'You can do it. You can achieve it. Even if it is not easy. You can get there. And you can start here.'"