Got to take a couple bites out of the Big Apple recently and it's always a pleasure to taste something new or revisit old standards. New York, to me, is our culinary godmother and I love going back to our roots.
Food trucks are as popular there as here, with websites and tweets directing traffic to the day's location. But, just as in the Bay Area, some of the mobile chefs are expanding and adding storefront locations.
The morning I left for the East Coast, I read in the Chronicle that Curry Up Now had opened a restaurant in San Mateo. No more chasing the truck and fighting traffic for a chicken tikka masala burrito with chana masala (garbanza beans) and pulao (rice) on a wheat tortilla!
Maine lobster (steamed, stuffed, in thermidor or newburg sauce, floating in a brandied bisque or nestled in a roll) is my most favorite food on earth. Several years ago, a business trip to Boston allowed me to eat those red-shelled, sweet-fleshed beauties every single day for six nights (even at Fenway Park)!
Locally, my favorite lobster roll is at Nettie's Crab Shack on Union Street, but at $35 a pop, I don't indulge in my crustacean cravings as often as I'd like. Hard to believe that in Colonial times, some indentured servants in Massachusetts had it written into their contracts that they could not be forced to eat lobster more than three times a week!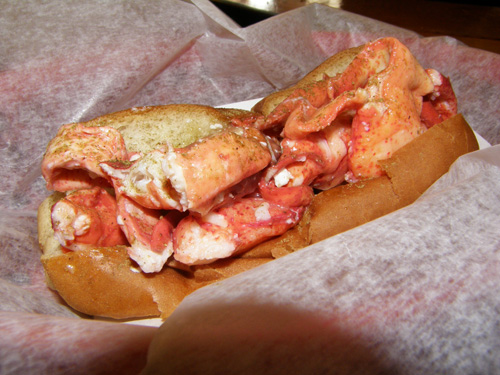 I did my homework and discovered that Zagat rated the Nauti Mobile, Luke's Lobster food truck, the number one food truck in New York for 2012. I also learned that Luke's had four storefront locations in New York, including one on the Upper West Side where I was staying, plus one in Washington, D.C.
Luke gets his lobster directly from Maine... from his dad who is a lobsterman. Talk about being connected to the source! Lobster roll preparation here takes the purist approach with a toasted roll that is buttered, and lobster meat that is barely kissed by mayo and lemon butter, plus some "secret spices" that I'm quite sure included cayenne. The best news of all, it's $15.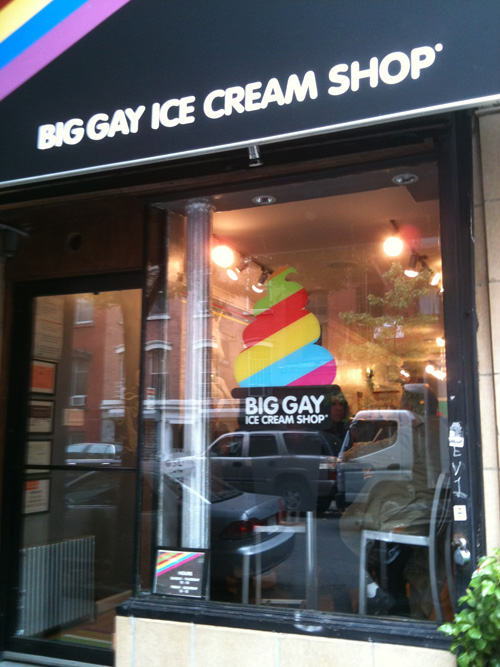 My cherished childhood memories include waiting to hear the bell tinkling on the Good Humor truck announcing its imminent arrival on a hot summer day in Brooklyn or down south in Virginia. So, I was intrigued to hear about Big Gay Ice Cream, a popular truck that operates April through October, but year round at its East Village permanent location on 7th Street.
I couldn't resist ordering a Bea Arthur (vanilla softie ice cream with dulce de leche and rolled in vanilla wafer crumbs), while another family member got the Salty Pimp (vanilla and dulce de leche again, but with sea salt and chocolate dip). They offer a number of unusual toppings (some savory like wasabi and others sweet like ginger syrup). My only regret is I didn't have room for a Cococone (vanilla ice cream rolled in toasted curried coconut).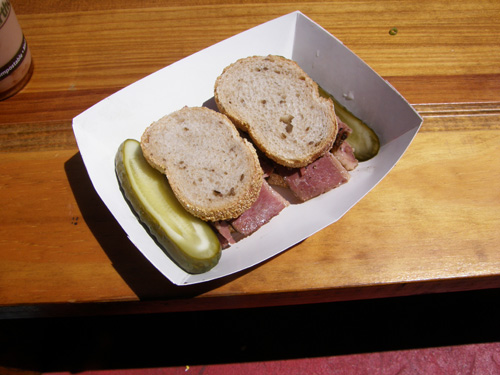 I also got to Katz's Delicatessen on the Lower East Side to sample the dry cure pastrami (could there be orange rind in the mix?). It's the oldest deli in New York, going back to 1888, and they still suggest you "Send a salami to your boy in the Army!" Bless them!
The shiny new side of the coin is Wise Sons Jewish Delicatessen here on the left coast since 5771 (that's 2010-2011 in Gregorian years). They hope to have a permanent location next year, but, in the meantime, are out at the Ferry Building Farmer's Market on Tuesdays. They house smoke their pastrami and served it on sliders at La Cucina's Street Food Festival in the fall, not quite as intense as their New York elders, but definitely yummy.
I confess that I'm a sucker for a funny name or a good pun, so I will admit, after reading about "LA's Ten Best Food Trucks" by Zagat in the Huffington Post food section, that on my next trip to Los Angeles, I am heading straight for their third pick, the Shrimp Pimp Truck. Come on, tempura-battered po'boys, drunken tacos?... and all made from sustainable seafood. What's not to love?
Right now it's a good time to be right here in San Francisco as Dungeness crab season is upon us. Chilled white wine... Dijon mustard whisked into a good mayonnaise, a loaf of sourdough with lots of paper napkins. That's all you need!
Photos courtesy of M. Rose