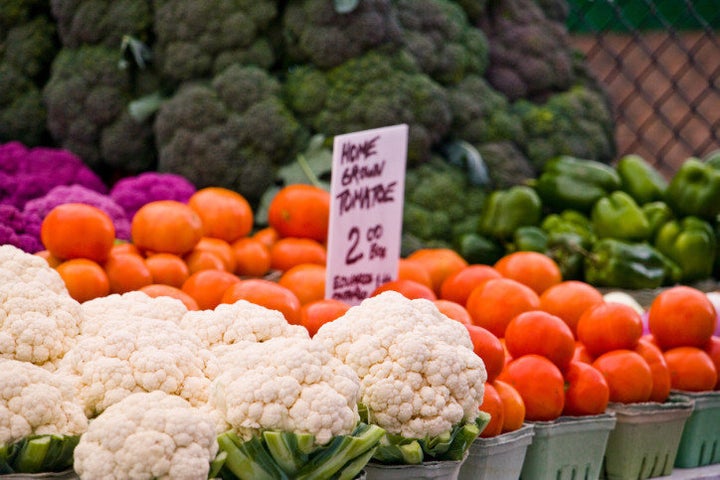 The excesses of the holidays, the Super Bowl, and, for me at least, Oscar Night, are now past, and hopefully we're all able to fit back into our jeans again. Food is definitely transformative, but not just to our waistbands.
Some Bay Area organizations have taken on the mission of transforming lives by putting food on the table in a particularly meaningful way. They have created professional food training programs for low-income people so they can earn a living in the food service industry. We're not talking about refined culinary institutes grooming executive chefs, but, instead, ordinary people being prepared for ordinary jobs.
Since 2000, the Bread Project, now based in Berkeley and Emeryville, has been creating opportunity "one bite at a time, one job at a time." Actually, make that more than 200 opportunities: the number of people who have received job training and been placed through this program just in the last two years. The goal is to help participants become self sufficient by providing them with culinary training and job referral assistance.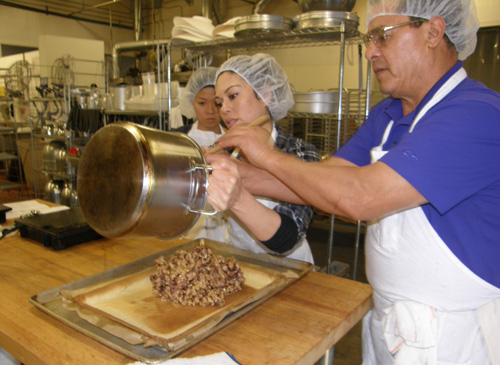 The Bread Project has two programs: nine weeks of culinary arts and food service skills (basic training, barista duties and customer service) which can lead to jobs in restaurants and retail; and 12 weeks on the principals of commercial bakery production (fundamentals and manufacturing practices) which can lead to jobs in batch production and large scale food manufacturing.
The students' stories are compelling. Some have been unemployed or unemployable, or have been addicted to heroin or other drugs. Some have served time in prison or are former gang members, single moms, on public assistance. Some haven't finished school or speak limited English. Through the program, they learn kitchen math and vocabulary, safety and sanitation, how ingredients work together and react to temperature and manufacturing best practices.
Applicants must be 18 years or older and low income. After finishing the course, they receive a certificate of completion or participation and a California Food Handler's certification through ServSafe.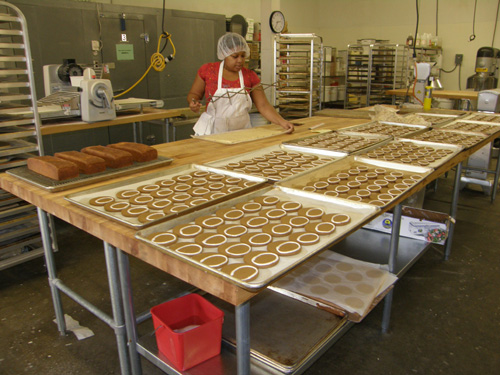 Baking is at the core of the program because it is a familiar task in most cultures. Ideally, it can be taught in a short time to people who don't necessarily have many academic qualifications and might not speak English well.
A catering menu is available to the public and offers pastry, appetizers, salads and sandwiches. A café on the Berkeley site serves coffees and baked goods, as well as a daily lunch special. On Saturdays you'll find the Bread Project at Phat Beets Market in North Oakland and the Emeryville Farmers Market on Thursdays.
Last holiday season, the Bread Project designed a logo cookie for Reddit to sell online and made cookies for Clorox. Currently they are developing goodies for the Williams-Sonoma Union Square Artisans' Market where they'll be back for a second visit on April 22 to introduce their products (like toasted almond blueberry muffins and brown butter maple shortbread).*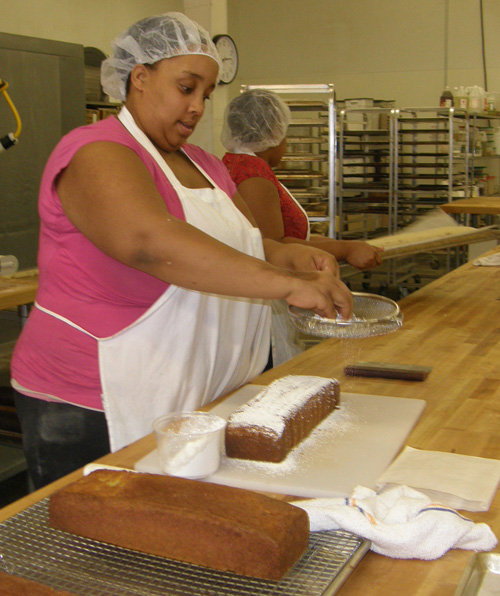 The advanced bakery production program turns out a variety of breads, most of which are delivered to Project Open Hand. Last year, the Bread Project was honored by Open Hand as a Community Partner in their work to feed those who are critically ill, seniors and/or the homebound. In addition, they provide some breads to Age Song Senior Communities and babka to Wise Sons Deli.

Similar programs include CHEFS which stands for Conquering Homelessness Through Employment in Food Services. It started in 1997 and is one of a number of support options offered by Episcopalian Community Services of San Francisco (ECS) to people who are homeless or low income. Participants learn about food preparation hands-on for six months by interning in restaurants and institutional kitchens. This is followed up with job placement and counseling. Students must qualify by being on the street, in a shelter or treatment program or other transitional housing. Volunteers from the food industry teach classes in cuisines from vegetarian to Italian, fish preparation, stocks and sauces, nutrition, menu planning, sanitation and food safety.
La Cocina means "The Kitchen" in Spanish and is known for its work in aiding and cultivating entrepreneurs to build their food businesses. Since 2006, this self-described nonprofit incubator provides commercial kitchen space and other assistance to low-income women of color and immigrants to establish themselves and become self-sustaining. Grants, donor support and revenue from cooking classes and events like the annual SF Street Food Festival and food conference support the efforts. Eleven businesses have graduated and 32 are in the program currently. A La Cocina business might be involved in catering, gourmet specialty products or a farmers market stand. A kiosk at the Ferry Building sells the products, as do some other local gourmet retailers.
Lend a hand (and some of your carb allotment!) to patronize and support these enterprises, because the trainees are learning, hands-on, how to become self-reliant and provide a service.
* If you are interested in purchasing the Bread Project's items, call the Emeryville facility at (510) 594-1702.