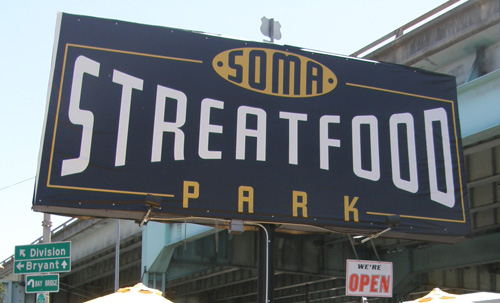 My summer journalism students decided they would like to try their hand at food writing. In attempting to pick a place to eat, one of them sighed wistfully, "I wish there were somewhere with a bunch of food trucks all together in one location."
"You're in luck," I replied. "One just opened about a month ago!" And so a recent sunny afternoon found us circling the wagons, literally, in pursuit of a tasting lunch at the SoMa StrEat Food Park next to the COSTCO under the Central Freeway in San Francisco.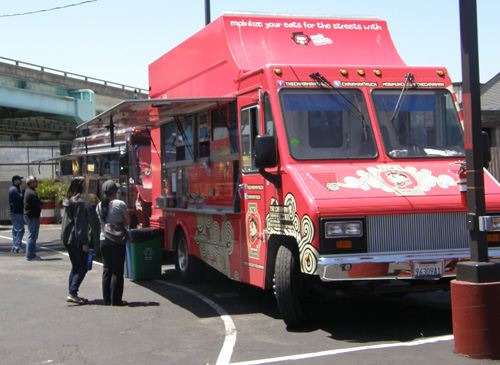 This permanent location rotates trucks (up to 10) five days a week for lunch (from 11 a.m. to 3 p.m.) and dinner (5-10 p.m.) and all day weekends (11 a.m. to 10 p.m.). Think of the possibilities... sure, lunch when you're stocking up on toilet paper and chicken breasts, but what about picking up dinner (already cooked) on the way home or bringing a little something to the ballpark?
There's a surprise element because of the rotation (participating trucks are posted on the website, Twitter and Facebook every day). We felt like we'd hit the jackpot with Bacon Bacon and Pacific Puffs parked on the lot. We also enjoyed the Chairman Truck steamed or baked buns, inspired, tongue in cheek,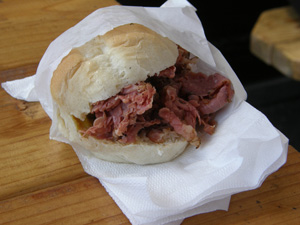 by the Little Red Cookbook and the "Great Culinary Leap Forward"), La Pastrami (peppery pastrami in sandwiches, burritos and other Mexican fusion items), Seoul on Wheels (Korean bbq), Southern Sandwich Co. (Carolina and Texas bbq), Old World Truck (Eastern European and Jewish soul food), Naked Chorizo (Spanish Filipino) and Brass Knuckles (dishes inspired by music and song titles like "Fryin' Maiden" -- buttermilk fried chicken sandwich, and "Pig Floyd" -- pulled pork sandwich).
Bacon Bacon is a hit for the cheddary, gooey grilled cheese sandwich ($8) and the $3 chocolate-covered bacon strips (yes, really!). The owner explained that the "After Service Confessional" sign on the side of the truck was for "our vegetarian and Jewish friends." The spicy belly fries are $6 and combine French fries, pork belly and red peppers... like a Canadian poutaine without the gravy.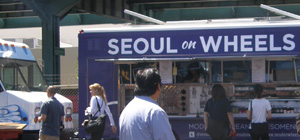 Our other favorite, Pacific Puffs, features a locavore version of cream puffs, $3.25 for a regular size and $2 for a mini, in an irresistible variety of traditional with chocolate topping or powdered sugar, chocolate-filled with chocolate topping or powdered sugar and lemon cream -- the flavor of the day.
All of the trucks post on Twitter and most of them cater private parties. Free Wi-Fi and a big screen TV are offered at the park. Seating is available in the shade or the sun, a sweeper circulates keeping the grounds tidy and the restrooms are very, very clean.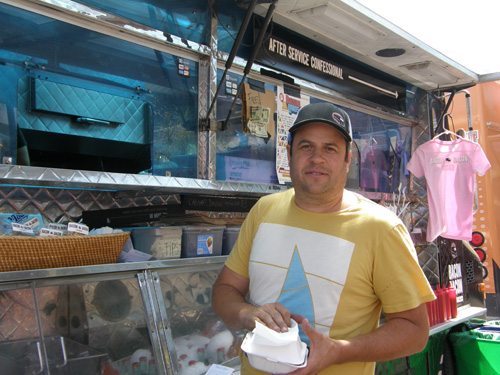 SoMaStrEat Food Park
428-11th Street
Photos by Mary Rose