Within the next week, Angelenos have some choices to make.
Today was the last day to register to vote in the November 4th elections which will fill more than 20 public service roles, as well as a number of ballot measures across wide policy divides. Politics is front and center in the City of Dreams these days, while candidates with little or no name recognition - and those with plenty - flutter from fund raisers to rallies to house parties and watering holes to woo the last undecided voters. With so many candidates, the slightest appeal or mis-step can change a voter's mind.
What ties me to this race is a coincidence rooted in emotion and a fear of being silenced. Last month I posted an article that brought awareness to the plight of women and girls around the world. It was on the occasion of my daughter's 13th birthday, which is an age when I know in many places around the world she would meet a fate far different than that which awaits her in the US, where we expect of her more school, better grades and less phone time. In many places, we might expect a suitor or demand an end to her schooling in favor of help with chores around the home. The article drew the ire of a Twitter user who hurled at me a gender based slur, that had my pulse racing. Reading the slur for the first time sent my heart pounding, and made me silently cower and pledge never to write in this manner again. After hours, pondering, pacing, weighing the words, the slur, the punch, I realized that the very word, that gender based derogatory slur is intended to knock me back, spin me on my heels and make me collapse in silence. It is designed to be so intimately intimidating as to render me hushed. The over-arching message was, 'shut up lady'. Therein lies my bond with Sandra Fluke. For as long as men can intimidate women from the public sphere with gender based threats, whether the Taliban, Rush Limbaugh or a Twitter user, I will stand with one who stands against the slur.
Twitter message in response to my HuffPost Blog about fairness for girls: "...piece of shit murder-advocating liberal whore."
But beyond my personal experience are two great candidates that deserve attention.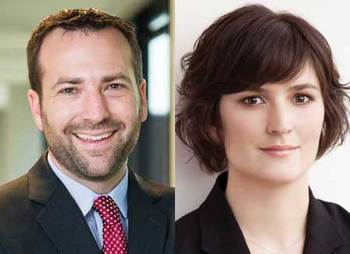 Sandra Fluke and Ben Allen are the somewhat similar, often labeled "progressive" candidates vying for a state Senate seat being vacated by State Senator Ted Lieu who is a shoe-in to represent the 33rd Congressional District in Washington DC. As an unwavering Democrat Lieu made his mark as a pragmatic 2nd generation Chinese immigrant who would build consensus while holding fast to liberal touchstones, and although (R) Elan Carr has mounted an impressive campaign, (D) Ted Lieu is almost certainly our next Congressman. That leaves his State Senate seat for District 26 up for grabs. While the two contenders are both impressive candidates with a strong education and a background in public service, the battle here is not between ideologies so much as sensibilities and a style of leadership that marks each candidate in almost as stark terms as party lines.
Sandra Fluke is a battle hardened policy enthusiast, who has the temperament to go up against the harshest of her critics and still impress with the sheer volume of her knowledge, her mastery of broad based issues, and a smooth articulate delivery that would disarm an army. Having endured the gender slur of popular right wing radio talk show host, Rush Limbaugh, in 2012 over her opinion that healthcare providers should cover the cost of birth control as part of a complete healthcare package for women, Fluke emerged as a lightning rod for women's rights, and honed her voice as a politician armed with a law degree from Georgetown and a rolodex full of influential Democrats who were ready to support a fresh new face, with smarts. Her big issue seems to be the fair treatment of women at home, in the workforce and within the healthcare system. Campaign finance reform and the protection and development of "Silicon Beach' are also paramount to her. With greater name recognition than her opponent (whether negative or positive is debatable), she has raised slightly more money, gained fewer big endorsements and has effectively reached out to younger smaller donors in droves. (Sandra's endorsements: http://www.standwithsandra.org/endorsements)
Ben Allen is a charming, engaging and affable academic with an impressive background in education and the law. He attended Harvard University as an undergraduate and UC Berkley Law School where he researched law and politics in California's school finance system. He has been on the Santa Monica Malibu Unified School District Board of Education for two popular terms, and knows his district and its constituents well. His big issue seems to be Education. His ideas on making CA more friendly to small business in order to create jobs and grow the economy, coupled with his commitment to protecting our state's natural resources are also popular among a constituency that lives in this district for both those reasons. With less name recognition than his opponent, Ben Allen has won a considerable number of endorsements and raised bigger money, with larger single donations than Sandra Fluke. Notably, he has more Republican donors than does she, which should make the voter wonder whether Republicans want Ben Allen in the legislature because he seems like less of an obstacle to their agenda, or because he seems like more of a pragmatist. (Ben Allen endorsements: http://www.benallenforsenate.com/endorsements)
With no independent polling to demonstrate how each candidate fares among likely voters, a Fluke poll shows that 41% of voters prefer her over Ben Allen, while 34% prefer Allen over Fluke. While Ben Allen enjoys the support of some Republicans, Fluke does not and can only strike an appeal to a democratic base. In a district like the 26th, this cuts both ways, in that centrists are coveted for their ability to move economic gridlock along with compromise, while ideology is celebrated in order to keep California firmly democrat on the social political spectrum.
I come to this race with the sensibilities of a mother, the disposition of a women's rights advocate and the temperament of a writer. I am in a position to have to save and send my children to college and for that reason Ben Allen's ideas on education and the protection of small business in this state appeal to me. I am also a staunch supporter of the rights of women, while as an advocate for fairness I must support campaign finance laws that protect the influence and voice of everyman.
Before November 4th, you should decide what means the most to you in this State and what issues are likely to shape your future. Then go out and cast a vote, to keep our Democracy relevant and strong.
Source for campaign donation information: http://www.laprogressive.com/ben-allen-sandra-fluke/