It's Christmas week and we are all busy. Unfortunately, many people hear the word 'busy' and think 'stressful'.

Well, this does not have to be the case. As a matter of fact, busy should mean fun, joy and excitement.

I want you to have less stress and more joy this holiday season. That is why I created the following list.

But before we get to the list I want you to remember, you are equally as important as everyone else! Which means a couple of things:

1) Stop trying to make everything perfect.
2) Taking time for you is not only important, it is mandatory for a happy holiday season.

Top 10 Ways to Enjoy the Holidays

• Don't get overwhelmed. Instead create a "to-do" list for each day. By writing things down, you get them out of your head and make them actionable. Review the list each night. Cross off your accomplishments and take off anything that's not important.

• Take your kids to the dollar store to buy gifts for their siblings. Teach them that the holidays are about giving and that even a gift that costs a dollar can mean so much.

• Watch old holiday movies as a family. Make popcorn in a pot (not the microwave). And, tell your kids a story about the first time you saw that particular movie.

• Shop on-line. Stop running all over the place when you can shop comfortably and quickly from home.

• Procure help. If you are the one making the holiday meals, have friends and family bring deserts and side dishes.

• Use paper. If you are having large dinner gatherings, forget about the good China and use plates, napkins and utensils you can throw away. This way, instead of spending time doing dishes, you are enjoying time with your family.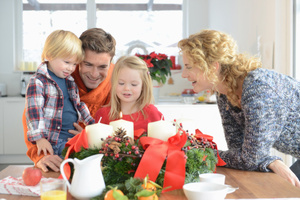 • Lock technology in the closet. After dinner, have everyone set aside their iPhones and play cards or board games at the table.

• Remember there is no place like home. Walk around your neighborhood in the evening and look at the different Christmas decorations and lights. No need for extra driving or travel.

• Have your kids write a list about the 10 things they love most about Christmas. You will be surprised that it's not all about getting gifts.

• Get a spa treatment. That's right, leave the family behind and go out for an hour or two, and take care of you!

If you use the list above as a guideline, you will be able to really celebrate the holidays. Not wish them away. You will feel the love and joy and start your 2014 off with a bang!