Even though it was two years ago, I can still remember the conversation like it was yesterday.
My friend, Janet, called me in hysterics the night of her company holiday party. Earlier that evening, she was mingling with many co-workers. As the night went on, she found herself deep in a conversation with one of her male co-workers. And before she knew it, she was being hit on harder than a hammer to a nail.
And not only did this "prince charming" know she was married, he was married as well!
Well, over the next year, the situation got so bad that she eventually left the company.
Because of the obvious anguish Janet was in and how astonishing this was to me, I needed to find out more.
So, I surveyed the Working Moms Only community to see just how common this occurs in the workplace.
Well, my friends -- it is not just prevalent, it is a freakin' epidemic!
I could not believe my ears when I learned that 81% of the Working Moms Only community had been hit on by a co-worker at a company holiday party.
You heard me right -- 81%!
And the hits keep on coming...
I have always adopted the philosophy that knowledge is power. If you do not know that a problem exists, you cannot solve it.
So, I am publishing the results in their entirety: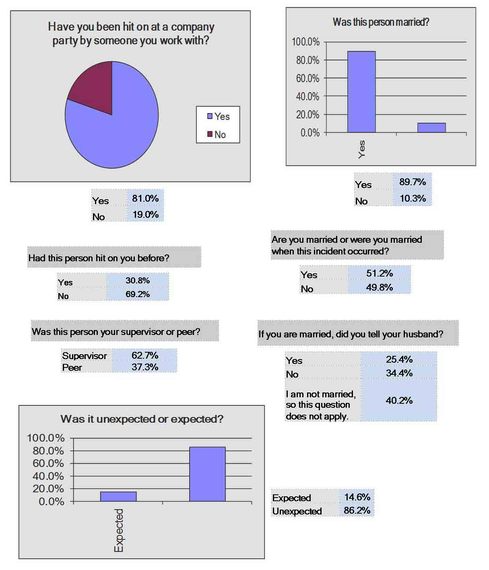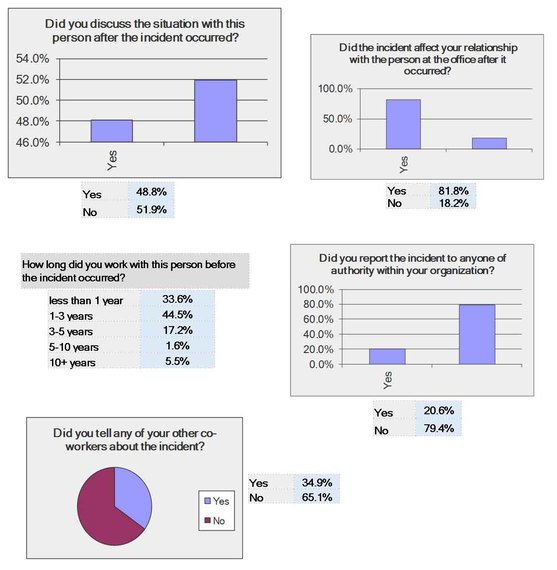 Because of these scandalous results, here's the advice you must follow and offer to others this holiday season!
7 MUST-DO'S
• Avoid drinking too much. Limit your intake to no more than two drinks. Not only will you be more aware of your surroundings, but you will pick up on signs that something uncomfortable may occur.
• Don't spend too much time talking to one person, or any male colleague, who has been drinking too much.
• If you do not have a date, bring a friend or relative with you. We just had our company party last week and many women and men brought a sibling; one even brought her mom.
• Always remain in a group setting and do not go off alone with anyone, even if you know this person very well. Remember, Janet had been working with her coworker for, well, over a year.
• Avoid getting into deep personal stories with co-workers.
• If you find yourself in an uncomfortable situation, be direct and firm when turning down their advances, even if this person is your supervisor and even if this causes a scene.
• Should this happen to you, report the incident immediately to the HR Department.
There are strict laws that protect us from these kinds of situations. It does not matter if this person is your supervisor or not.
One of the saddest parts of this survey is that 79% of women who had this happen to them DID NOT report the incident.
We cannot allow this to continue. Do we really want to send our daughters, nieces, sisters and friends out to a workplace where this is permitted?
Hell no!
We have the power to change this -- silence is NOT the answer.