Getting over a break up? You've got one of two ways to go -- you can either be a cryin', whinin' mess or an empowerment babe! Lucky you, we've made a handy-dandy do's-and-don'ts infographic (we know how much you love these babies). Avoid the pitfalls of the DON'TS on the left hand side and follow the DO'S on the right. Do it right and you'll find yourself surviving, reviving and THRIVING post-breakup. (We're a couple of sassy, no nonsense, bawdy broads who've been there and back and we're f'n FABULOUS!!)
DO slap this baby on your fridge ... you'll be glad you did!!!  
You're welcome.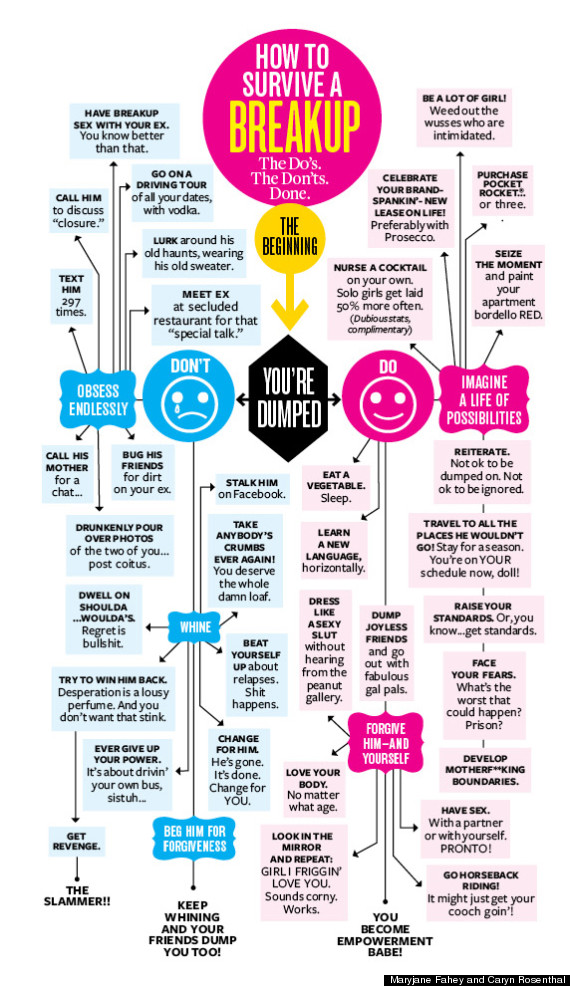 Maryjane Fahey and Caryn Beth Rosenthal are the co-authors of "DUMPED," a breakup bible for women to get off their asses and over their exes in record time. You can order it now -- Tom Cruise already has ...
Then like, tweet at, whatever them... they're very friendly.
http://www.DUMPED411.com
http://www.facebook.com/dumped411
http://www.youtube.com/watch?v=H3_acBo6vEo
http://twitter.com/DUMPED411
http://pinterest.com/dumped/
http://www.dumped411.com/how-to-survive-a-breakup-flowchart.html