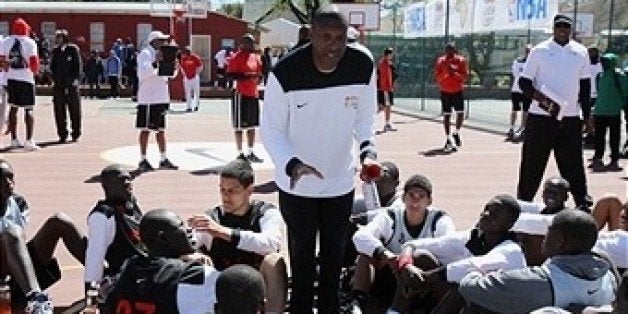 I had the good fortune to become the first African-born General Manager in American sports, a blessed example of someone who was given an opportunity. But as fortunate as I have been, I would be a failure if I couldn't provide opportunities to the next generation. The league gave me the chance to realize my dreams and now I feel it's my obligation to work proudly with the NBA Family to give back.
As it does for many people, it all started with my parents. They were always so willing to give, always willing to help other families. I remember that my father's company in Nigeria had a program where the office would be given a bag of rice. Depending on your level, you would be rewarded with a certain portion of the rice. Now at the time, my father was in a high-ranking position and he received a good amount. However, he always shared. He always took from his rice and gave to his co-workers to make sure everyone could enjoy the rewards of hard work. That was always telling to me. As citizens, we should give back to the community and to those who don't have as much. Often times, these are people who just haven't been presented with the right opportunity.
Opportunity for me came in the form of Basketball without Borders (BWB), the global basketball development and community outreach program. I was given the chance to be a scout for BWB and I was exposed to some of the smartest and most-talented front office staff in the world. I remember listening a lot and learning as much as I could. From that opportunity I was offered a team position which led to becoming a GM. But that's just my story. Thousands of campers have attended BWB, with participants from 31 countries and territories in Africa. The world is becoming a smaller place and, as the game continues to grow across the globe, we can help implement change.
Because of my experience, I knew that basketball could be used as a tool to enrich the lives of youth in Africa so I started my foundation, Giants of Africa. When speaking to groups, I like to tell people that the more you give, the more you grow. And it's really true. Since Hakeem Olajuwon was drafted in 1984, more than 30 players from Africa have been featured on NBA rosters. Taking a look around the league now, you see these types of programs and foundations have a growing impact at all levels.
You have a two-time NBA All-Star from the Sudan in Luol Deng. Serge Ibaka and Thabo Sefolosha have played in The Finals. I look at the amazing work Dikembe Mutombo has been able to accomplish around the world as an ambassador. And this year, we saw Joel Embiid selected in the top five of the draft. But really, it's about what we've seen from these individuals off the court. Luol has helped with Sudanese kids through Lost Boys and Save the Children. Serge donated more than $300,000 to a UNICEF project funding orphanages in Congo, while Thabo provides support for youth in his father's home country of South Africa.
Beyond the players, we've seen such great strides in providing Africans with opportunities in a variety of roles. When BWB began, we set on this journey to build and grow. And it's incredible to see the effect throughout the sport. You have African assistant coaches like Patrick Mutombo, Ime Udoka and Jama Mahlalela. We have an office in Africa run by Amadou Gallo Fall of Senegal. The aggregate result of these opportunities is tremendous.
And the journey continues. The more individuals we see that have ties to Africa, the more programs we see that are focused on providing opportunities to our growing continent. The league helps empower children in Nigeria through the Power Forward program, works with the U.S. Agency for International Development in Senegal and assists the United Nations Foundation on the Nothing But Nets campaign to prevent malaria-related deaths throughout the continent. Each year, new NBA players show interest in visiting Africa to help provide opportunities to youth and the response is always the same; they all want to come back. I can remember the first-time reactions of Chris Bosh, Al Horford, Dirk Nowitzki, Marcus Camby and Dwight Howard, among others. Seeing the value in reaching out and providing opportunities to these communities, it moved them to want to do more -- and I'm not surprised. The more you give, the more you grow.
This blog post is part of a series produced by the NBA in conjunction with NBA Cares Week. To see all the posts in the series, visit Huffington Post's Impact Sports page, which covers the intersection of sports and social good. For more information about NBA Cares Week, visit here.