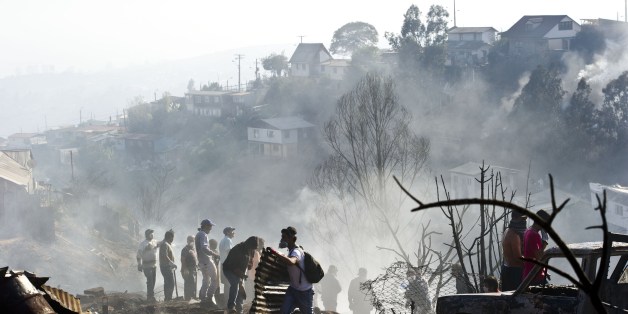 Valparaíso was engulfed in flames, but not the one I know.
A city embedded in rainbow colored hills, many residents live their lives watching over the Pacific. Gritty but enchanting, the beauty of Valpo, as it's known in Chile, is hard to understate. Its magic is everywhere. But as any savvy traveler who visits this important seaport city already knows, it can only be found by getting lost -- by roaming aimlessly up and down the narrow stairways and wandering around the endless, cobbled bends. At any vantage point, vibrant street art abounds. When the sun sets, the bright colors are replaced by soft orange streetlights.
Then hell literally breaks loose.
Soon after the fire sparked, apocalyptic images of roaring red and orange began to flood social media and news websites. Several days later, the Chilean government reported that 2,900 houses were destroyed, 12,500 people are now homeless and 15 are dead.
But the biggest fire in the city's history, as President Michelle Bachelet described it, didn't blacken the picturesque scene that I've come to know. During my year abroad in Santiago, I've visited this romantic version of the famous port a handful of times. Opportune photo moments, boutique coffee shops, craft beer and a fair share of getting lost in Valpo's most classic sector mark my affinity for a city that most Chileans now associate with devastation and loss. My vision of a quaint and colorful town hugging the Pacific coast was, at best, far too narrow. After all, the fire flattened large parts of the city that I've never seen.
Chilean outpouring of solidarity in the aftermath has been heartening. Volunteers have flooded the city, doing much of the organizing and resource distributing themselves. Community groups and individuals from across the country and beyond have organized campaigns to get food, clothing and other essential goods to the thousands of victims. Schools in Valpo have become temporary homes for refugees.
The unfailing beauty of tragedy is the unity that follows. It's in disaster that we acquire a heightened sense of connection and become poignantly more aware of the deeper, but rarely acknowledged, truth -- that we really are all in this together.
But soon focus will turn elsewhere. Those fortunate enough to be able to replace their homes will begin the arduous process of doing so, a process that may also include recovering from smoke inhalation and burns. Worse still, many people will remain homeless. Among the most vulnerable when the fire broke out were families living in neighborhoods constructed chaotically and irresponsibly during waves of rapid, unregulated expansion and no urban planning. Emergency responders could simply not access some houses.
Now, many people are camping in the rubble where their homes once stood -- in many cases, illegally -- for fear that abandoning that land could mean losing it forever.
The question of the moment, and that which will persist once the media and we move onto the next disaster worthy of our attention, is how Valpo will be built back to life, and what will happen to those who had little before the flames destroyed their homes, and now have nothing.
One fear is the possibility that as attention fades away, the prospect of reconstruction will become increasingly more challenging. As Patricio Fernández wrote in the iconic weekly, The Clinic: "We know that in Chile the solidarity party does not last too long." Victims of the 8.3 magnitude earthquake that recently struck in the Northern region of the country know this fate perhaps all too well.
On one visit to Valpo in January, a good friend and I neared the top of a hill, well above where Pablo Neruda's house still stands. Trying to be courteous travelers, we said hello to locals sweeping the sidewalk outside their homes or sitting on their front doorstep enjoying a cigarette. However, the further we climbed, the tenser I became. My companion, a fellow American, had not understood the conversation I had earlier that day with the staff member at our hostel about places to avoid. In short, stick to the tourist map. Well off the map already, we continued up only until an older woman finally stopped us and suggested we head back down.
We obliged. A few hundred more feet and we likely would have reached the top, where an unforgettable view of the port, the rainbow colored hills and the Pacific would have welcomed our arrival.
But opposite the ocean is another view: a less romantic version of Valpo. One not glorified as a World Heritage Site, but one that undoubtedly shares in the whole identity of this important seaport city. Now a horrible fire will reshape that identity, and my heart will remain heavy for a Valparaíso I barely know at all.