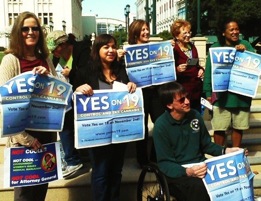 Women throughout California and across the nation held news conferences Tuesday to speak out in support of Proposition 19, the California ballot measure that would regulate marijuana similarly to alcohol.
In California, they stressed the importance of getting out to vote for Prop. 19, and how its passage would enhance the safety of their families and communities. Elsewhere, women highlighted the example that could be set in the Golden State and announced efforts to begin organizing women to work toward similar reform in their areas.
The nationwide day of action was coordinated by the Women"s Marijuana Movement (WMM), which worked alongside local women's organizations and activists nationwide including Moms for Marijuana, Students for Sensible Drug Policy (SSDP) and members of the National Organization for the Reform of Marijuana Laws (NORML). In California, women gathered in Los Angeles, Oakland, and San Diego, among other cities. Events were also held throughout Colorado, Florida, Idaho, Missouri, Montana, Nebraska, New Jersey, New York, Oregon, and Texas.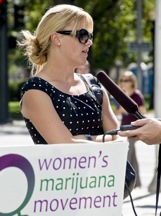 "For too long, women's voices have not been heard during the debate over marijuana policy," said WMM Project Coordinator Eva Enns. "But women will make the difference in this debate -- and this election -- so it is time for us to take the lead."
That could very well end up being the case. As the
Los Angeles Times
reported earlier this year
:
The poll [on Prop. 19] also points to a demographic group that is likely to play a key role -- women, particularly those who are married. Men favor legalization, but women are split.
With the Prop. 19 race coming down to the wire, it is critical that the campaign pick up support wherever it can. It has already received endorsements ranging from
law enforcement officials
to
organized labor groups
, so targeting women directly makes sense at this critical point. Thus it comes as no surprise that the women's day of action coincided with the first week of early voting in California.
For less obvious reasons, however, the WMM timed the actions to coincide with National Domestic Violence Awareness Month.
"Unlike marijuana, alcohol is frequently associated with acts of violence against women, such as domestic abuse, date rape, and sexual assault," Enns said. "We are simply fed up with laws that prohibit adults from using marijuana and drive them to drink. We sincerely believe that we could reduce the amount of violence taking place in our households and around our communities by accepting marijuana as a safer alternative to alcohol."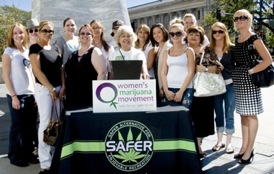 Women in California rammed this message home by using the day of action to target the offices of key law enforcement officials who are opposing Proposition 19, including Los Angeles County Sheriff Lee Baca, Orange County Sheriff Sandra Hutchens, and San Diego District Attorney Bonnie Dumanis. Women called on these officials to explain why they would prefer to keep marijuana in a black market and ensure alcohol is the only legal intoxicant available.
"We need to advocate for sensible regulations that actually enhance public safety rather than undermine it," Enns said. "We want our young people to be carded before they can purchase marijuana. We want marijuana removed from the criminal market so teens are not exposed to harder drugs if they happen to seek marijuana. And we want our sons and daughters to grow up in a world where they will not be punished if they make the sensible choice to use marijuana instead of alcohol."

Mason Tvert is executive director of Safer Alternative For Enjoyable Recreation (SAFER) and coauthor of "Marijuana is Safer: So why are we driving people to drink?"
Photos courtesy of Kim Sidwell and Samantha Talavera