The headline on the Art Los Angeles Contemporary art fair website proudly announces:
ALAC returns to the Barker Hangar for its fifth edition, featuring an expanded international roster and a continued dedication to the L.A. art scene
And that it has - it is a sprawling, smart show that is so precisely vetted that there is not a single entrant in the fair who would not look out of place in the back pages REVIEWS section of ArtForum magazine.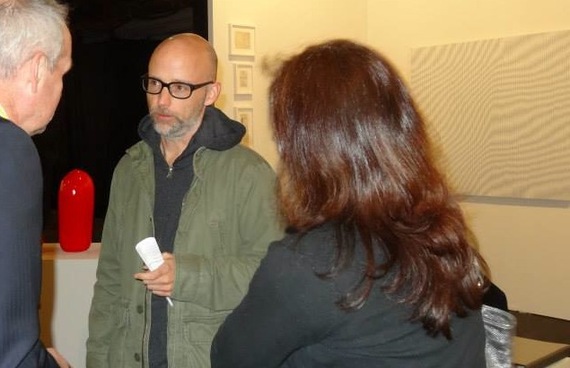 MOBY surrounded by art about shapes at ALAC. Photo: Marlene Picard.
While this creates a certain homogenous nature to the fair, ALAC's job is not to promote diversity in contemporary art as much as it is to connect collectors with galleries. This is the charge of every art fair but many art fairs include a wide variety of art styles under one roof. The mentality is "Hey, its contemporary so it must belong" ignores that good art next to bad art goes as well as good food next to rotten food. Of course these are fairs that qualify a gallery based on their check for the fair clearing at the bank, not the art looking great, and the mix and overall look of the fair suffer. But this is not ALAC. If anything, the art here might suffer from looking too much the same. In the mission of ensuring that there is no weak link - not one gallery here brings any of the others down with tacky art, kitschy art or worst of all, accessible art. No, ALAC reminds us that the event is for serious collectors by giving them only serious, inaccessible artwork for sale.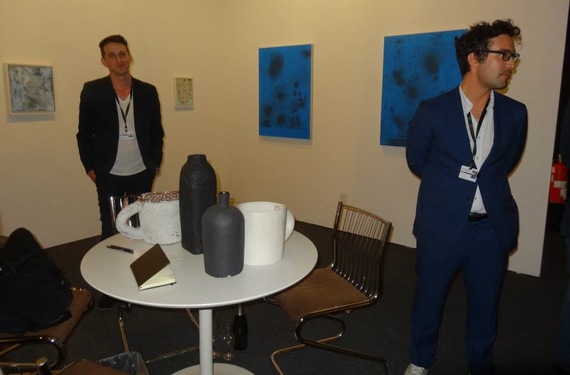 L.A. Art Dealer Francois Ghebaly (R) at his serious ALAC booth. Photo: Marlene Picard
The fair's VIP event was all about buying art. While many fairs are notorious for having nonstop free food and gallons of booze for their top tier clients, ALAC had a local restaurant selling food and had an historically long line for booze - the brands of which appeared limited to that of fair sponsors. In a fair that had haphazard selections of participants this would have been an outrage, but in this vetted fair with a narrow range of contemporary art by established if not leading galleries it only seemed to underscore that this was a fair for collectors to buy art and not to party all night long.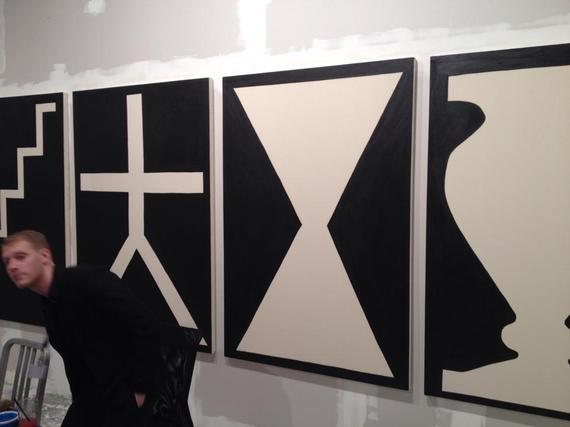 Some of the art on display at the ALAC Art Fair at Barker Hangar in Santa Monica. Photo: Laura Beatty
The art itself seemed eerily interchangeable from gallery to gallery. Sadly, this is the downside of the well-vetted art fairs. From booth to booth there was little distinction. Sure, one gallery would try to be sloppy and punk with paintings leaning against the wall under other paintings while the booth next to it might be minimal and sleek with lots of space around each artwork. But the art in each booth would be almost the same. ALAC went to great effort to bring in galleries from around the country and Europe without expanding the size of the fair. This international infusion was not lost in translation, though, as the ambiguous style of the ArtForum back pages is the new international style and was practically enforced by law.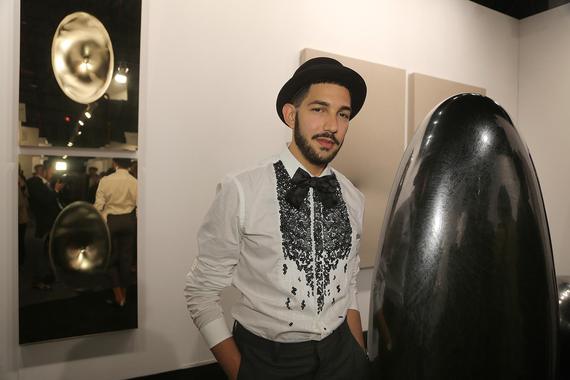 Gallerist Anthony Spinello with the work of represented artist Sinisa Kukec at ALAC. Photo: Eric Minh Swenson
There was an absence of galleries from Asia in the fair, although it could probably be attributed to terrible timing - ALAC coincided with Chinese New Year this year. Of course, it also coincides with Superbowl Sunday, but once again, it is a fair built for art collectors. Scheduling the fair on Superbowl Sunday only ensures less of the general public to rub elbows with the elite art buyers in Southern California. Serious collectors forego football. Collectors who follow the NFL were there to buy on Thursday anyway. While it is a big regional fair, ALAC has not attracted the out of town collectors to make the trip here. And yet no other art fair in Los Angeles besides ALAC has been as rigorous in its selection process and lasted five years. What ALAC has created could be called historic.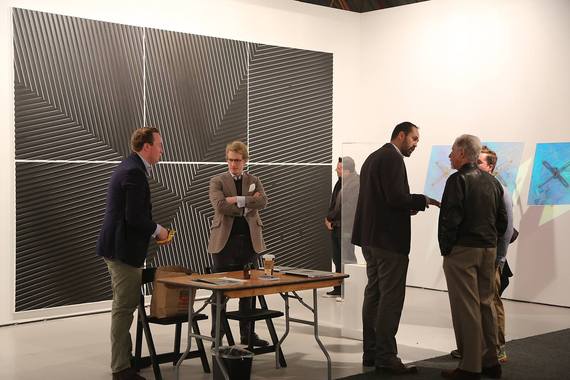 A booth with yet more formal art at ALAC. Photo: Eric Minh Swenson
The homogenous nature of the art was reflected in the opening night crowd. On Wednesday night a brouhaha erupted in the art world when retired art writer Dave Hickey spoke at a MOCA-sponsored talk. Blogger Carolina Miranda tweeted:
Talk has included icky anecdote about Black artists receiving preferential treatment. Cuz clearly Black people rule the art world

— Carolina A. Miranda (@cmonstah) January 30, 2014
I was at the ALAC fair from its opening and it was almost an hour of a packed room before I spotted a non-white person. The homogenous nature of the art and the attendees at ALAC did not reflect Dave Hickey's paranoid rantings about identity politics ruining the once glorious underground art world. But Hickey's pastoral vision of an underground art world is now the mainstream. It dominates LA's most important contemporary art fair. In a city of diversity, the longest running edgy art fair gave us...
Shapes.
Yes, shapes. Shapes were everywhere at ALAC. Denuded of any extraneous visual clutter, shapes dominated the fair. Big pictures of big shapes, big pictures of little shapes, little pictures of fields of shapes. Not many shaped canvases so perhaps the idea here is that the rectangle predominates in our day and age. Booth after booth, Shapes after shapes. Lots of triangles. The only identity politics that Hickey warns us of seemed to be in lots of art that was black and white.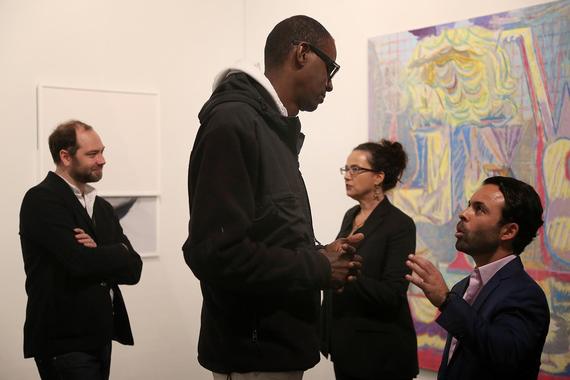 Mark Bradford talks to a fan at ALAC. Photo: Eric Minh Swenson
Finally superstar African American Los Angeles artist Mark Bradford showed up, drawing a crowd as he took in the fair. It did not appear any booth at the fair was exhibiting any of his work, but his market is way above the ceiling price that most of the galleries in ALAC sell work at. What I wouldn't give for a ticket to a panel discussion with Hickey and Bradford on it. The past (Hickey) and the present (Bradford) could talk about the future - a future that every L.A. collector showed up to invest in at Thursday's VIP preview for ALAC. Wherever art is going, the narrow range of dry formalist international style work that flooded this fair is sure to follow.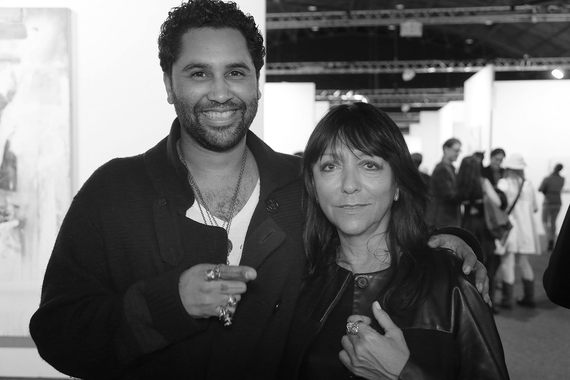 Artist RETNA and his manager Estela Provas at the ALAC fair. Photo: Eric Minh Swenson
Art L.A. Contemporary runs thru Sunday at the Barker Hangar in Santa Monica.