 DailyCandy, the original trusted source for handpicked discoveries of fashion, food, and fun has acted as a launching pad for new small businesses since 2000; Apt2B is a 2012 winner of the DailyCandy Start Small, Go Big program. For more small business tips and stories, visit www.startsmallgobig.com
Furniture is like death and taxes; it's inevitable. After all, everyone needs a bed to sleep on and a drawer for their undees, right? Our goal in starting Apt2B, a local online-only resource for home furnishings, was to offer something different. Prior to getting things off the ground, the two of us had experienced many different ends of the industry, from retail to wholesale to being consumers ourselves, and through those experiences realized that a gap existed in the marketplace for stylish and functional home furnishings that was actually affordable.
Additionally, living in a metropolitan area with people constantly moving around from new place to new place, everyone seemed to be in search of a convenient one stop shop to furnish their apartments and homes on a budget. What we decided to do with Apt2B is to up the convenience factor by keeping it online-only and by keeping it local; local suppliers, local delivery and local vibe means better service, curated selection and happier customers.
In the home furnishings industry, however, competing against big box stores, established conglomerates and flash sale sites continues to be a challenge for small businesses like us. Larger companies have a strong appeal; from the advertising dollars they have (and we don't) to the too-good-to-be-true "deals" they are constantly promising their customers. In fact, in our current economy, one of Apt2B's greatest challenges is how to offer an actual value to customers who are used to getting an amazing "deal," but doing so without dropping our pants with regards to our margins. When Apt2B.com first launched, we did plenty of heavy discounting with offer sites and deal sites to achieve brand recognition. Ultimately, we played those games as smartly as we could, having learned from the mistakes of our predecessors who had been burned by such offer sites. It was also important for us to recognize that we were trying to start our business rather than save our business and, since then, we have been working hard to keep our margins where they need to be in efforts to pick our pants back up (in this day and age, however, we'd venture to say that almost every retailer needs to at least keep a fly unzipped). This is not to say that we stopped promoting -- we've just had to do so in innovative (and inexpensive) ways.
Our marketing strategy has been like throwing spaghetti at the wall; some things stick and some slip. Promoting within our customer base has included a strong social media presence with a constant flow of fun and useful content, consistent email marketing, and insider sales and promotions like our Deal of the Day and our Friday "Happy Hour" sales from 3-7 p.m. When it comes to reaching new customers, however, we've pushed the envelope in new and clever ways by generating partnerships with other online businesses and personalities. From special interest blogs to designers to apartment listing services, we've run giveaways and contests (i.e. a "show us your ugliest sofa" photo contest) and have gotten write-ups in some highly trafficked areas. Winning the DailyCandy Start Small Go Big Most Inventive award sponsored by Ink from Chase didn't hurt in this department either.
On a local level, we've been able to make waves in the Los Angeles marketplace by participating in special events like Apt2B pop-up stores (which introduced Apt2B to customers needing to sit/touch/feel), charitable engagements (one of which was featured on the season finale of Yahoo Ultimate Surprises) and even has allowed us to position ourselves as a resource to the TV/film industry. Some of our regular customers include producers and set decorators and we've recently become a perennial fixture on the CBS game show Let's Make a Deal with Wayne Brady (and, yes, he even sang about our Apt2B living room prize). These are just some of the ways in which we've successfully taken advantage of our local presence in spite of living only online.
Ultimately, in this ever-changing market, while we are constantly looking for new and innovative methods of getting the word out about Apt2B.com, our goal is always to focus on the core values that have made our business a successful one: a well curated line of merchandise, great customer service, and a personal voice that sets us apart from our competitors. Apt2B has plans to expand in the near future to other major metropolitan cities, establishing itself in other local marketplaces in the U.S., and we'll bet you a bright purple sofa that we'll continue to have fun doing it.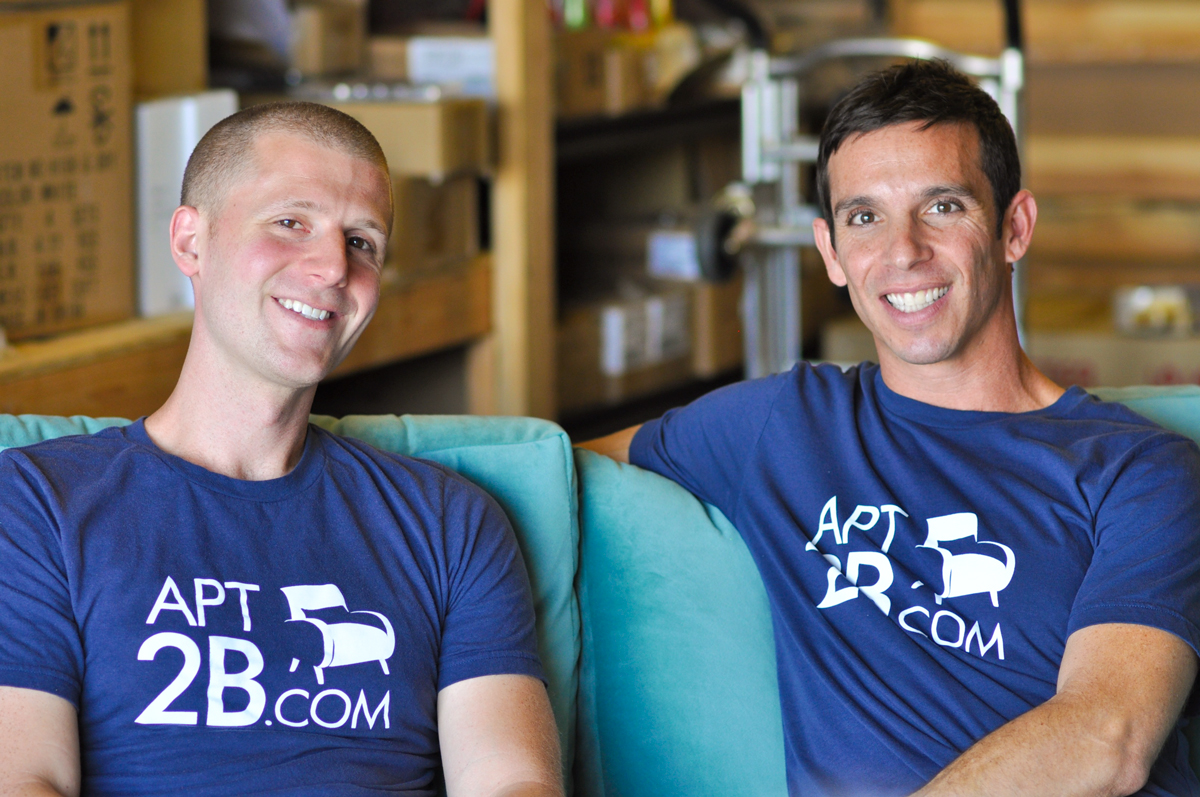 Biz Urban Photography for DailyCandy