It may take a village to raise a child, but it takes a city to save an abused animal. And no ordinary city. Beginning in the Bronx September 1 and rolling out citywide in early 2014, the ASPCA and the New York City Police Department are teaming up to bring the best and most comprehensive full-care approach to rescuing animals from cruelty.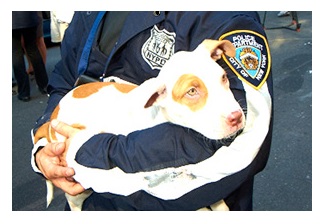 Our new approach leverages the skills and experience of both organizations: The NYPD will take the lead in responding to complaints and enforcing animal cruelty laws in New York City, while the ASPCA will expand services in caring for seized animals, including forensic evaluations, medical treatment, behavior assessments, housing and placement, and backup legal support and training.
As animal advocates, we've fought long and hard to establish animal cruelty as a serious crime -- worthy of serious and constant enforcement. That job will now fall into the everyday routines of tens of thousands of officers across 77 precincts. The partnership speaks volumes about the progress we've made. It's my hope that our resolve will inspire other cities to consider this as an option, and wherever appropriate, follow suit.
I've seen it work myself. Last year, the ASPCA worked alongside the NYPD in a Bronx dog fighting case, which resulted in the arrest of Raul Sanchez and the seizure of 50 fighting dogs. Our team played a critical role in the dogs' rescue, veterinary and behavior care as well as in the collection of forensic evidence. Sanchez, who pleaded guilty to dog fighting, was sentenced to one to three years for his role in the operation.
The partnership will also cut down on response times to both the illegal behavior and to the rescue and treatment of abused animals.
The end of the criminal act is just the beginning of most of our work. The ASPCA is investing millions of dollars to care for victimized animals. Our Manhattan animal hospital will open a brand new ward for animals seized by the NYPD, with additional space for housing and rehabilitation. On the legal side, we're beefing up our veterinary forensics work and criminal law support to aid the prosecution of animal cruelty cases. And we'll continue to provide extensive, ongoing training to the NYPD to assist in the handling of animal cruelty complaints.
This new arrangement also allows the ASPCA to focus on what we do best -- high-impact initiatives, like our Cruelty Intervention Advocacy (CIA) program, which aims to stop cruelty before it happens by addressing the root causes of animal suffering. These include resolving cases of hoarding through a holistic approach, and providing grants to pet owners who lack the financial resources to care for their animals. Since the launch of the CIA program in 2010, we've assisted over 4,000 animals who would have otherwise been vulnerable to extreme neglect.
Some may still question the need for such concentrated attention, but consider: We have laws that protect our possessions, our homes, our parks, and our criminals -- all eloquently championed and vigorously enforced. But animals -- so many of whom are "part of a family"-- have the smallest voice, the cruelest victimization, and the fewest protections. In some cases, these laws are the only things standing between defenseless animals and deadly abuse.
New York is tackling this issue seriously, even if it means re-imagining traditional policing roles and boundaries of responsibility. And there are precedents for positive disruption -- that's how American drunk-driving laws, child labor laws, and domestic violence laws all got their teeth.
Talk about the importance of anti-cruelty law enforcement with your friends, your family, and your co-workers. Blog about it, tweet it, post it. Tell your kids why New York's finest are on the job to save New York's furriest.
It's your city. They're your animals. You can be their voice, too.
Matthew Bershadker is President & CEO of the American Society for the Prevention of Cruelty to Animals (ASPCA). Learn more about the ASPCA's mission and programs at ASPCA.org.