The hardest part of being a craft beer aficionado is choosing your next brand. With the number of craft breweries in the US at an all-time high, there are more choices than ever, so how do you know which style will suit your tastes?
This was the problem Charlie Mulligan and Zach Jamison faced -- too many varieties and no way to confidently pick from them. They decided to do something about it.
Their first step was to build an algorithm that could identify the ingredients giving a particular beer its unique flavor and match that beer to others with similar composition and taste. This "Beergorithm," as they called it, could analyze a person's favorite beers and generate new recommendations based on their taste profiles.
The second step was to add a monthly beer delivery service. Subscribers would get a new shipment sent to their home each month, customized to appeal to their preferences. They could discover new brands and styles and never get the same thing twice.
This was the birth of Brewpublik, touted as the world's first curated craft beer delivery service, and it is indeed something unique. People living in one of the serviced cities (currently Charlotte, NC; Raleigh-Durham, NC; Charleston, SC and San Francisco, CA) can create a beer profile and sign up to receive recurrent deliveries from a selection of over 3,000 beers for as low as $20/month.
If that sounds too good to be true...well, it isn't. Take a look at Mulligan's product pitch below for proof.
From Bootstrapping to Booming
Mulligan and Jamison launched the company in late 2014 with help from David Allen, Growth Engineer, and Samantha August, President and COO. They bootstrapped everything and were on their own for six months before striking deals with a few investors, the most notable being with VC firm SierraMaya360 to the tune of $5 million over five years.
This outside funding gave the company the boost it needed to expand out of its original home in Charlotte. The team then completed an accelerator program with San Francisco-based 500 Startups, and Brewpublik has continued to gain momentum ever since.
It now has over 2,000 subscribers across four cities, and the team hopes to service five additional areas by the end of the year. Their goal is to operate in 20 locations across the country and be worth $100 million by the close of 2017. This plan is certainly aggressive, but it's worth noting the craft beer industry has grown 200% in the past decade and is now worth $22 billion.
Brewpublik isn't the only business looking to capture a chunk of this market. Its competitors include Drizly and Saucey, which offer on-demand delivery of beer, wine and liquor; Next Glass, a beer and wine curation service that gives personal recommendations based on your tastes; and the Original Craft Beer Club, which delivers a dozen bottles of craft beer hand-picked by the staff each month.
But if you want a service that will make personalized selections from a wide range of craft beers and deliver them to you, then Brewpublik has everything else beat. The Original Craft Beer Club doesn't cater to your specific tastes, Next Glass doesn't deliver, and neither Drizly nor Saucey curate their selection or carry a wide range of craft beers.
Big Plans for the Future
Brewpublik has tapped into the craft beer market (no pun intended) and proven there is a demand for its particular service, and the team has no intentions of removing their noses from the grindstone.
On top of their plans for geographic expansion, they are working on partnerships with Postmates and Uber to provide on-demand delivery to customers. A mobile app is also in development, which Mulligan describes as, "Tinder for craft beer."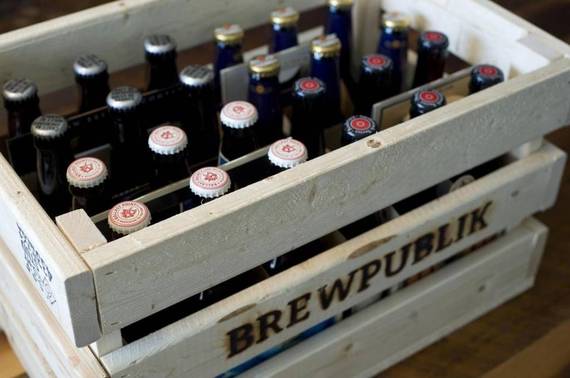 The management team does need to be careful, though. Their huge success in such a short amount of time could give them a false sense of security and lead to blunders if they are not mindful. Rapid growth can be a paradoxical problem for small businesses and has been the unexpected death of many an overeager startup.
But craft beer is a safe market, and Brewpublik should be able to expand nicely if it doesn't overstep its resources and maintains the personalized feeling and service its customers have come to love. This would put it well on track to achieving its loftiest goal: servicing 100% of the craft beer market.
That means a whole lot of beer being delivered to doorsteps across the country, so it's a good thing Americans love it so much.