Despite fifty years of civil war, three ethnic genocides in Sudan have remained hidden until long after they have occurred. Now, the citizens of north Sudan are in the middle of a nonviolent, homegrown protest. Over the last ten days, there have been protests not only in Khartoum, the capitol of Sudan, but in every major and in many minor cities and villages. They are standing up for their basic civil rights and it may change Sudan forever.
On Friday, June 29, Sudanese from every northern city will stage a protest they call "Licking the Elbow." This is a Sudanese expression for doing the impossible -- and by this the activists mean to remove the ruling National Congress Party (NCP) from power. Using social media, cellphones and gentle word of mouth in public places, youth activists have reached out to people from all walks of life. Everyone has finally lost their fear and responded.
For years, the northern government maintained so-called subsidies for basic commodities, like oil, and fuel and sugar. Most Sudanese already believed that corrupt officials have been pocketing profits for years. Then, on June 16th, the government announced it was lifting the subsidies, automatically increasing the prices.
In response, female students at the University of Khartoum started the first protest in their dorms. The men, living separately, immediately joined them. Spontaneous protests spread. For a nation with a rich history of repressed political activity, the breadth, depth, and rapidity of Sudanese participation appears unprecedented.
At the same time the subsidies were lifted, the new annual budget was announced. 70% was allocated to military and security forces while 5% to education and healthcare.
According to Anwar Elhaj, SPLM-N Representative to the U.S., one of the main opposition groups, gouging the people is all about financing wars and the military apparatus that is protecting the government in Khartoum. "When the South went on its own, the North lost 75% of oil production. Now, they have to compensate by adding other taxation on the Sudanese people." What's changed is that now everybody on the street believes this.
Nagi, a leader of the non-hierarchical student protest group, Girifna, is hiding from the Sudanese Security forces who had been chasing him for a week. He's been arrested many times, and in late 2009 he was badly beaten on the street for participating in a rally calling for freedom and justice. When these new unprecedented marches and public speeches started two weeks ago, he decided to lay low, hoping to get the word out.
"A lot of people were believing the NCP, that the economical situation would be much better, and there would be progress after separation of South Sudan. They believed that there is more oil in the North than in the South, and we have gold. Instead... we can't afford food for our children. We can't plan for our future, and we can't plan for the next week." Daily activities have become impossible because of economic instability.
Nagi also feels that this is a moment that has never happened before. "People are saying that they kept silent for 23 years. Until when should we keep silent? We are going to die, or the NCP is going to put us in jail, or torture us, or kill us. We are already suffering. We are suffering inside prisons or outside in the streets. That's what's moving people."
But even if people are sick of the government killing and making money off it, have they reached a boiling point? Nagi believes it's important to tell the people to be peaceful during demonstrations because the security forces are panicked. "That is why there is a lot of security outside on the streets. Every three or four blocks, you will find security. They can arrest you if they get suspicious, and a lot of people were arrested and beaten by security just because they were suspicious. "
"Yesterday, one of my friends was telling me there was a group of seven guys, they were having dinner on the street, and the security came and arrested all of them. They beat them, and just let them go. Also, there is a video of a guy, who was visiting a relative, and the security came and arrested him with one of his relatives. They broke his leg and beat him until he was not able to move. Then they threw him next to a hospital. We have a lot of cases of violations, of torture, of people, we don't know where they are, missing people."
The government in Khartoum appears to be shutting off or making the internet so sporadic so they can track Girifna members and other protesters tweeting videos and photos to #Sudan Revolts and YouTube. Yet, both Nagi and Elhaj are clear that communication is part of a campaign to educate and embolden Sudanese about their civil rights. Nagi told the story about a friend of friend whose mother threw him out of the house. She shouted at him, "Don't come back home. You must be courageous and stand up with people outside, on the streets."
People are going to pray on Friday afternoon, at around 1 PM. And when they get out, they will be protesting. If the government tries to stop "Elbow Licking," it will provoke a confrontation between protesters and the security forces and clearly indicate that the government is worried.
Nagi is also part of another homegrown network of friends called, "Know Your Rights." They are not talking about ending the NCP or Bashir. The main point is that people should stand up and talk about their rights. Whether it's for education, health care, or land ownership, they are working on a grassroots level, talking to people simply. Regardless of one's politics, "The police and security do not have the right to silence you. It is your right to demonstrate peacefully. It is your right to stand up on the streets and to talk about your problems."
After years of infighting among different rebel groups and civil society, often confounding outsiders who wanted to help, the various Sudanese factions have unified in their determination to overthrow the NCP. Several members of Girifna are already missing and women are often the loudest protesters. Even Umma, an Islamic party that has always had close relations to the government, is now calling for a sit-in at an important mosque in Khartoum.
According to Lehaj and many other activists, "We don't know whether this will be Egypt, Libya, or Yemen, but as of tomorrow things will be clear how they will go."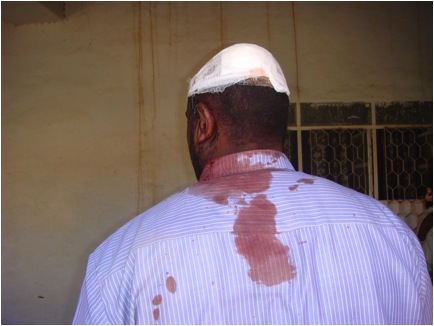 Nagi after he was beaten Dec. 7th, 2009