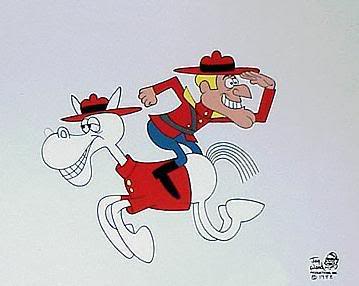 The long string of blunders in Vancouver evokes memories of post-Katrina FEMA incompetence. There's the Olympic torch breakdown and subsequent sequestration from the general public, the weather, the luge tragedy and cover-up, the day-long travel ordeals to see mountain sports, the lack of snow and mediocre repair jobs, the canceled tickets and broken Zamboni knockoff ice resurfacers (I witnessed that one first-hand!). And so on.
However, the ongoing ridicule directed at Vancouver misses the on-the-ground perspective, the view of the vacationing Olympic spectator attempting to spend a lot of money on world-class sports they usually don't care about, simply for the experience. The feel of misdirection and manipulation and sustained general idiocy in the midst of what should be a historic event.
It boils down to a simple, immense problem: the Olympic rumor mill.
Allow me to walk you through my own Olympic experience. I showed up at the Olympics with no tickets in hand, and the Olympic website indicating no tickets were available. Nevertheless, I headed to short-track speed skating with cheer in my heart, Olympic mittens on my hands, $300 in cash in my wallet, and a little sign that said "Tickets Please" in my pocket. I worked the scalpers while my wife waited in the box office line, just in case something changed. We heard tickets were sold out; then we heard only obstructed views were available; then we heard tickets were sold out again. When my wife finally got to the front of the line, we nabbed two premier seats at face value, ten minutes after the event started.
Basically, all the previous information we'd heard was wrong.
That's just one example, and a fairly mundane one -- but had we listened to the rumor, and given up on acquiring tickets, we would have missed out on a thrilling and once-in-a-lifetime event. That's a significant experience to miss out on, and for no good reason at all.
Here's a sampling of other rumors overheard via the Olympic rumor mill, always from fellow spectators:
-Complete fallacies about price and availability of tickets to any event
-The Canadian government canceled all surgeries in Vancouver during the Olympics so doctors could be available for athletes
-Olympic mittens have been sold out for months (I bought mine 10 minutes after hearing this one)
-Cypress Mountain (site of many mountain sports) was shut down
-Buses to Cypress cost $70 (they actually cost $15, and that's Canadian I might add)
-The Zamboni knockoff ice resurfacer broke because it was eco-friendly
-Buses were delayed for two hours because a child was missing
-The Heineken House ran out of beer AND was shut down because of a fight
The rumor mill in Vancouver is a malicious blend of possibility and imagination, of lazy and creative, of half-truths and anger and a deep, blinding fatigue. And, because so many unbelievably stupid things have actually happened in Vancouver, it's a lot harder than usual to rule out seemingly ridiculous claims.
These problems could be fixed with a dynamic website and digital signage outside events. Vancouver hasn't implemented either, so spectators get their information from each other during one of the Olympics' top activities: waiting in long, stupidly managed lines.
Which leads to angry assertions, incoherent rants, the twisted result of a game of Operator -- in short, more than enough fabricated intrigue to make the widespread Vancouver buffoonery even more entertaining.