Last week, seven people were arrested for protesting the building of a massive two-acre, 10-story-high garbage transfer site in a flood zone in Yorkville, just south of East Harlem. Among those arrested were an 80-year-old woman and an African American woman of 30 with a severe heart condition.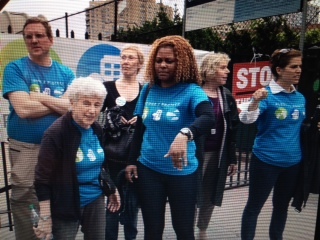 If you want to find out why people like this are getting arrested, the sanitation commissioner, Kathryn Garcia, will be on the WNYC show, The Brian Lehrer Hour at 10 a.m. today, Tuesday, May 27. The number to call is 212-433-9692.
Here's a little background.
The garbage site is being built not just in the city's worst kind of flood zone but also (uniquely for New York City) in the very heart of an entirely residential district opposite 1,000 units of public housing and next to an athletic field used by 34,000 city kids.
The arrests took place a week after the National Climate Assessment study was released, showing that global warming and its consequences are far more dire than previously thought and require a far more urgent response. The study made particular reference to the Northeast, to sea level rise, and worsening storms.
The new garbage site, the 91st Street Marine Transfer Station, will be 10 stories high and stand opposite the mouth of the notoriously turbulent Hellgate section of the East River. The whole area flooded during Sandy, even though the storm did not hit hard here.
If Marco Rubio was building this garbage site, no one would be surprised. But a progressive like de Blasio? This is odd.
When you consider that he will also (contrary to his stated desire to reduce traffic deaths) be allowing 500 to 800 truck drive-bys a day to directly cross the entrance to the soon-to-be garbage-dump-adjacent athletic facility used by 34,000 city kids, and it becomes even more strange.
Add to this that he is going to allow over 1,000 units of public housing to be blighted, and you understand why people are starting to get arrested. As the woman who lives in one of the NYCHA units said to me, "They want to stick it to us up here because they think everyone is rich, but that's not true. I had to get arrested because a lot of people have lost hope. I have three daughters, I live in public housing, but I think I have a right to see them grow up healthy. This is wrong." She and another woman I spoke to both said they were glad to be arrested.
Perhaps de Blasio, who himself has been willing to go to jail for a cause, can at least stop a moment to think what would cause a young mother in very poor health and a frail elderly woman to join forces and be willing to risk prison.
The only way in which de Blasio is not behaving like a Republican is in ignoring the fact that the project is monumentally over budget. I'm told it is now even worse than this, but the last Independent Budget Office report showed that its initial cost of $44 million has now gone up to over $215 million!
Why is de Blasio allowing this to happen? Sadly, it is politics as usual. Hypocrisy, expediency, and cowardice. If you want to understand the electoral calculation, I have written about it here. De Blasio, if he had a little courage, could actually survive canceling the garbage site in ways Bloomberg could not.
It may be true that Manhattan should ship more of its garbage out by barge (questionable but possible) but if 91st Street is the best place you can find from which to ship it, the whole thing stinks. At least for the young and the poor. Of course there are actually much better places for a garbage site like this (South Street Seaport for one) but the real estate interests who financed de Blasio's campaign want to build on them.
No on can build on top of public housing.
Since the site was proposed over a decade ago literally every significant detail associated with it has changed. And still it continues.
To find out more about this shameful debacle, visit the Pledge2Protect site and read their excellent report on this garbage proposal.