A version of this post appeared recently on Matthew David's blog on the 360 Design Events website.
You can't host an event these days - private or fundraiser - without incorporating some kind of interactive element or even a few.
Interactive elements bring an added energy to an event, get your attendees more involved and invested in a cause, and even help inform guests about an organization or mission in a way that doesn't put them to sleep. In addition, interactive experiences are often key players in driving mentions on social media platforms from Facebook to Twitter, Instagram to Vine.
Social media is obviously important, but I think it's just as crucial to incorporate elements that drive the people at your event together, to get them talking and making connections with each other and ultimately having a good time. Because isn't that really what events are all about?
Here are some of my favorite ways to incorporate interactive elements into events.
Tombola Wall
A Tombola wall is a fun mashup of decor combined with a game of chance. Guests can purchase boxes, all of which contain some form of a prize, from a wall of identical packages. It's guaranteed that the minimum value of each box is what the player paid, and in some cases, it's much more. I've seen people win everything from cell phone chargers to cases of wine to trips to Rome.
A Tombola wall is fun, gets people talking, and inspires some friendly competition among guests. It's also an interactive element that can be easily adapted to the look of your event.
The photo below shows a Tombola wall I created for a Children's Museum of Manhattan fundraiser.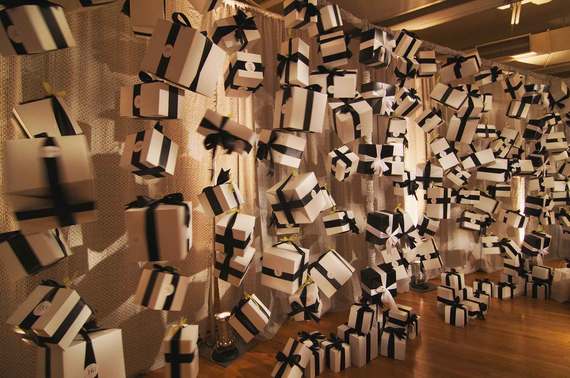 Photo Travis Magee
Graffiti Wall
Graffiti walls are also a lot of fun for guests. They draw a crowd, start conversations, and are visually compelling. For this event we brought in a chalkboard artist to provide an interesting backdrop for the crowd of young professionals to answer the prompt: "What Is On My Bucket List."
We also worked in a social media element, printing on-site photos that guests tagged with a hashtag. Tip: in the same way an empty tip jar is less inviting than one with a few bills in it, a blank graffiti wall is less appealing than one with a few starter tags. Go ahead and grease the wheels!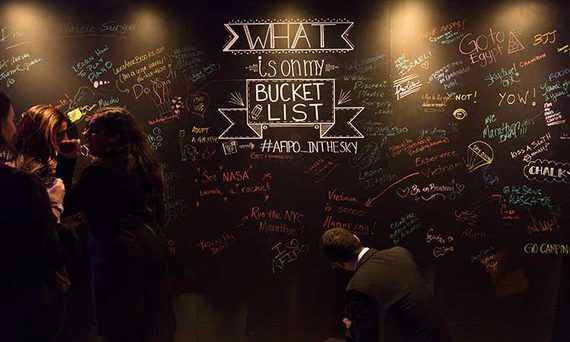 Photo Travis Magee
The New Photo Booth
Photo booths are hardly new, but they are fun, and provide guests with a nice souvenir of the event, which should be branded and sharable and tagged as much as it can be, naturally! One of the more recent iterations of the popular form is the gif photo booth from Bosco, which can produce both branded prints and an animated gif that's almost impossible not to share.
And don't forget selfies. You need to provide a backdrop that demands a selfie. Do you have talent or a personality that can donate time to drive photos? Give people a reason to capture and share a moment, and make your hashtag easy to write or integrate some branding into the scene.

Food and Drink
Depending on the event, the bar, buffet or passed hors d'oeuvres can be a real opportunity to get guests talking, interacting and loosening up. For example, I've featured mixologists at bars who explained the elements of various cocktails while serving them. Another amusing and unconventional serving method is this one from caterer Pinch. Below, churros are delivered via parasol at a recent fundraiser.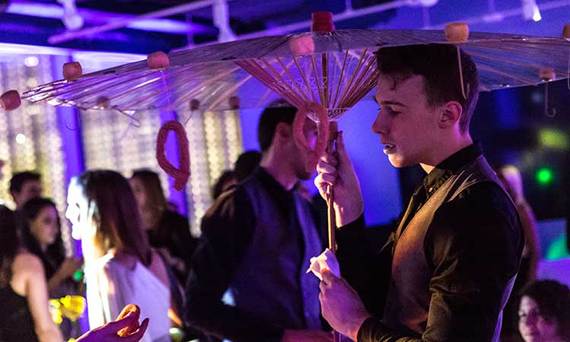 Photo Travis Magee