Is there a way to bring a more sophisticated, cosmopolitan sensibility to Thanksgiving?
From the main course to sides and dessert--even to the table dressings--Thanksgiving comes to us, year after year, prepackaged and prescribed. I think tradition is great, and obviously a big part of what makes the holidays special. But tradition doesn't have to mean ignoring one's own sense of style and taste. In fact, I believe that infusing tradition with more modern and personal touches is what keeps tradition alive and prevents it from becoming stale.
It's worth bearing in mind that our mental picture of Thanksgiving has a lot more to do with how the Victorian era imagined the holiday than anything that happened at the first Thanksgiving dinner in 1621. Until about 100 years ago, gathering together was considered a contemporary occasion, rather than one inspired by visions of an imagined, New England of the distant past.
Breaking away from preconceived notions of what Thanksgiving should look like actually honors the spirit of the holiday and keeps it relevant to our lives. The challenge, of course, lies in doing so while maintaining a connection to what makes the day unique. The approach I've taken with the table pictured here is a specific one that draws on accents from the southwest (another region with a history just as long or even longer than that of the Pilgrims) but the principles behind it--simplicity and casual elegance--could be expressed in any number of ways.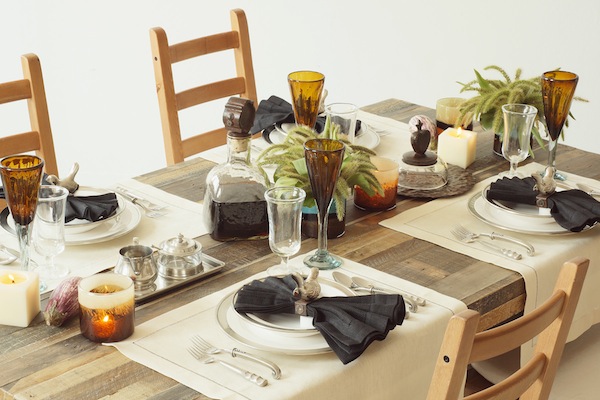 A Table for Today--Guests Come First
First, I thought about what the most important part of the Thanksgiving meal: the people gathered around the table. The table design shown here is meant to foster intimacy. I've chosen to go with a collage of smaller pieces that don't overwhelm the table: caterpillar grass and votives in matching glass containers with complementary colors, free-standing square pillar candles, and, in a twist on the season's omnipresent gourds, some lovely Listada de Gandia eggplants.
In another nod to form-following-function simplicity, the real decorative stars here are the functional elements: the fabulous, hand-crafted decanter and butter dish and the clean, classic lines of the pewter cream and sugar service.
Eschewing a tablecloth in favor of individual placemats not only emphasizes the rustic nature of the table itself but also furthers the focus on the guests. In this case, the "placemats" are actually fine linen, hem-stich napkins, draped over the table edge in a way that defines a comfortable, proprietary space for each diner. When complemented with a napkin in the same herringbone weave in black, each setting calls to mind the simple black-and-white garb we associate with the Pilgrims.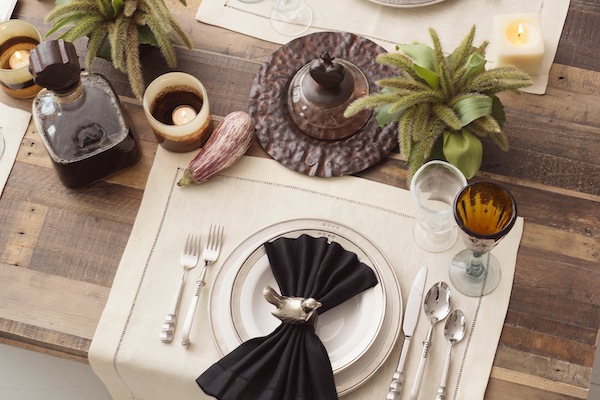 The pewter accents in the chargers and soup plates are also meant to evoke the Pilgrims' buckles, an effect furthered by their rustic maker's marks. If you look closely, you'll see that the flatware is intentionally mismatched, drawing from two different sets to lend each setting a less formal air--while the appreciable heft and solidity of the utensils again draws attention to their functionality.
The hand-blown glassware adds another bold decorative element, one that is at once modern and artisanal, with strong hints of the southwest. Finally, the balance between form and function, elegance and rusticity is again struck by completing each setting with napkin rings comprised of cast steel and topped with a dove in a hand-rubbed nickel finish.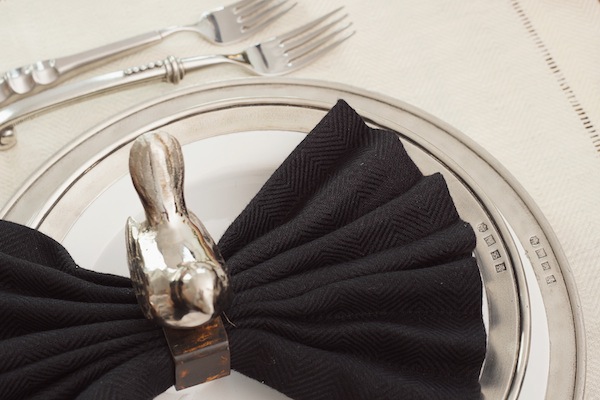 Remember--tradition serves as a template, within which you should feel free to express your personal style and taste. This table is but one example of this principle, inspired by the lovely objects I found at a favorite boutique of mine in Santa Fe, Cielo Home. Whatever inspires you, and whatever elements you have at your disposal, the Thanksgiving table and meal provides all kinds of opportunities to make the holiday your own. If you're not afraid to unleash your creativity, Thanksgiving can be just as much a feast for the eyes as it is for the other senses.
Credits (in order of mention--all items courtesy of Cielo Home):
Candles: Shag votives in sky blue and apple by Impulse
Decanter: Cuatro Foille decanter by Jan Barboglio
Butter dish: Corazon Quesero platter and dome by Jan Barboglio
Cream and sugar service: Jam pot and spoon, milk pitcher, and guest towel tray by Match
Linen napkins: Nobel Herringbone napkins in ivory and black by Anichini
China: Convivio buffet and soup plate by Match
Flatware: Veronica flatware by Arte Italica; Truro five-piece flatware by Michael Wainwright
Glassware: Mexican hand-blown water glass, available at Cielo; footed bistro glass by Sempre
Napkin ring: Paloma napkin ring by Jan Barboglio