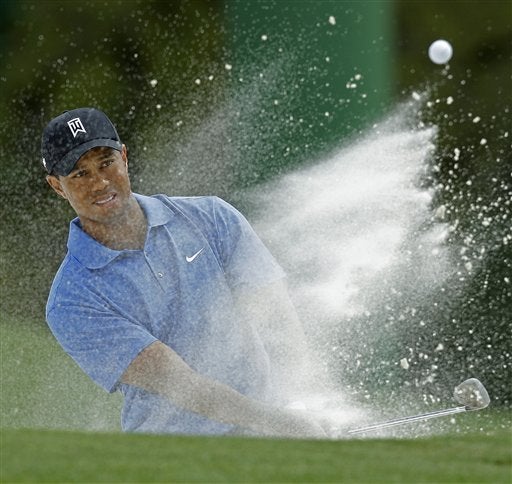 I'm serious. There's probably no more analyzed, scrutinized, and deconstructed action in all sport. Michael Jordan's jump shop? Obscure. Michael Phelps' butterfly? Unknown. Roger Federer's forehand? Unexplored. In fact, I'd suggest that Tiger Woods' golf swing in the most assiduously pondered movement a human being has ever made. There are times when I think we know less about walking than we do about Tiger swinging.
But more than a decade into his professional career, does Woods even really have one swing we can point to? This will be a subject of (presumably) much discussion over the next four days, as Tiger, the world's number one golfer, takes to the famous stadium course at the TPC Sawgrass, to compete in the Players Championship alongside world number two, Phil Mickelson, and number three, Sergio Garcia.
Since his first major victory, at the 1997 Masters, Woods has rebuilt his swing at least three times. At any given juncture in his domination of the sport, Woods' swing has been impressive. Big, powerful, generating considerable distance. In the 2000-2001 period, when Woods accumulated and held all four professional major trophies at the same time, his (then) swing was judged to the best ever.
Unlike past greats, however, Woods swing has always been difficult to summarize. He has added to confusion; when asked about the seemingly endless process of reworking his action, he often declares that it's complicated. Well, of course it is. Woods isn't really practicing a swing--he's cultivating an ever-changing state of mind.
It's always been relatively easy to zero in on what's great about a great players swing. Ben Hogan hit a mercilessly controlled fade. Nicklaus also played a fade, but his shots were towering, flying far and landing softly. Palmer favored a hard, working man's hook. Tiger, by contrast, seems to have embraced just about every swing he could think of. As an amateur, he was supposed to play a hard, high draw--except that year when he hit a hold-on fade. He was primarily a fader when he was dominant in the early '00s, but that swing, honed with coach Butch Harmon, put too much pressure on his vulnerable knee, so he moved over to Hank Haney and went back to the draw. Except when he was working on a flat-plane fade. And through all this, he still maintains that his natural shot is a slight draw.
These days, he appears to be going with a flattish, single-plane swing that allows him to fade his driver, draw his 3 wood, and work the ball around with his irons. But who really knows? There's some kind of theory behind it all--there always is with Woods--but by now we've seen him shake it up so many times that we could all be forgiven for losing track of his project. What young player can copy what he does? No one really knows what it is.
In this sense, his swing is terrible. But then again, this is one of his many strengths. Nicklaus' game probably would have suffered had he jumbled up his basic swing principles. In Tiger's case, the jumble is the point--it's yet another part of an intricate , Zenlike competitive mojo. Woods doesn't play golf swing--he's plays golf, and he does whatever it takes to win.
At his level, that usually means making putts. Lots and lots of birdie and eagle putts (not to mention countless par-savers). Sometimes, I think that the golf swing for Woods is a mere formality, a means to an end--that end being getting to green and making putts to win golf tournaments. And of course over the years his putting stroke has changed barely at all. You got a good thing, you don't mess with it, right?